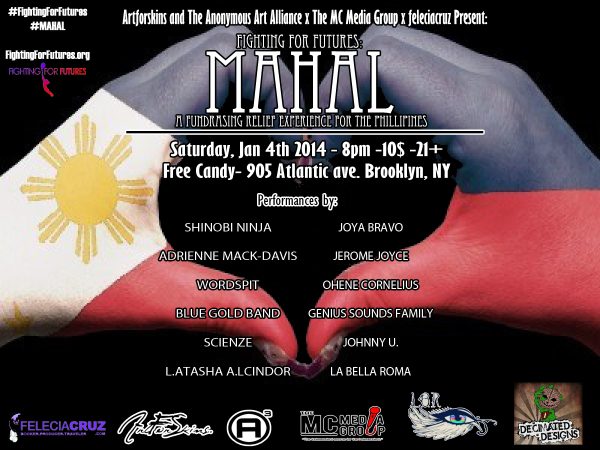 2014 is gonna start of right with a great showcase and fundraiser this Thursday Jan 4th at Free Candy in Brooklyn! The name of the event is "Mahal: Fundraiser For The Philippines" and it's a collaborative effort within the NYC artistic community to
fund "Fighting for Futures" disaster relief efforts in the Philippines. There will be a lot of cool things going down at the event, their going to have an extensive musical lineup…..
Musical Acts To Include:
SHINOBI NINJA
ADRIENNE MACK-DAVIS
BLUE GOLD BAND
SCIENZE
L.A.
JOHNNY U.
WORDSPIT
JOYA BRAVO
JEROME JOYCE
OHENE CORNELIUS
GENIUS SOUNDS FAMILY
LA BELLA ROMA
….burlesque performance, painted models, art and miscellaneous raffles! And you already know SugarCayne.com will be in the building covering the event!
In mid January, three Fighting For Futures field agents will team up with "All Hands" to assist with disaster relief efforts in the typhoon-affected areas of the Philippines.

All proceeds from MAHAL will be used to assist Fighting For Futures in their disaster relief efforts. While they are in the Philippines, Fighting For Futures agents will help local residents reconstruct their badly damaged homes, provide re-usable materials, food and make living conditions safe again.

Typhoon Haiyan (Yolanda) was recorded as one of the biggest tropical storms to ever hit land and it devastated portions of South East Asia, particularly the middle and southern areas of the Philippines.

Presented by The MC Media Group, ArtForSkiins and the Anonymous Art Alliance & feleciacruz MAHAL (which is the Filipino word for LOVE) will showcase an array of artistic talent with one mission in mind. Spreading love, through charity and relief work to those in most need.
The event will be hosted Jacques Morel, Jr.