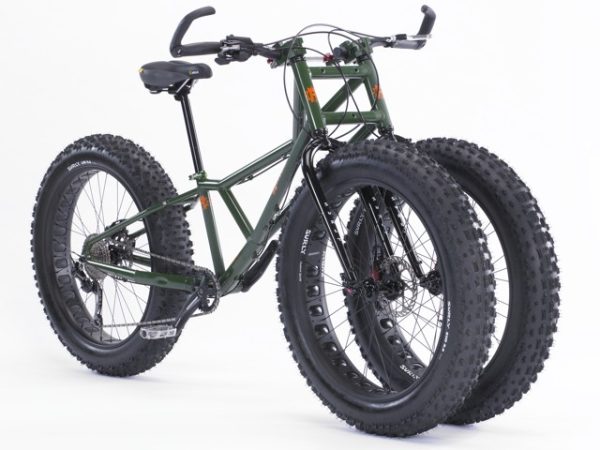 By now you've probably seen the photos floating around the web of this beast of a Fat Tire Bike called the Juggernaut! It's a huge trike but instead of having the 3rd tire in the rear, the builder put the 3rd tire in the front of the bike. This crazy mutant build is the latest trike from the California-based brand, Rungu. They call it a Bullfrog Trike, hence to green color and the "Go Anywhere" aspect of the bike. What really makes this bike unique is the special steering system on the bars that allows the wheels to pivot together. This has got to be the weirdest and coolest looking bike I've ever seen! I'd love to ride it!
Peep the stats:
Juggernaut's long wheel base design and three fat (4.7″) tires improve float on sand and snow over fat bikes by 50%.
The 26" fat tire front wheels with over 29" in projected diameter overcome obstacles up to 6" tall at crawl speed.
Aluminum frame with extended wheelbase for better weight distribution
Three wheels – two wheels in front for stability
Low gearing for difficult terrain
Mounting points for e-bike kits and overhead racks
Fat rear tire in back for traction and control in sand and snow
Shoulder width front-wheel spacing to improve tricycle handling
Hydraulic rear brake for dependable braking regardless weather or temperature
Dual front brakes improve brake force up to double a standard bike
100 mm bottom bracket and crankset provides chain clearance around 4.7″ tires
Find out more about this beast at riderungu.com