The first day of the Sugar Cayne Bike Fest at Egg Harbor Township BMX Track was a lot of fun! It was also the first day for the Cyclocross meets BMX race and we had 6 riders of different disciplines of off road cycling up for the challenge. The Cyclocross meets BMX race is a competition where riders do an intense 5 lap race backwards around a BMX track with non stop whoops, jumps, berms and obstacles. In this event we had Wade Hess , Dan Hayden, Greg Custer, Nigel Cummings, Justin Dorofee and Anthony Diciano battling it out for Cyclocross Meets BMX glory. Wade, Dan and Greg all rode Fuji Cyclocross Bikes, Nigel and Anthony rode BMX cruisers and Justin rode a 20″ BMX bike. Check out the video to see all the action from the race.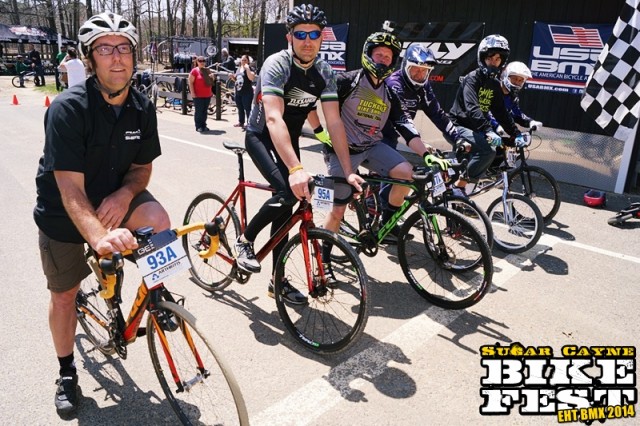 Results:
1st: Greg Custer
2nd: Wade Hess
3rd: Anthony Diciano
4th: Dan Hayden
5th: Justin Dorofee
6th: Nigel Cummings
Ultimately this race is setup to have 25 rider competing on the track at the same time, let's see if we can make that happen at the next stop on the Sugar Cayne Bike Fest Tour June 21st at Shoreham BMX Track in Long Island.