Supa dope legendary emcee R.A. The Rugged Man dropped a banger called "Definition Of A Rap Flow". R.A. kills the Factory Studios produced beat with his sick rapid fire flows, dude is a beast on the mic without question! I love the visuals for this joint, it really pays homage to the golden era of HipHop and the 80's when the music videos were fun and bars were dope! The parodied classic 80's movies and T.V. shows had me laughing. What's really dope is R.A. The Rugged Man also directed the video….dude is beast behind the camera too!! THIS IS HIPHOP!!!!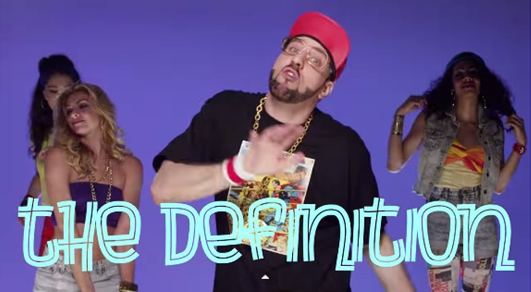 Legendary rapper R.A. The Rugged Man is back in the director's chair for the rambunctious and hysterical new video "Definition Of A Rap Flow", off his latest album Legends Never Die. Among the Rugged Man's most infectious videos to date, "Definition Of A Rap Flow" features cameos from a host of hip-hop luminaries, from legends like Grandmaster Caz, Sadat X, Chill Rob G, Dinco D, and the Beatnuts to new-school talent like Chris Webby. Combining the style and essence of hip-hop's Golden Era with technically flawless new-school lyricism, "Definition Of A Rap Flow" is yet another reminder of the Rugged Man's undeniable place in the pantheon of all-time great emcees.
Now go cop that "Legends Never Die" album in stores now.
For all you so called HipHop heads that's don't know your HipHop history and were wondering why R.A. was singing about the Albee Square Mall below is the original Albee Square Mall song by HipHop Legend Biz Markie