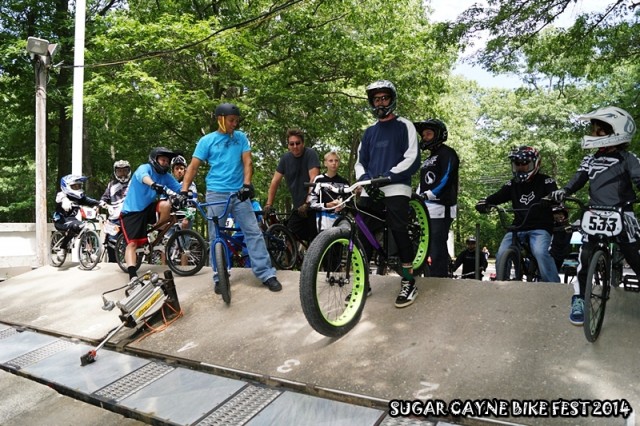 Yesterday was Stop#2 of the Sugar Cayne Bike Fest Tour at Shoreham BMX Track in Long Island and it was a lot of fun! First of all we couldn't have asked for better weather for the event, it was simply amazing! The turn out was nice and everyone was excited about being there. We had a great mix of riders at the event from BMX racers, MTBers, a bunch and of trail and street riders!! We also had our first ever Fat Bike rider at the event which was awesome!! Plus the guys from Long Island Electric Bikes brought a few really cool E-Bike for people to test out, they also took the new Easy Motion Neo Jumper E-Bike our for a spin around the track.
Another really cool feature at the event was my good friend Tommy Bivona got the Suffolk County Sheriff's Department to setup their bicycle safety course in the parking lot for the riders to try out and get bicycle safety advice. There were so many cool things going on at the event it was exciting to see.
Stop#2 was also the first time that we used the new 10 competition format. There were so many choices that riders could choose to compete in for the day. This was also our biggest turn out for the 16& Over High Jump and Cyclocross race.
Another thing that I wanted to accomplish with the SCBF was I wanted to help tracks gain new members and I'm happy to announce that during SCBF yesterday Shoreham gained 11 new riders, That's so awesome to hear!!
I had a great time doing this event and I can't wait till the next one which it coming July 19th in Hampton, VA!!
Super Big shout out and thanks to Rich Soper, the whole Shoreham staff and volunteers for all their support in helping me put this event together. I'm looking forward to next year when we'll do it again! And a extra special thank you goes out to my mother who trooped with me all day and helped me out tremendously during the event! I love you mom!
I would also like to thank all my amazing sponsors, Skyway BMX, Cult Crew, Snafu, Hyper Bike Co, Crit Plate, Base Bklyn, Bike New York, Cranx Bicycles, Nutcase Helmets, Plus Size BMX, Pedal Sock, BodyArmor, Education Outdoors, Thermal Soundwaves Radio and Eye Fuel Media
I will be doing a separate post with all the results from the event soon but for now you can view all my photos from the event below
Having trouble viewing the gallery below? CLICK HERE
If you'd like to support SugarCayne.com/SugarCayneBikeFest by purchasing a photo from the gallery, CLICK HERE