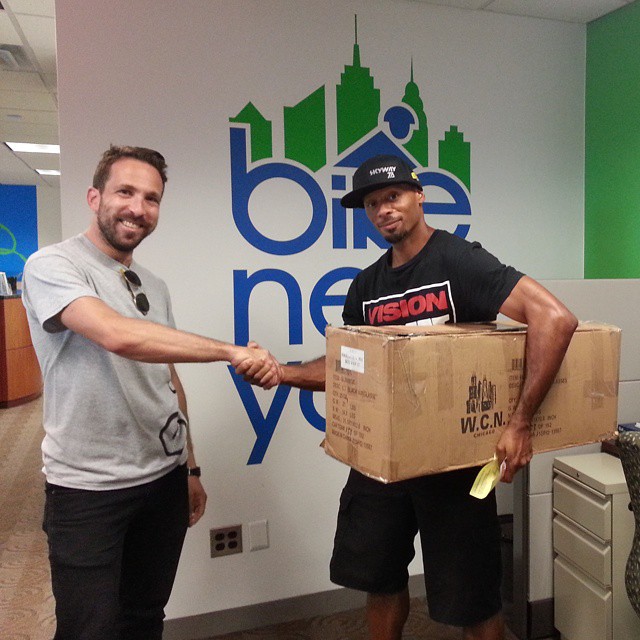 The awesome folks at Bike New York sent us a bunch of their cool T-Shirts to give out to the winners of the competitions at the Sugar Cayne Bike Fest Experience at Brooklyn Bike Park this Saturday September 13th!  We're very proud to have a such great cycling organization sponsor our events. Bike New York is doing great things for cyclist in New York, please visit their website (BikeNewYork.org) to find out more about their events, rides, bicycle advocacy and bicycling education programs. I have to give a huge shout out to Sam Polcer (PreferredMode.com) for making this happen!
About Bike New York:
Mission
Bike New York is a 501(c)(3) not-for-profit organization whose mission is to facilitate and promote cycling in all five boroughs of New York City through education and public events as well as collaboration with both community organizations and municipal agencies.

Vision
To encourage cycling as a safe and sustainable means of transit and recreation. Ultimately Bike New York aims to elevate cycling as a green, healthy compliment to New Yorkers' daily lives by providing access to safe cycling practices and engaging events.

Strategy
Working with the New York City Department of Transportation and other City agencies, Bike New York provides access to cycling for New Yorkers by providing free bicycle education classes in all five boroughs.
Also check out the Bike New York Twin Lights Ride coming September 28th!!
About Sugar Cayne Bike Fest:
The Sugar Cayne Bike Fest is a celebration of off road bicycling. It's an event for all the different styles and disciplines of off road cyclist to come together for a day of friendly competition and sharing ideas. We have competitions for MTB, BMX, Cyclocross, Fat-Bikes and Balance Bikes/Striders