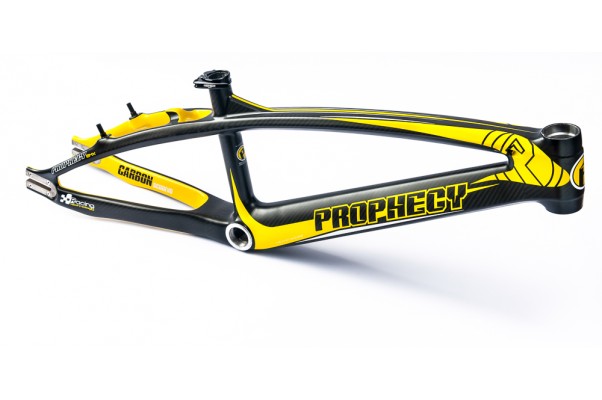 I'm loving that colorway of the the limited edition Prophecy SCUD EVO carbon fiber BMX race frame! The Yellow and carbon/charcoal grey colorway looks sick and I really like the way they used the yellow on the inner side of the rear triangle(Seat & Chain stays).
Prophecy BMX Scud Evo yellow limited edition frame : So what's new on this frame?
Basically we are using the same process of fabrication than the previous one but with new carbon 3K layers on all the frame, new paint design 60% matt, internal cable routing (excepted for 24″) and black seat clamp with quick release made by CNC especially developed for carbon frames.
Lighter with a weight:
24″ CRUISER, PRO, PRO XL & PROXXL: 2,98 lbs (47,62oz, +/-10%). ~Prophecy BMX
This thing is built to perform on the track and look good doing it. You know I especially like it because it's the same colorway as our website design 😉
These frames cost a grip at $899.95 but they're not to most expensive carbon BMX frames so that's good 😉
Visit Prophecy BMX for more info on this awesome bike.
JUNIOR & EXPERT XL: 2,54 lbs (40,57oz, +/-10%).