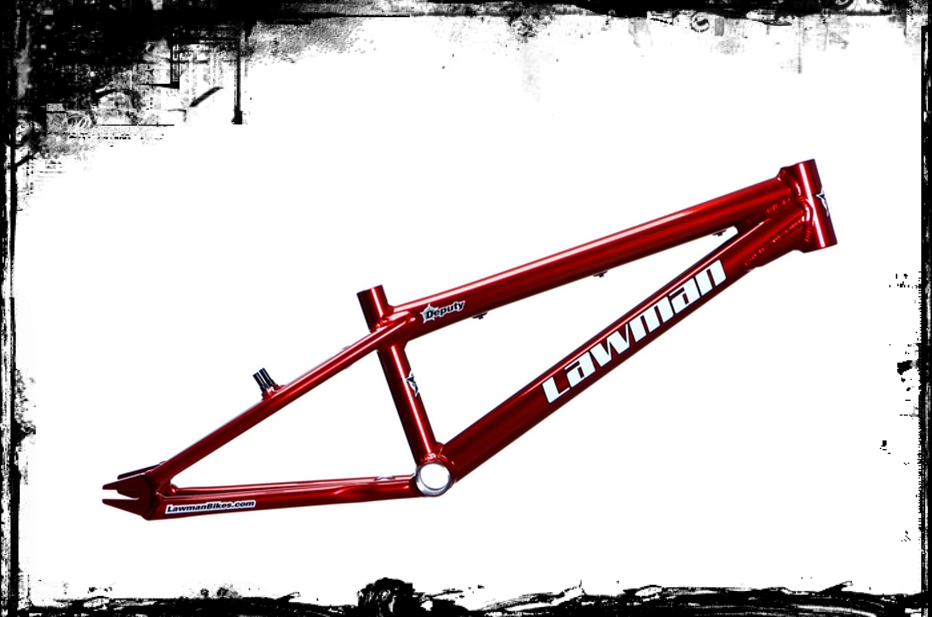 I'm always looking to share info on BMX brands that aren't household names in the game so when I came across this BMX manufacture called Lawman I had to share it. The image above is of the Lawman Deputy Expert XL frame and it looks tight. This frame and all the other Lawman frames are hand built in North America, one at a time to make sure the quality is top notch. The Deputy comes and many sizes including cruiser sizes. I'm looking forward to seeing one up close and personal at the races this summer!
At Lawman, Our focus is to design and build high quality, high performance BMX products for riders of all skill levels. Our Deputy Frame is designed and built using over 20 years racing experience with our own race proven geometry.

Our Deputy frame is built using high quality 6061 T-6 aluminum tubing with CNC'd headtube, bottom bracket, and dropouts for added strength. Each frame is HAND BUILT in North America one at a time to ensure the highest quality standards are met.~Lawman Bikes
About Lawman Bikes:
The Lawman brand was created as a tribute to a fallen officer. Kent Mundell was a Pierce County Deputy who lost his life in the line of duty in 2009. He was a great friend and supporter of the Northwest BMX community. Kent and I had wanted to make BMX frames together and we had talked about it several times before his passing. With Lisa Mundell's (Kent's wife) permission, we named the company Lawman Bikes and as a tribute to him and we're honored to be able to use Kent's badge number "423" in our logo.
Find out more about Lawman Bikes HERE