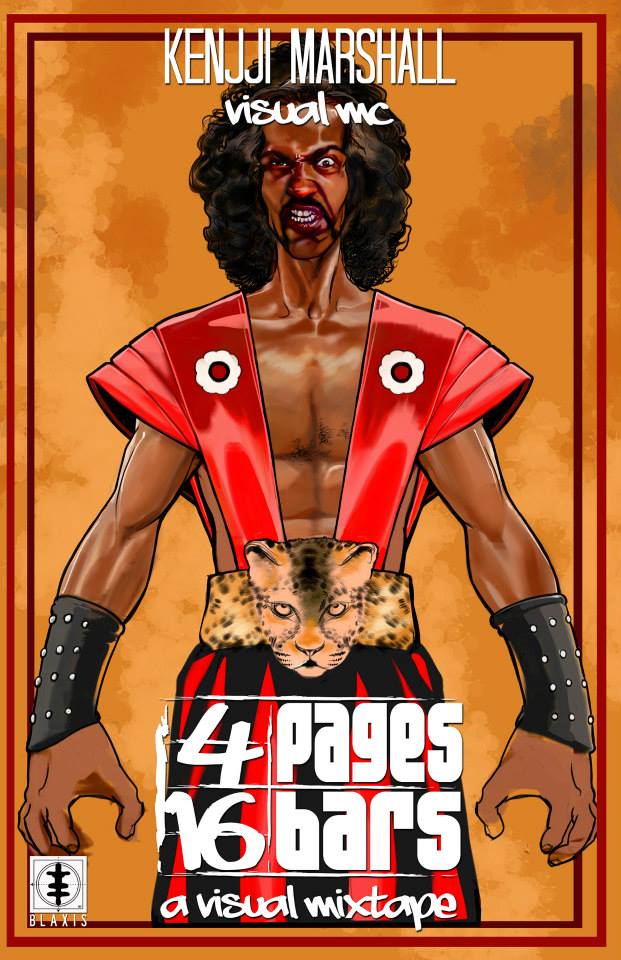 I saw this amazing illustration of the legendary character "Sho Nuff" from the movie Last Dragon done by Kenjji Marshall posted on Facebook by Jiba Molei Anderson. The illustration is part of new series that celebrates the cultural diversity of the independent comic book scene called "4 Pages 16 Bars: A Visual Mixtape".
The 4 Pages | 16 Bars: A Visual Mixtape trade paperback series will be a celebration of where true diversity exists in this industry, a sampler for potential fans to enjoy our intellectual properties, a showcase for existing and upcoming talent as well as a source guide for those fans to purchase our books.~AfroSoulCronicles
So I know ya'll were thinking by the title that this was maybe a mixtape accompanied by illustrations but….
We are Visual MCs and Literary DJs. We move our pencils and pixels like the comic book B-Boys and B-Girls we are with our Graffiti making the world a little more beautiful… A little more flavorful.~AfroSoulCronicles
The first issue in the series is set to drop June 2015 with subsequent volumes coming out in Fall 2015, Winter 2016 and Spring 2016. Some of the artist featured in the series are John Jennings, Ashley Wood, N.Steven Harris, Shawn Alleyne, Jason Reeves, Stacy Robinson and many others. I'm very excited about this project and think it's gonna be a game changer in getting the word out about all of these talented creators!