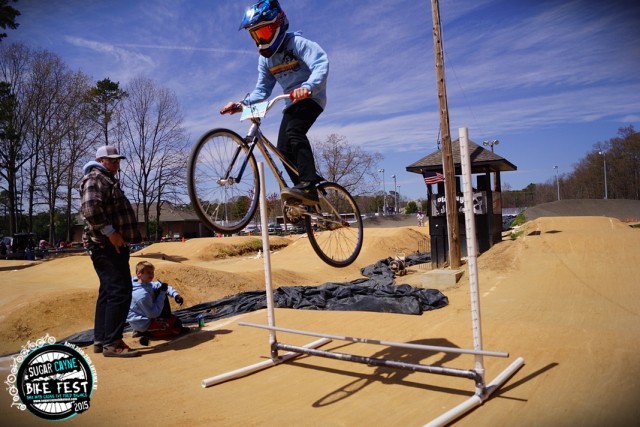 Well the first weekend of off road cycling dopeness with the Sugar Cayne Bike Fest and Mid Atlantic BMX Super Weekend is in the history books. This also marks the beginning of the 2nd full season of the Sugar Cayne Bike Fest Tour. We had a great time at the event and the Staff at Egg Harbor Township BMX are top notch. Such and awesome crew and awesome track at EHT, I can't thank them enough for all their support over the weekend!
My by G The Promoter AKA "Gee Pro" had an amazing event with his Mid Atlantic BMX Bike Show, Swap Meet and Flatland Jam. So many sick vintage BMX bikes were on display, it definitely brought back memories. The Flatland Jam was big! So many flatland rider from far and wide came through to ride the super smooth hockey rink right next to the track.
The kids had a blast competing in all the competitions during the Sugar Cayne Bike Fest. There were so many competitions to join the kids kept coming back to registration to sign up for another one. This year we added a bunch of new competitions and I was surprised to see how entertaining the "Longest Skid" competition was. This was also the first event that we ever did the Fat Bike High Jump and Fat Bike Fastest Gate competitions. The Girls even got down for their own bunny hop competition. Lots of cool things went down all weekend.
I have to give a huge shout out to all my amazing sponsor for the event: Snafu, Hyper Bicycles, Scarred 4 Life Racing,Redline, Lawman Bikes, Launch Mode, Team Corrosive and Skyway Wheels!!
Come through for the next stop on the tour where we come up to Tri City BMX track in Rotterdam N.Y.