Florida based artist/custom toy designer Tony Shiau Nakanari made this dope HipHop custom of the "Nobody" resin figure! Clearly you can see this custom was inspired by the iconic HipHop group Run DMC. Nobody is basically doing cosplay of group member DMC with his big glasses, Adidas style jump suit, sneakers and of course what would a DMC cosplay be without a dookie gold chain. 😉 The only thing the character is missing is the trademark Run DMC Hat!
We love how this piece came out, it's always exciting to see dope HipHop inspired toys and art pieces, Big Up to Nakarnari for this one!!
This custom will be part of a "Nobody" exhibition put on by The Good Habit where artist from all over will make their own custom versions of the "Nobody" resin.
About Tony Shiau Nakanari:
Nakanari born in Taiwan, creator of "Misfits of Nakanari" and show director of B.B.Birdy's Funny Club series, brought the idea to have artists bring their 2D artwork to 3D artwork on blank canvas toys.
Nakanari created and partnered with various artists to bring their artwork to reality (2005 – Crossover Show "Gallery Nucleus/LA ad Rotofugi/Chicago", 2007 – Project Vinyl "FX Show Toy" with partners in Me Llamo Jellyfish, 2008 – Technobabble "myplasticheart/New York" with Dave Quiles).
Nakanari and artist Soujohn created a new brand called Mai Hiro. The Mai Hiro brand focuses on strong character design and illustration. Nakanari has a distinct style, uses clean graphic lines and shapes, with a soft pastel palette framed by contrasting thick bold black lines. Nakanari prefers to showcase his artwork on canvas using the flat colors technique than to play with shadows. Nakanari's Eastern Oriental culture is infused into his artwork.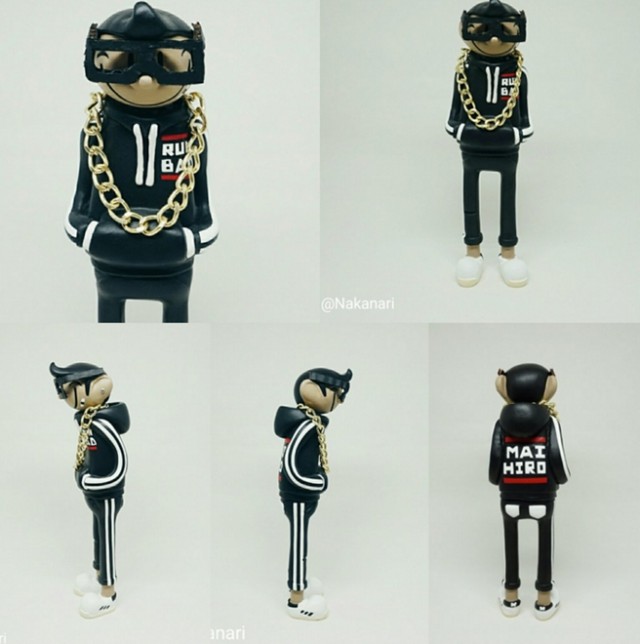 About The Good Habit:
TheGoodHabit head character started from graffiti throw-up by internationally known graffiti artist from Jakarta Indonesia. he continues to developed the character design based by his graffiti background. he also make another character design inspired by his good friends. the characters design grows from street art to fine art, toys, comics, t-shirt etc. collab with another artists, products, brands, clothing line, etc. and also welcomes to another co-operation as long as it is creative and interesting.