Martino Auto Concepts organized another hugely successful Toys For Tots event this past Sunday! The had about thousand automobile enthusiast from the tri state area all meet in downtown Glen Cove Long Island for a massive convoy drive to the Cradle Of Aviation Museum in Uniondale.
There were all types of exotic cars, trucks, muscle cars, custom and more all full of toy donations from the vehicles owners.
The Cradle Of Aviation Museum is where everyone unloaded their gifts and put them in the massive trucks to be transported to the Toys For Tots warehouse where they will then be distributed to kids in need all across the country.
It was a huge charity event/auto show which packed the museum parking lot and really big part of Nassu Community College's parking lot too.
Even News 12 Long Island was there to cover the event.

We came out to the museum to capture the festivities and amazing cars. You can see them in the gallery below.
Super huge props and congrats goes out to the whole Martino Auto Concepts crew for pulling off another amazing charitable event!!!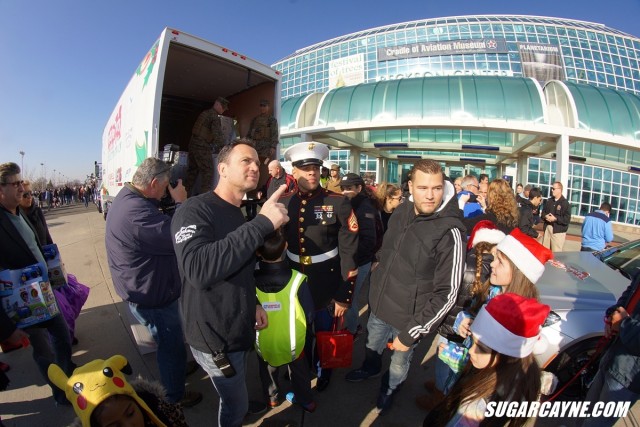 About Toys For Tots:
The mission of the U. S. Marine Corps Reserve Toys for Tots Program is to collect new, unwrapped toys during October, November and December each year, and distribute those toys as Christmas gifts to less fortunate children in the community in which the campaign is conducted.
The objectives of Toys for Tots are to help less fortunate children throughout the United States experience the joy of Christmas; to play an active role in the development of one of our nation's most valuable resources – our children; to unite all members of local communities in a common cause for three months each year during the annual toy collection and distribution campaign; and to contribute to better communities in the future.
About Martino Auto Concepts:
Martino Auto Concepts, the benchmark of the industry, has become synonymous with automotive excellence providing our clients with an outstanding level of service, style, superb quality, and unparalleled dedication to the artistry of our craft.
After three decades of specializing in exotic and high line collision reconstruction and refinishing our highly skilled technicians along with leading edge technology return your vehicle to pre loss condition. A correct reconstruction is essential for maintaining its integrity and value.