The folks at cycling footwear company DZR recently released their latest pair of kicks called Shift
About Shift:
NEW SHIFT FLAT PEDAL LINE
The Shift line of footwear is a natural extension from DZR's existing offerings of the original clipless urban bike sneakers. The design is rooted in urban street style, yet still maintains all performance elements that are non-negotiable for the urban dweller. The Shift has been co-designed among three world-renowned artists, Burrito Breath, Wakako and D Young. Each artist has designed the interior of the shoes in order to compliment the exterior design of the new Shift silhouette.
Design features include a stiffened midsole for power transfer while pedaling, a counter-griped gum rubber outsole that is durable and provides optimum grip on a variety of surfaces, as well as a strategically placed directional tread. The toe portion of the sole is able to grip the ground and the mid foot is lowered for the best pedal grip, while the heal-tread sheds dirt and optimizes traction. The well thought aspects of the outsole have been designed for the balance of stiffness and all day comfort while being wrapped in a sleek urban profile.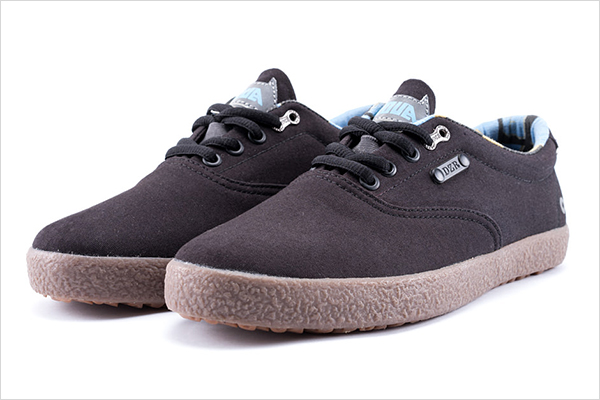 Additional features include custom chain link eyelet and hand stitch detail on heal cup, 12oz canvas, reflective heal badge, ventilation ports and a low profile design that fits seamlessly into toe straps.
We're excited about this!!!! A sneaker that's actually intended for cycling with performance features made specifically for cyclist. Not just another skater sneakers that also works for cyclist. It's about time somebody did it. Much respect to DZR!!!