Daylight Cycle Co – Arc c1- Prototype First Looks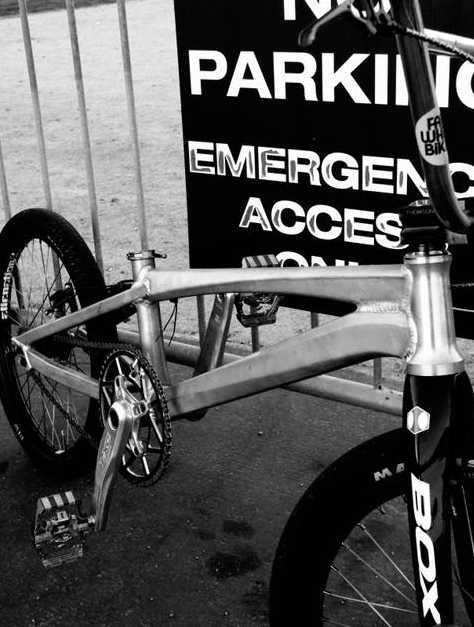 A few day's ago the folks at Daylight Cycle Co posted some photos of the highly anticipated new bike that will be coming from the brand. The photos were of the Daylight "Arc c1 Prototype" frame and it looks pretty sick. The black and white photos gives us a nice tease on how the bike looks.
What we know so far:
– The Bike is Designed, engineered, and hand built in California U.S.A.
– Top, down and seat tubes – multi-butted and oversized, hand-coped and built for a strong and stiff, light and quick race machine
– Rear Drop out Ti bolts and sliders will come in a choice of anodized Daylight colors. 15/20mm version also coming!
– Corben Sharrah will be racing it in RIO
– Available this Fall 2016
Find out more on Daylight Cycle's Facebook Page

Photos from Daylight Cycle Co's Facebook Page

Bike Of The Day: Juan's 2019 Throdwn XXL Custom
Today's Bike Of The Day is Juan Narvaez's custom 2019 Throdwn XXL. It's colorful custom painted BMX racing bike loaded with high end parts. This build has been getting a crazy buzz on the web.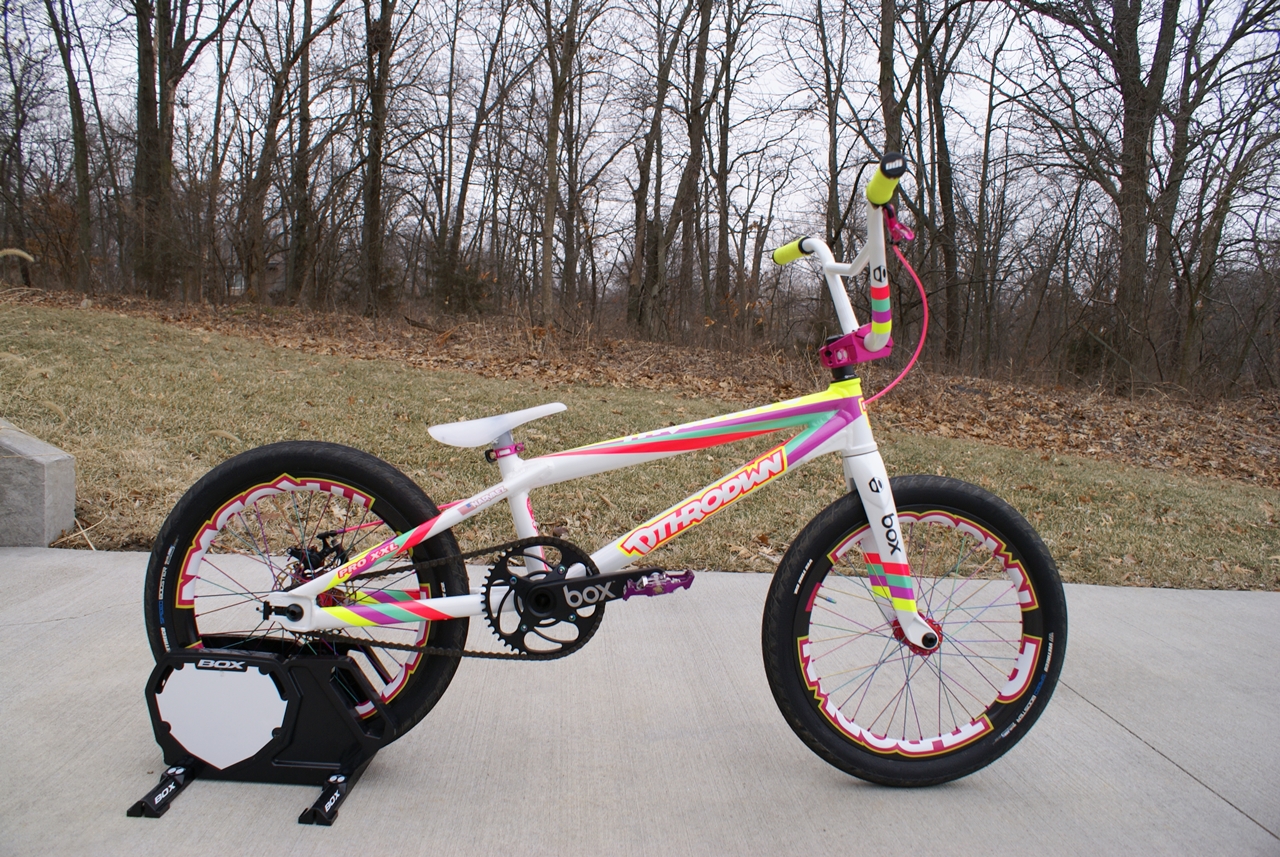 Here's what Juan has to say:
"Trent Jones has been one of my favorite pro riders, and I loved his all white build for the Rio Olympics, so I used that as a starting point for inspiration and incorporated my affinity for 80s/90s style bright colors and designs to come up with the final layout. Element 6 had previously done custom paint on my Intense M16C downhill frame, and it turned out amazingly, so I went to them again when I wanted to do a custom BMX build for this season. I met Max Eden from E6 Racing Components at Grands and he mentioned that he could do a custom rimset, so I sent over the Throdwn logos and he got to work on those, and they turned out amazingly (and I have to thank my local bike shop, Bikes for the Likes of Us for lacing them up!). From there I just started collecting a variety of jet fuel/oil slick, custom powder coat, pink and purple components to finish out the build."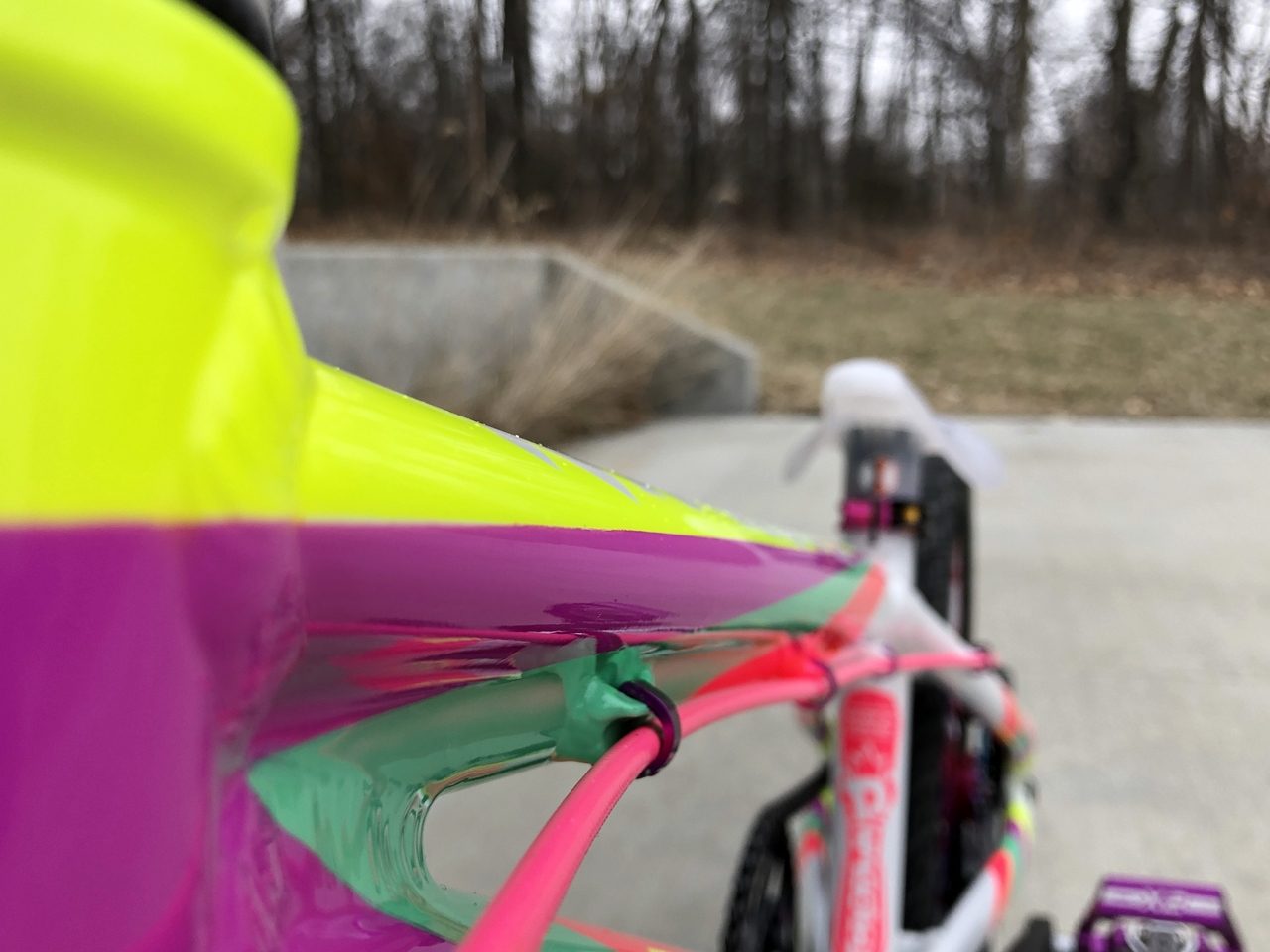 PARTS LIST:
Frame: 2019 Throdwn XXL | Disc Brake Mount | Tapered Head Tube | 21.5" Top Tube
Custom Paint by Element 6 in Santa Ana
Seat / Seat Post: White Box One Echelon
Seat Post Clamp: Pink Box Helix Quick Release
Fork: Box X5 Tapered 20 mm
Headset: Box One Integrated Tapered
Stem Lock: Box One
Stem: Pink 53mm Box Delta
Handlebars: Cromo 8.5" Box Triple Taper V
Grips: Neon Yellow ODI Maris Strombergs w/Troy Lee Grip Locks

Brake Lever: Pink Box Genius Lever
Brake Cable: Pink Jagwire
Brake Cable Clips: Pink Aluminum
Brake Caliper: Yess Mechanical Dual Piston
Brake Rotor: Jet Fuel Fouriers 140 mm
Brake Rotor Bolts: Jet Fuel Titanium
Rear Hub: Corkey Pink / Super Chrome Onyx Ultra SSD 15 mm
Front Hub: Corkey Pink / Super Chrome Onyx 20 mm
Spokes: Rainbow Colony Straight Gauge Rear / Total BMX UK Double Butted Front
Spoke Nipples: Pink Alloy
Valve Stem Covers: Jet Fuel
Rims: E6 Silencers w/custom Throdwn Graphics

Tires: Vee Speedbooster 1.85 Front / Rear
Pedals: Purple HT X2 | Pink HT Platform
Crankset: Black Box Vector M30-P 172.5MM

Chainring: Black Rennen 45T
Cog: Onyx 17T
Chainring Bolts: Jet Fuel Stainless Steel
Chain: Black Shadow Half Link 3/32" Race Version
Rollout: 45T/17T/1.85 – 52.94

Wheelbase: 38.25 in
Overall Bar Height: 36 in
Weight: 20.2 lbs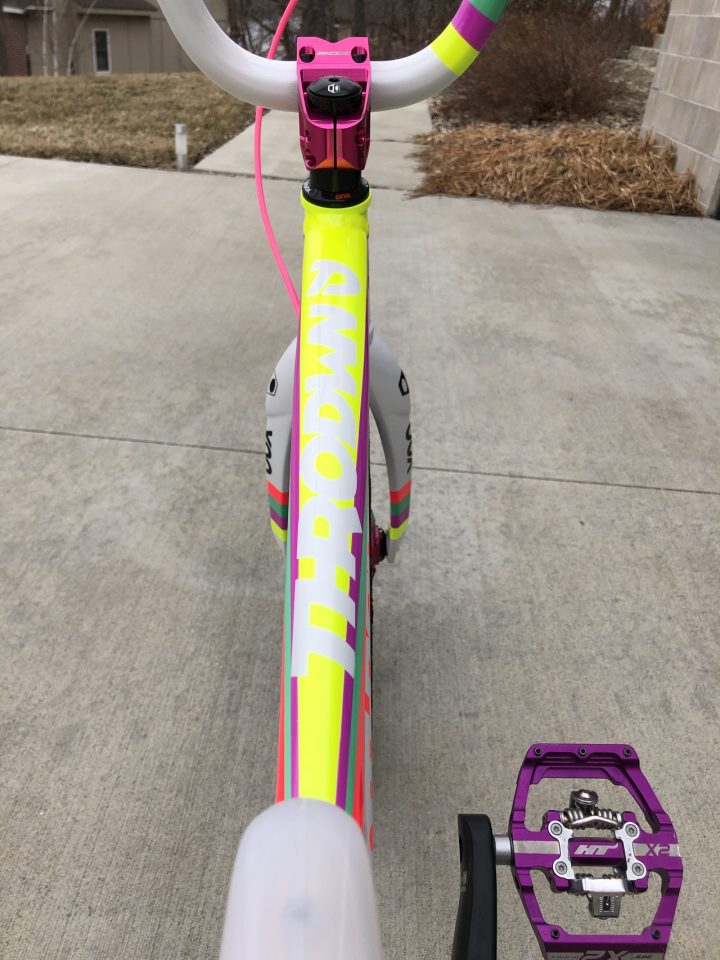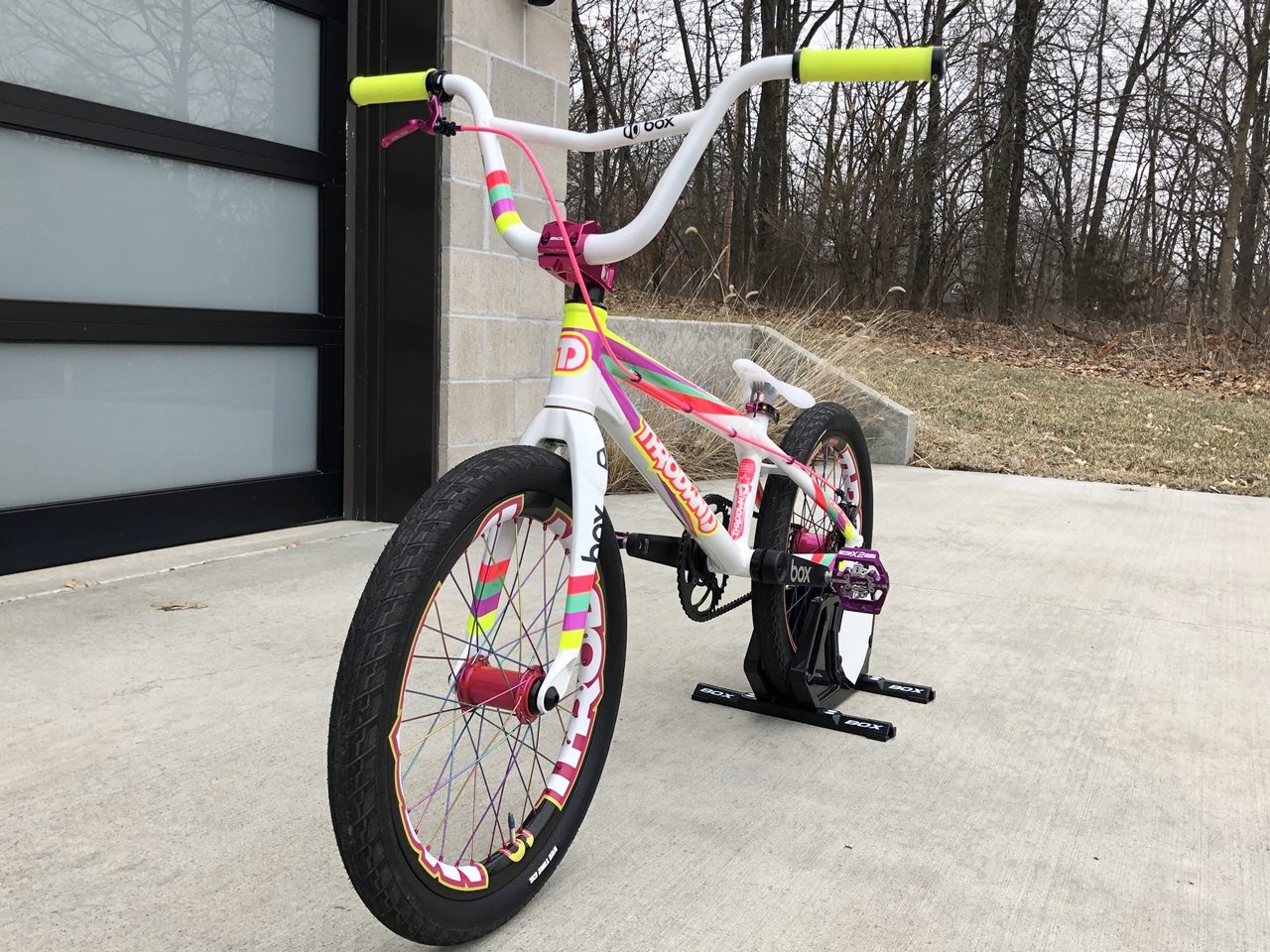 2019 Radio Bikes Ceptor 26", Matt Olive Patina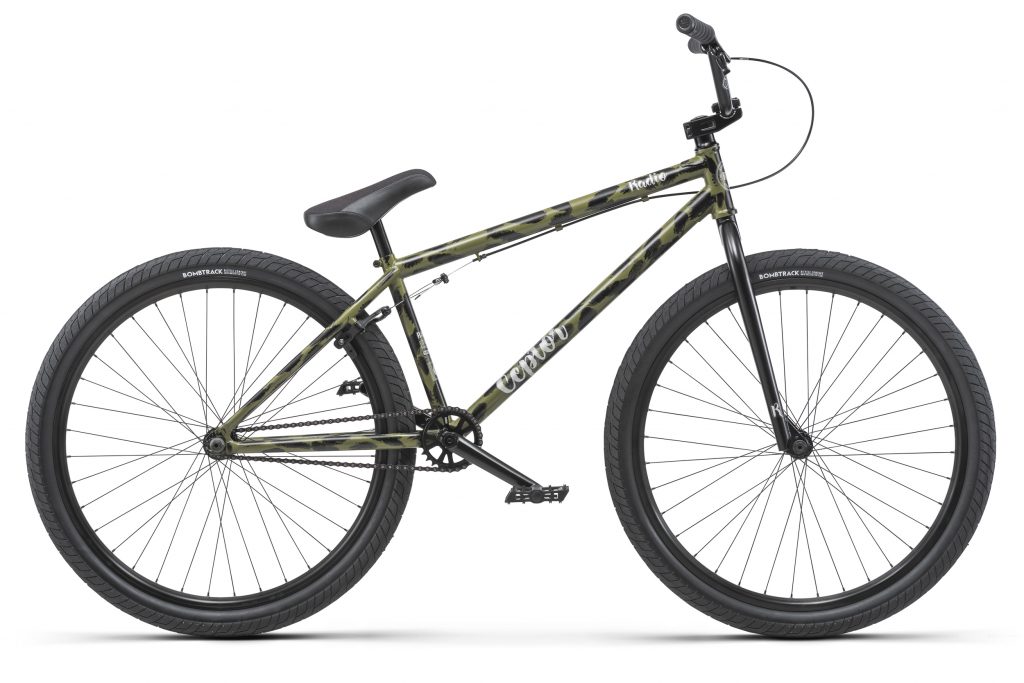 We're diggin the new Matt Olive Patina colorway of the 2019 Radio Bikes Ceptor 26″ complete. The plus size ("Urban") BMX bike is made for shredding the streets, parks and just about anywhere else. The geometry on this bike takes its cues from it's 20″ BMX brothers When you look at the Ceptor it literally looks like a big 20″ BMX street bike.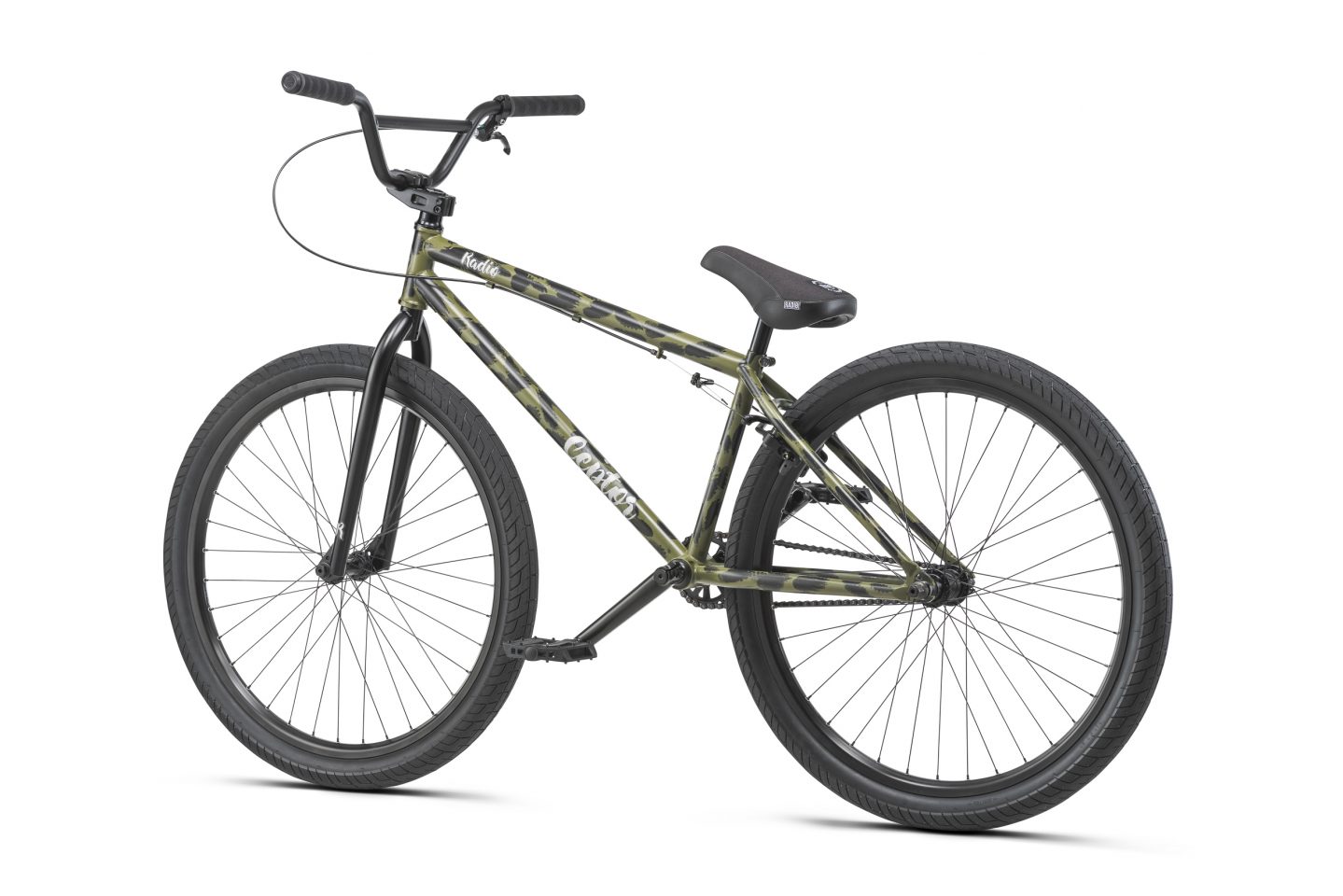 Press Release:
"BACK FOR 2019 IS OUR CEPTOR 26" CRUISER. TAKING OUR BMX HERITAGE AND APPLYING IT TO A LARGER 26" WHEEL, WE CREATED THE PERFECT BIKE TO TAKE YOU FROM A TO B WHILST ALLOWING YOU TO SHRED ANYTHING IN YOUR PATH WHILST YOU'RE ON YOUR WAY. THE BMX INSPIRED 26-10 GEARING IS BACKED UP BY A RADIO PRO CASSETTE HUB AS WELL AS SEALED BEARINGS THROUGHOUT. THE RUBBER IS TAKEN CARE OF BY BOMBTRACK'S HELIX V2 2.3" TIRES AND THE REST OF THE BIKE IS LACED TOGETHER WITH A HEALTHY DOSE OF SALTPLUS GOODIES. HOW RAD DOES THAT PATINA PAINT LOOK?" ~Radio Bikes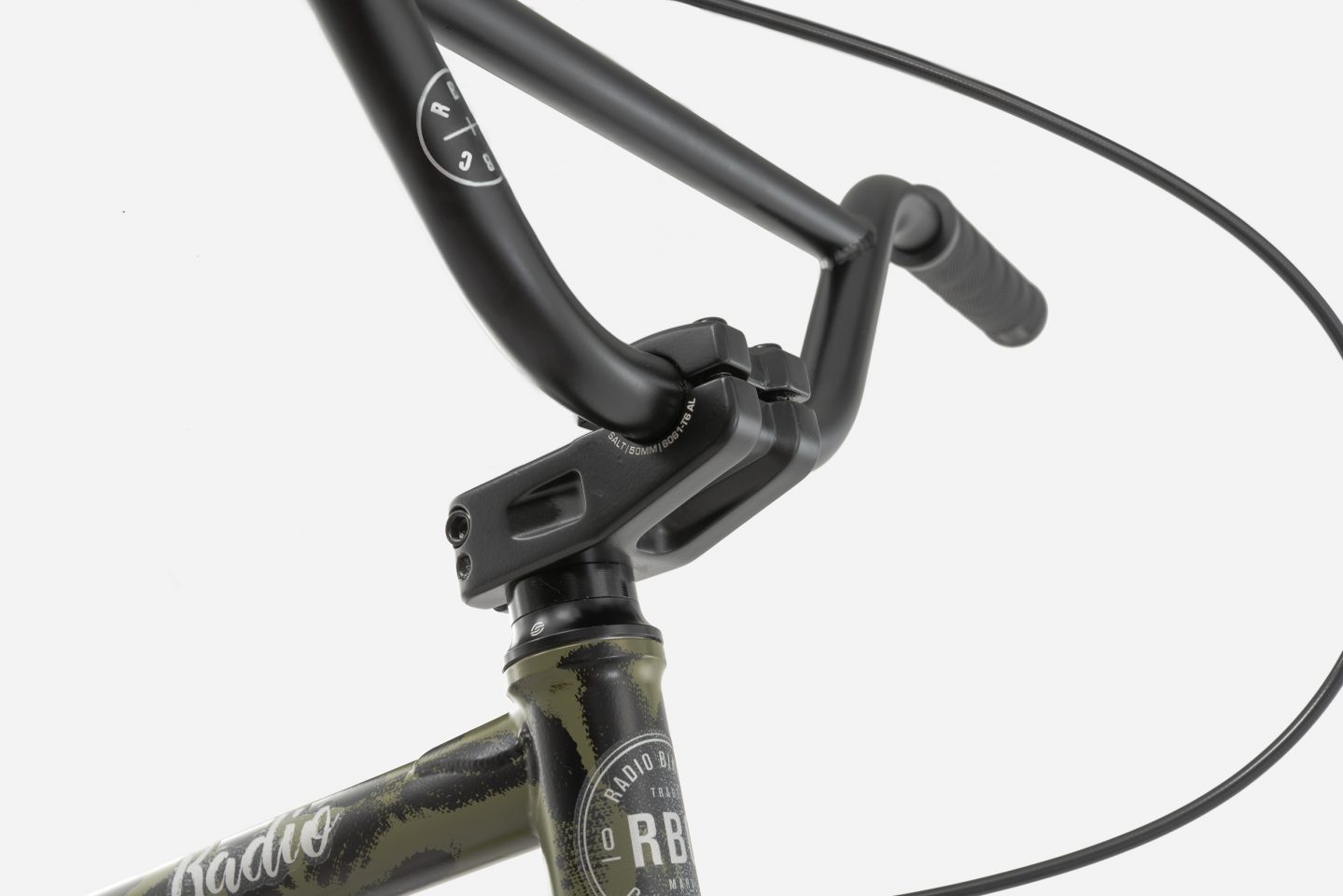 FRAME GEOMETRY:
TOP TUBE LENGTH 22.7″ / 577mm
CHAIN STAY LENGTH 15.4″
HEAD TUBE ANGLE 75°
SEAT TUBE ANGLE 71°
BOTTOM BRACKET HEIGHT 9mm drop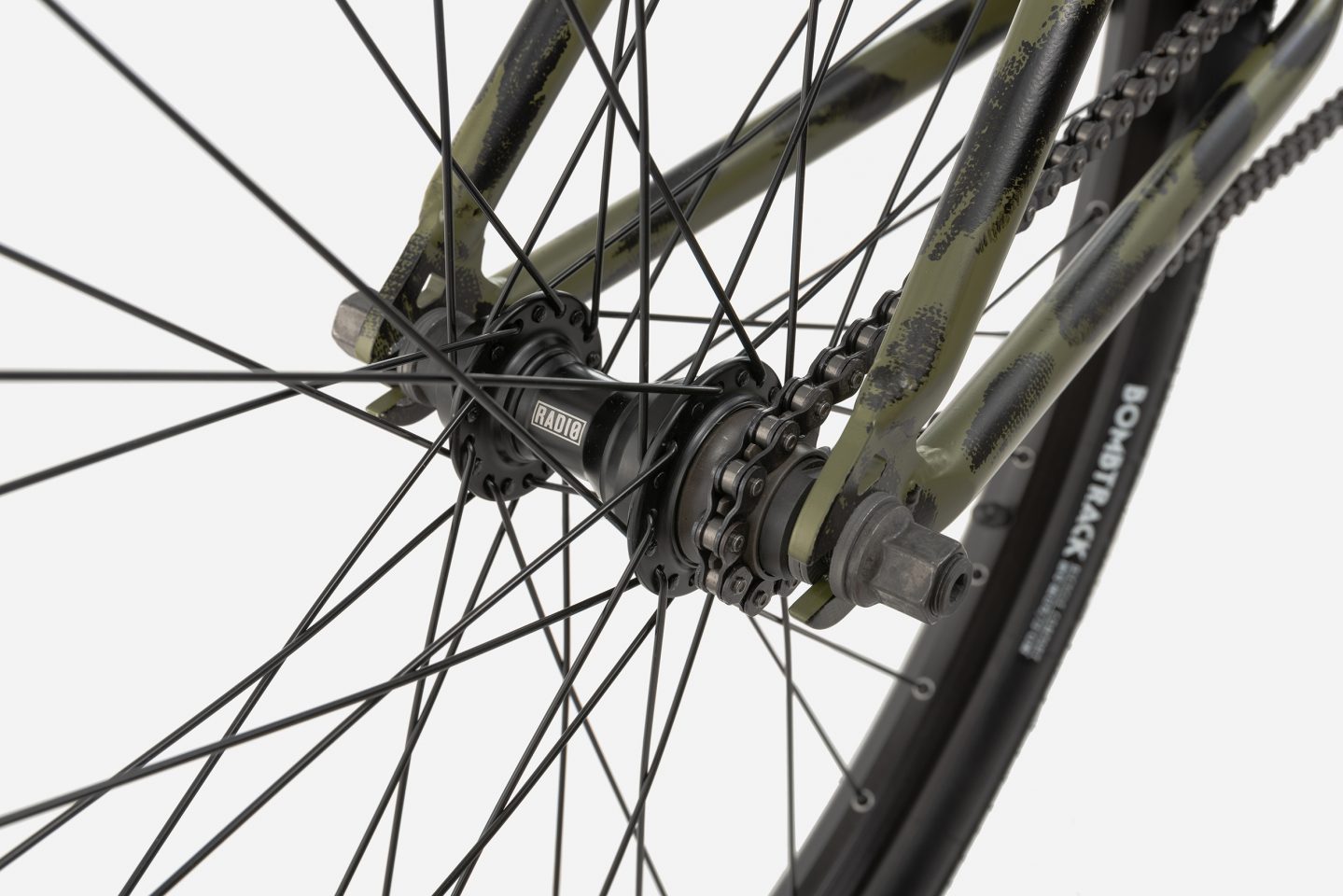 STANDOVER HEIGHT 13.2″ / 332mm
HANDLEBAR GEOMETRY
RISE 140mm
WIDTH 736mm
BACKSWEEP 10°
UPSWEEP 4°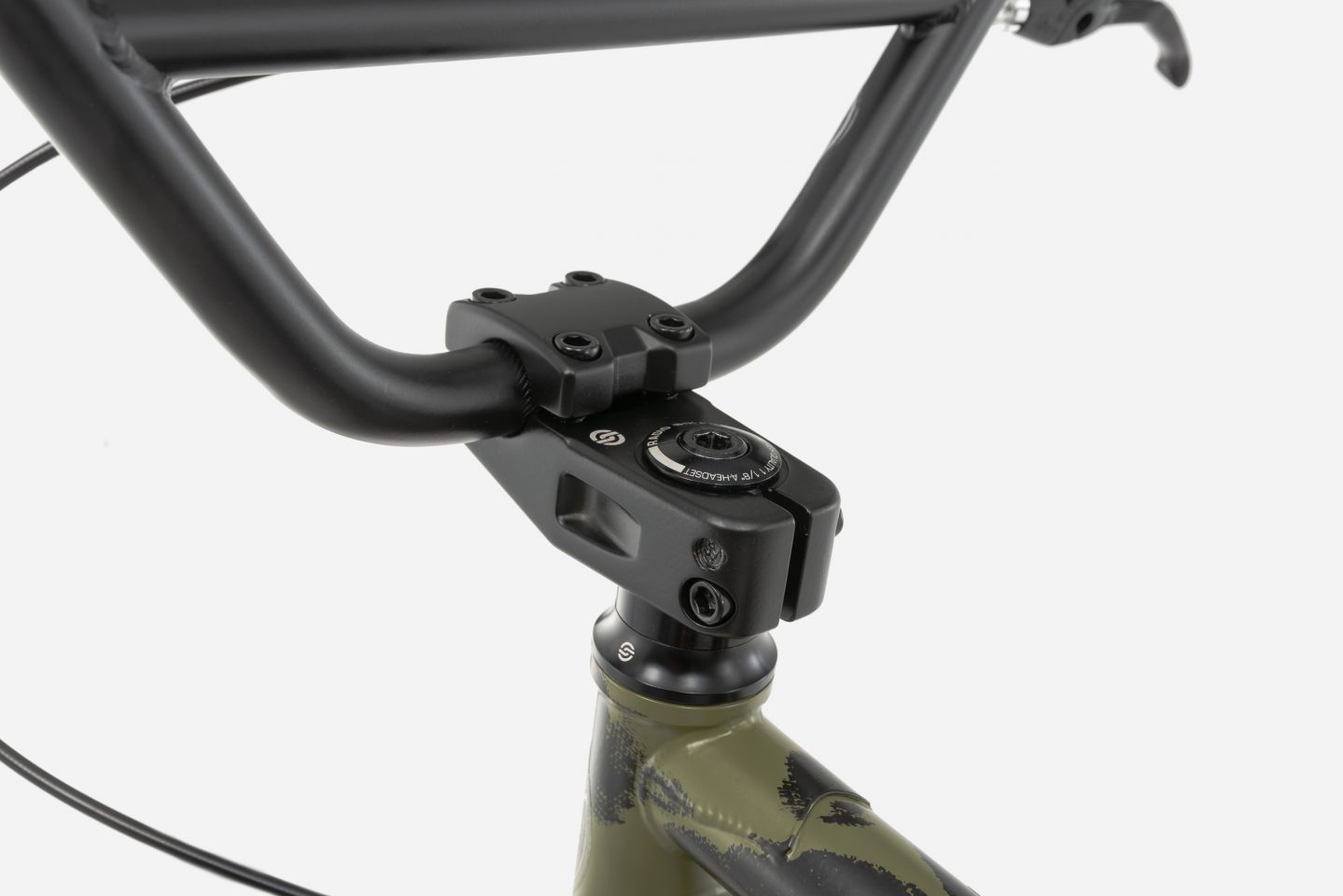 Find out more about the 2019 Ceptor 26″ visit RadioBikes.com
Radio Bikes XENON PRO XL BMX Racing Complete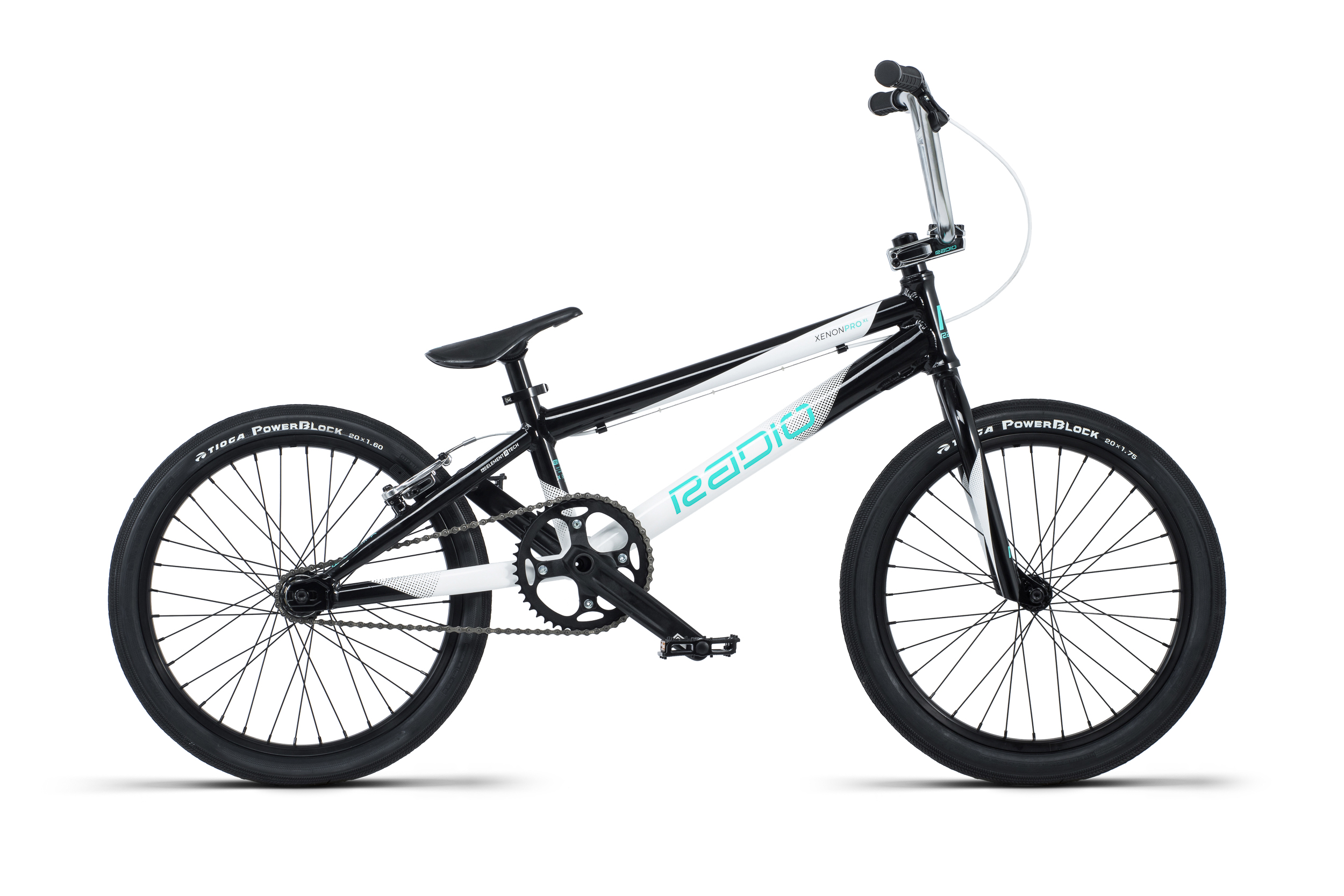 Radio Bikes Xenon Pro XL is a relativity new BMX racing bike. Radio has been primarily making BMX freestyle, Dirt jumpers and "Urban" bikes. The Xenon is their first racing bike.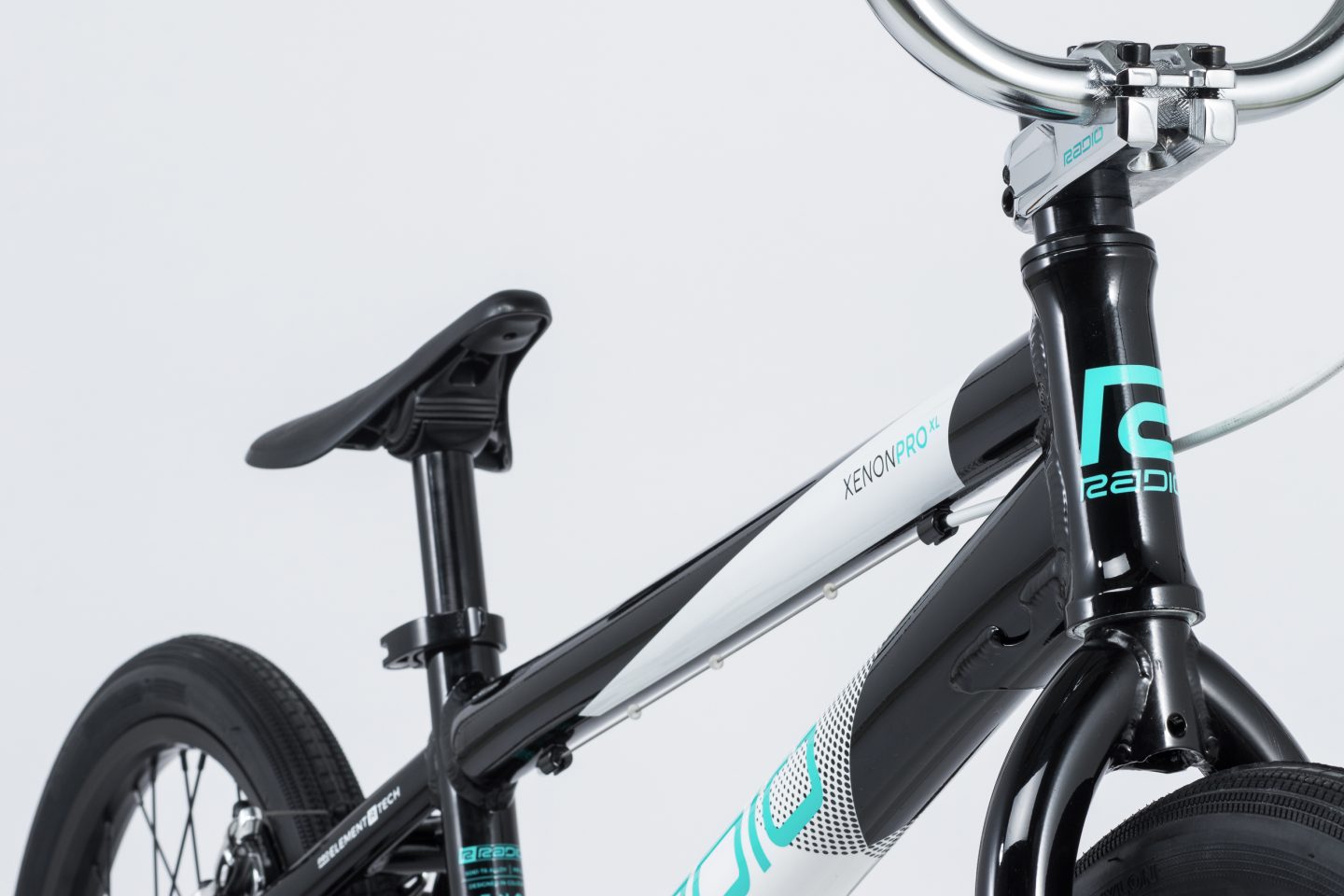 The XENON PRO XL comes complete with a nice pro package featuring a cold forged 53MM stem, female bolt hubs and cold forged alloy cranks. The frame is custom 6061-T6 alloy. Other parts include Promax, Alex rims, Tioga tires and parts package.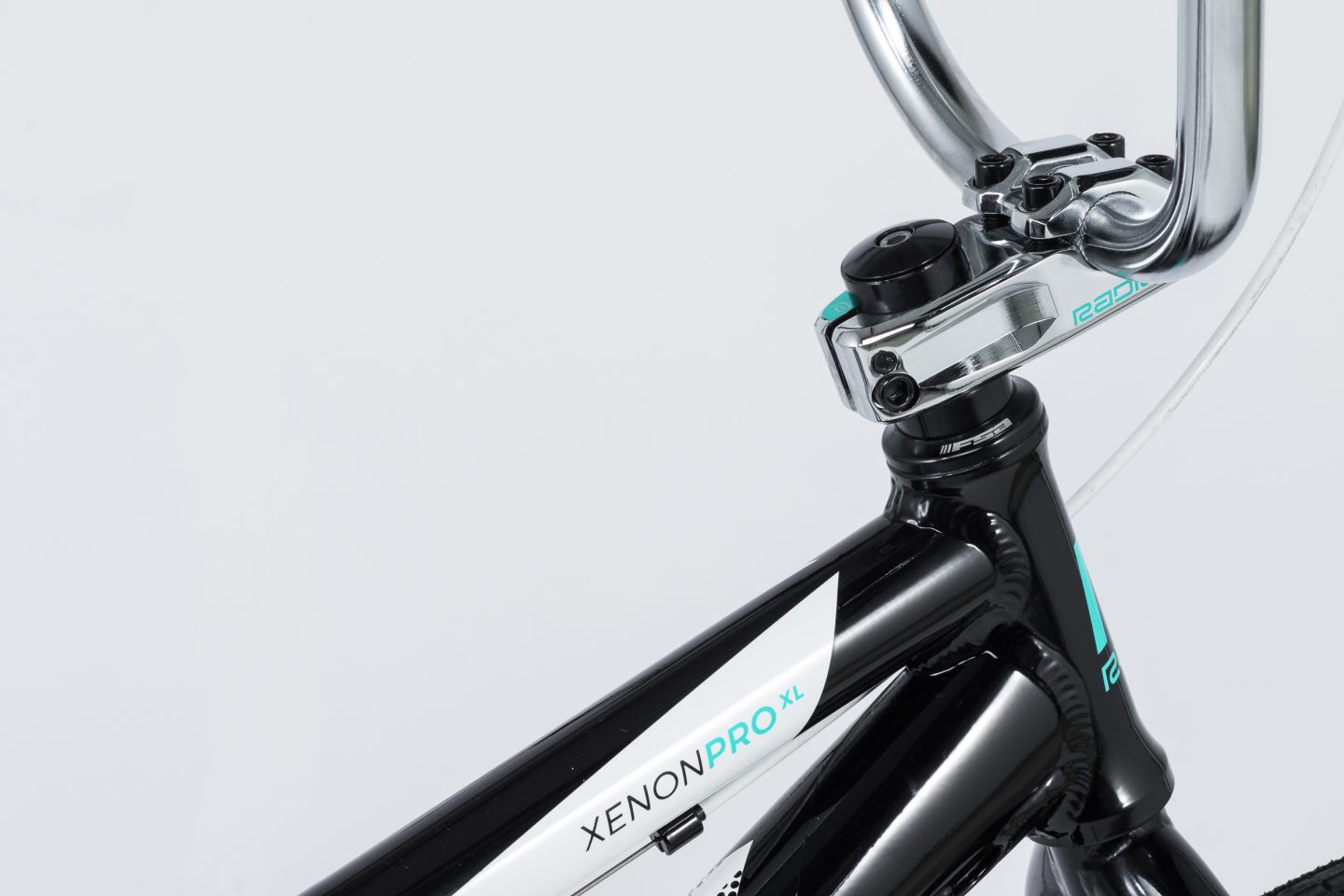 PEEP THE STATS:
FRAME 6061-T6 alloy, forged dropouts with int. chain tensioners
FORK full crmo, 1 1/8″ butted steerer
HANDLEBAR full 4130 crmo
GRIPS RADIO "Xenon" clamp-on grips, 139mm long
STEM RADIO "Xenon Pro" top loading stem, cold-forged/cnc alloy, 53mm reach
HEADSET FS "PRO" int. headset, sealed bearing, 1 1/8″
BRAKE LEVER PROMAX "XL-378" alloy brake rear
BRAKE PROMAX "MV-85" alloy brake rear
CRANK RADIO "Xenon Pro" cold-forged alloy 2pc crank, 175mm long
BB RADIO, BSA24 external bearing cups, 24mm, sealed
PEDALS RADIO "Xenon" slim alloy, crmo axle
CHAIN KMC Z33 1/2′ x 3/32″
SPROCKET RADIO "Xenon Pro" alloy, 44t sprocket
DRIVER RADIO, 16t cog, sealed driver
FRONT HUB RADIO "Xenon Pro" alloy hub, sealed bearing, 3/8″s female bolt, 32h
REAR HUB RADIO "Xenon Pro" alloy cassette hub, sealed bearing, 3/8″s female bolt, 36h
RIMS Alex "MUS30" rim, double wall, 32h front & 36h rear
SEAT RADIO Pivotal seat, no padding
SEAT POST RADIO Pivotal 26.8mm alloy
SEAT CLAMP RADIO "Xenon" alloy seat clamp, quick release
TIRES Tioga "Power Block" tires, 20″ x 1.75″ front & 20″ X 1.6″ rear
WEIGHT 9.10kg / 20.06lbs