We spotted a dope new HipHop inspired designer toy figure called "Mr.12" and we had to share with ya'll!! This sick Japanese vinyl figure by COOK & legendary record label Delicious Vinyl is sculpted by Kenth Toy Works and it takes elements from the Delicious Vinyl logo and incorporates it in the piece. The bite out of the Mr.12's head and the face on his medallion are both elements from the label's logo. The figure also featured a dookie chain, mic, blunt and fresh kicks. Mr.12 stands at 8″ tall, it has 6 points of articulation and it comes in a specially-made pizza box with signed postcard! Pretty cool!!
They will be debuting Mr.12 sofubi in three different forms, the "OG" (Run DMC Inspired) colorway • 10800yen($107), "Iron 12" edition • 25000yen($250), and the "Stealth" colorway • 9720yen($96) ! These bad boys will be limited to only 50 pieces in this first run of the OG edition and will be available from BlackBook Toy on September 25th, 2016 at 12pm Pacific time! Be ready cuz these joints are gonna go like hot cakes!!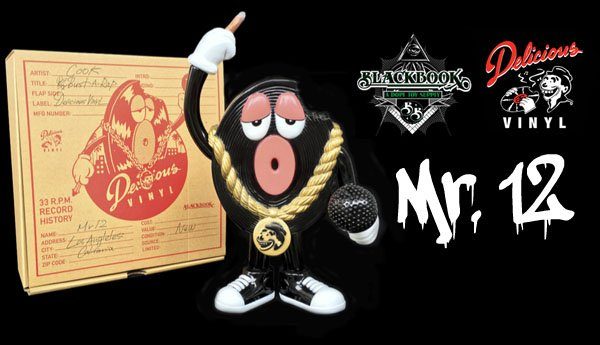 Mr.12 will also be available at the Super Festival on the 25th too!
To give you an idea How HipHop this figure is, Delicious Vinyl has been home to dope HipHop artist like The Pharcyde, Fat Lip, Tone Loc, Illa-J, Young MC, Masta Ace, J-Dilla and Def Jeff to name a few.
Below is the Delicious Vinyl Logo!