Renowned Haro collector and Haro Bicycles brand manager John Buultjens has resurrected one of the most popular BMX Freestyle bikes ever the Haro Team Master!! But this isn't just some retro repop for cruising around the street on, thise bike is made to shred…and look good doing it!!
The frame is based on the legendary 1987 Haro Master frame and it shares many of the same design elements but with all the modern day technology goodies to stand up to today's riding. Unfortunately the production of this model is limited and you know they're gonna go like hot cakes!
The 2017 Haro Lineage Master frame is made from 4130 chromoly tubing with the twin toptubes and large downtube gusset like the original, an integrated headtube drilled for gyro tabs, Mid bottom bracket shell, chainstay located removable U-brake mounts and 14mm dropouts with integrated chain tensioners and the colorway and decals are straight out of the 80's and look just as good as ever! We can't wait to see one of these in person!
You can pre order the frame of complete on PlantBMX.com
Peep the stats of the complete:
100% 4130 Cr-Mo Lineage Team Master (Complete comes in 20.75, frame sizes 20.5″,20.75″, 21″)
100% heat treated 4130 Cr-Mo Lineage fork with CNC machined 1-piece internal threaded steer tube, integrated bearing race, tapered legs, investment cast dropouts, 990 brake mounts with internal cable routing.
100% heat treated and butted 4130 Cr-Mo Lineage Freestyler tribute bars 8.5″ with Haro Lineage CNC alloy top load stem
2017 Haro Lineage (Peregrine-style) heat treated 3-piece 4130 Cr-Mo 48-spline 175mm cranks with 28t Haro Lineage Peregrine-style Compact Disc CNC alloy bolt drive sprocket and sealed bearing Mid bottom bracket
28/9 gearing
Fully sealed wheels with Haro Lineage Peregrine-style high-flange hubs with Haro Sata double-wall alloy rims.
Haro HPF tires 2.2″ front and rear. (A modern-version of the classic tire!)
Haro Lineage padded Tri-pod seat with alloy Haro Lineage Tri-post fluted seatpost
Haro "1978" PC pedals
CNC alloy pegs
CNC alloy Gyro with Teflon bearings
Haro Team grips
KMC K710SL chain
Dia-Compe FS996 brakes with Dia-Compe Tech 77 levers front and rear
Haro Lineage Peregrine-style alloy seatpost clamp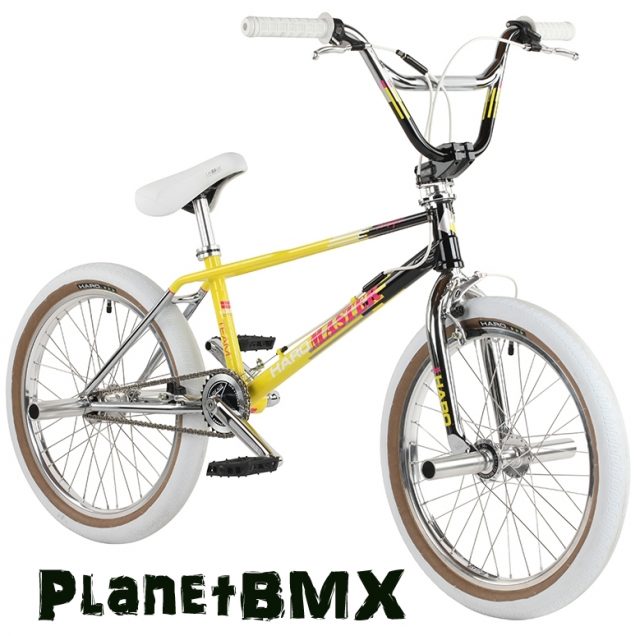 Geometry:
Full 4130 chromoly frame and fork
13.75″ Chainstay
11.5″ BB
75 degree HT
20.5″ top tube size
Mid bottom bracket
1-1/8″ Integrated headset size (45/45)
Removable Gyro tabs
25.4mm seatpost size
14mm rear dropout with 3/8″ fork dropout