The folks at Hutch BMX appear to be resurrecting all their classic frames from back in the the day and updating them with modern day tech. The latest resurrection is the Hutch "Hollywood". This was the signature frame of 80's Pro BMXer Mike Miranda and everybody wanted this bike back in the day! The frame comes in both of it's classic colorways, pink and lavender. They also kept the decals the same as the original and it still looks amazing!
Another thing we really like about these new frames is they come in two different sizes 21″ and 21.5″..Nice!!
Is the classic Hutch Judge coming next? We reall hope so!!!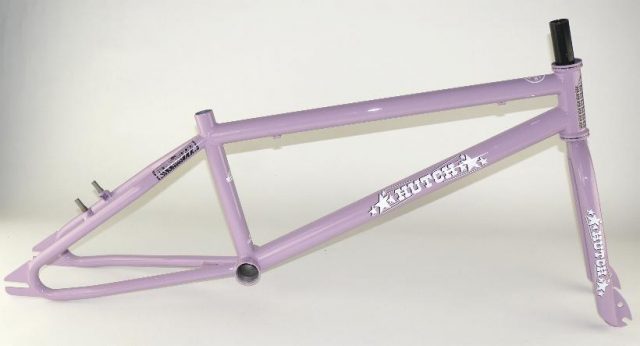 Everything you know and love about Hutch styling, with all technology and geometry updated for today's race tracks. 4130 chromoly throughout, with a "Hollywood" lavender powder coated finish. Sold as a matched set of frame + forks.

Forks include an internally-threaded steer tube that is compatible with both star nuts and CNC-machined aluminum compression bolts. The Hutch Headset includes a star nut, or you can purchase a Hutch aluminum compression bolt that is designed to work with the Hutch stem. Either method will work, but the Hutch stem and compression bolt is the ultimate setup! ~HutchBMX.com
Peep the Hollywood specs:
21.5″ top tube
74.5 degree head tube
14.5 " chain stay
11.5″ BB height
73 degree seat mast
1″ (25.4mm) seat post size
Integrated headset
Euro bottom bracket
V-Brake mounts
3/8″ drop out slots on frame and fork