After a few years of hearing about it and seeing leaked images here and there, Hyper Bicycles have finally come out with their hardtial DJ MTB frame and it looks sweet! The first thing you'll notice is the frame design is basically a bigger version of the Hyper's popular Mission 1 frame. We really dig how they kept the style of the frame "in the family" when it came to the design.
The 26″ Dj MTB, hardtail frame is constructed of 6061 Aluminum, Double Butted, Hydro-formed Top and Down Tubes and comes in at 4lbs 11oz (4lbs 14oz for the large size). The top tube length is 22.5 Inches (572 mm) on the medium frame and 23 Inches (585 mm) on the large. The frame has lots of leg room for some serious shredding.
More stats:
-Head Angle: 68 Degree
-Seat Angle: 72.5 Degree
-Chain Stay: 381mm – 397mm 15 Inches -15.6 Inches
-BB Height: 310 mm 12.2
-12x142mm Maxxle Thru Axle
-Seat Tube Size: 31.6
-Zero Stack 1 1/8- 1.5 internal
-44mm-56mm Tapered Head Tube
For now the frame is only available in Black and polished but we're hoping to see it some of the Mission 1 colors like the candy red, candy blue and Jet Fuel.
Can't wait to see this bad boy in person!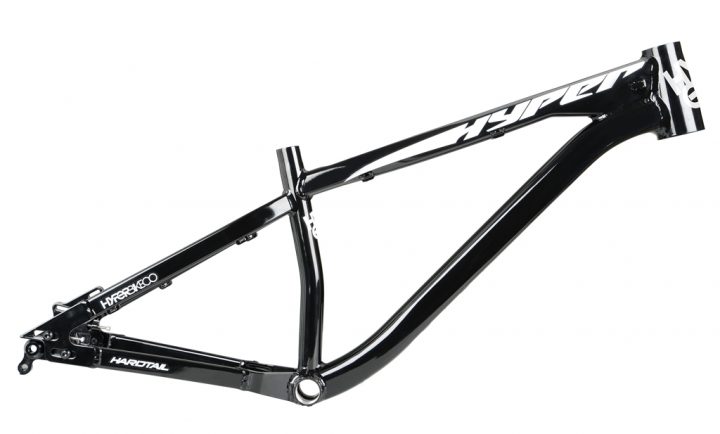 For more info visit HyperBicycles.com