I was browsing Instagram and saw some amazing custom helmet designs done by Johan Johnston owner of Hasie & The Robots. They were some of the best custom designs I've ever seen on helmets so you know I had to share them with ya'll! Below are just some of the amazing work that Johan does.
About Hasie & The Robots:
Hasie & The Robots is a proudly South African brand created and owned by artist and illustrator, Johan Johnston. Fueled by his zeal for art and animation, Johan breathes life into his work with every brush stroke. "Hasie and The Robots as a brand, is an infinite playground where colour, shapes, and textures come alive organically. I draw what I imagine and my imagination is limitless… it's magical."

Johan doesn't shy away from scale. His designs range from the most intricate line work illustrations to bold technicolor murals. "Working intricate details into my designs allows me to play, whereas painting large scale, gives me the opportunity to push the boundaries of space."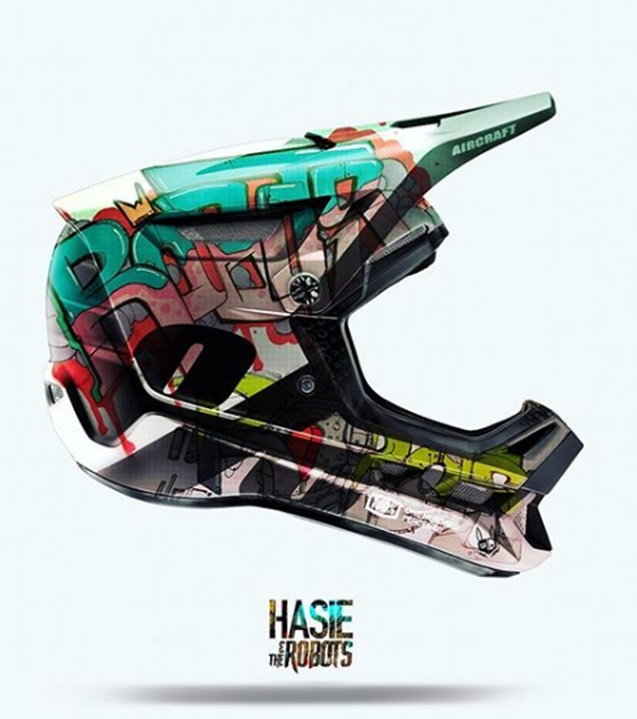 Johan carries his work across many mediums and has recently added Hasie Customs to his ever-expanding creative repertoire. Currently based in the United Kingdom, Johan's artwork includes bespoke shoe design, as well as a range of gear, including custom painted helmets and one-off frame designs for the cycling fraternity.
"Hasie & The Robots is where I come to play. I am so fortunate that I can express my creative spirit through my work. Art has taught me so much, which is why I always approached my work with devotion and dedication.

~ Johan Johnston / Hasie & The Robots
For more info on Hasie & The Robots, visit their Johan's official website. You can also follow him on IG @hasie_and_the_robots or FB:hasiecustomkicks