The United States Postal Service® will issue Hip Hop stamps Forever this July 1st in New York!! These USPS HipHop stamps will come in four designs, in a pressure-sensitive adhesive (PSA) pane of 20 stamps (Item 476500). The stamps will also go on sale nationwide on July 1. They will only be sold in packs of 20 and not sold separately…How cool it that!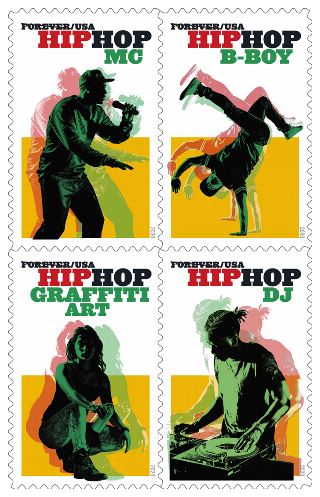 Press Release:
The Postal Service™ celebrates hip hop with four new stamps in a pane of 20. Since its inception more than four decades ago, the electrifying music, dance, and art movement has profoundly influenced American and global popular culture. The stamp art features photographs taken by Cade Martin that depict four elements of hip hop:
MC-ing (rapping),
B-boying (break dancing),
DJ-ing, and
Graffiti art.
The bold, digitally-tinted images are intended to appear in motion. The words "Forever" and "USA," "Hip Hop," and the name of the element featured appear across the top of each stamp. Art director Antonio Alcalá designed the stamps, which are highlighted with a vivid yellow, green, red, and black color scheme. The title of the stamp issuance, printed in red and black, is centered on the top of the pane.
This is awesome!!
Spotted on Postal-reporter.com/