8-time BMX racing national champion and current Red Bull UCI Pumptrack World Champion, Payton Ridenour is making her own children's Alphabet Book. This cool book will put a BMX themed twist to the standard alphabet book. I think it's an awesome idea!! Payton recently started a Kickstarter to raise funds to get the book made.
About:
When I was younger, my Aunt Jennifer shared with me a book that she had written, From A to Zamboni – the alphabet, hockey style. It was a colorful children's book that taught young readers their ABCs with a fun ice hockey theme. It combined the joy of engaging new readers along with her love of ice hockey. 
After reading that book over and over, I thought, "Wow, I'd love to do something like that!" With my love of bicycles, especially BMX, I quickly drafted my version at the age of 8 (along with the help of my mom). The adults thought that it was cute and actually pretty good, but nothing really happened as it sat on a computer for years.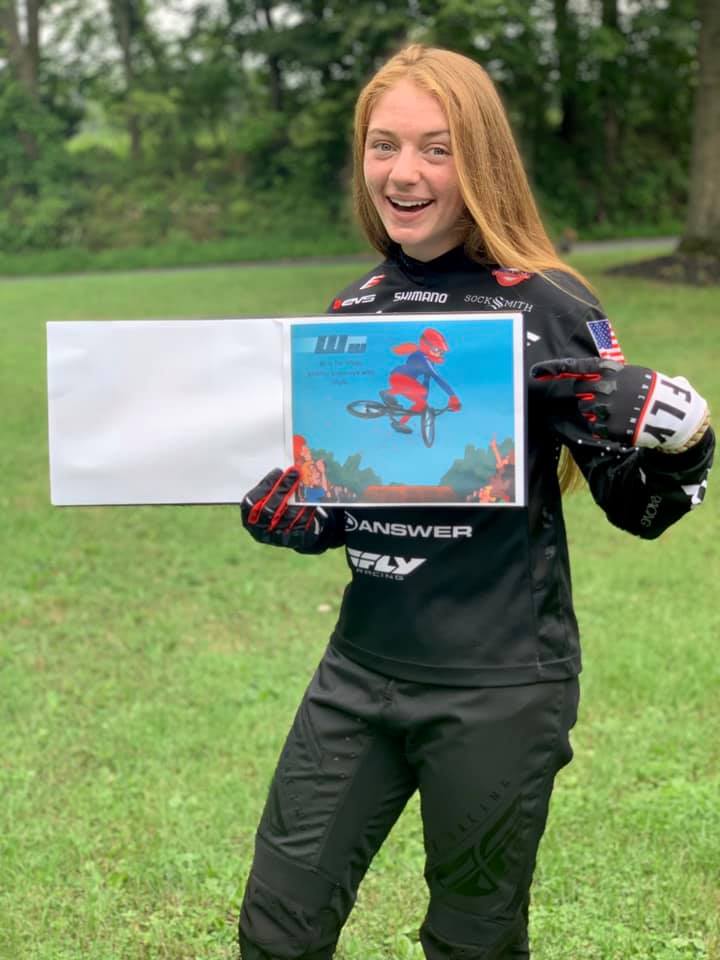 In 2019 at age 17, I stumbled across that file and decided it was time to revisit the book. I did some rewriting (OK a lot, I was only 8) and finally considered the draft to be final. I reached out to the same illustrator that my aunt worked with, Andy Lendway, and he created the perfect sample page for the letter W. Amazed by his artistic talent as well as his expertise in creating books, I knew that this was going to be the perfect partnership!
The book will be in English and will highlight each letter of the alphabet. And oh yeah, it will also rhyme. Here's a few . . .

~Payton "P-Nut" Ridenhour
 A is for announcer, who calls all the action,
 B is for bike, which brings great satisfaction.
 C is for chain, it spins fast or slow,
 D is for dirt, that makes the tracks flow.
Such an awesome Idea from an awesome BMXer!!
Visit Payton's Kickstarter Page to find out more and to support the project.