This is the top 10 BMX bikes featured as Bike Of The Day on SugarCayne.com!! Well actually it's a top 18 list lol. See this past month I wasn't able film my Bike Of The Day series so I crammed all 18 bikes that were featured on the site and put them in this video. I don't go into ay parts details about the bikes except for the #1 bike but you can see more photos and full parts list of the bikes on the official November 2020 Bike Of The Month Page.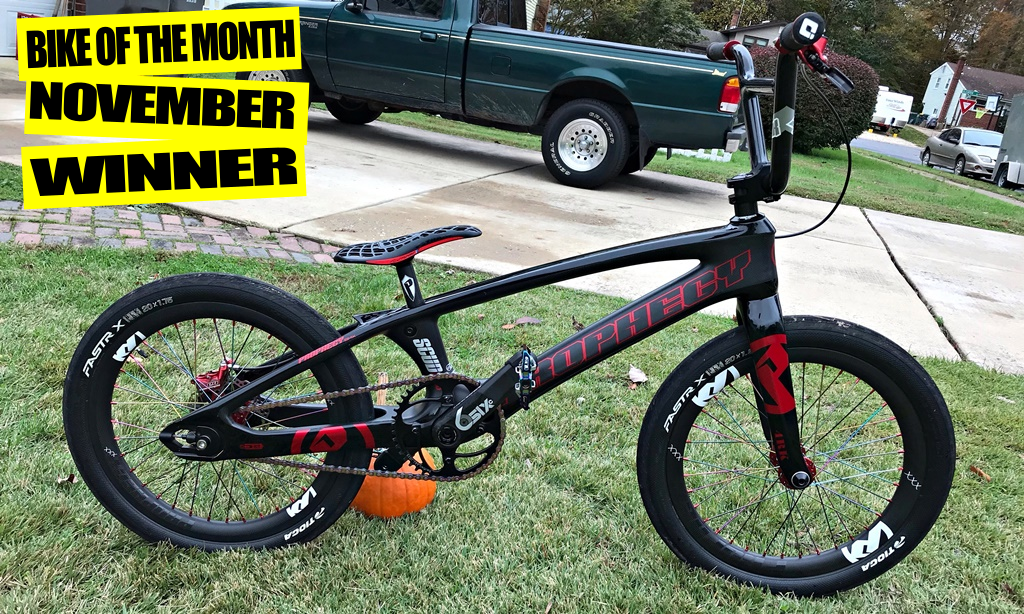 Big shout out and congrats to James Kramer and his sick Prophecy Scud EVO 2! Winner of the November 2020 Bike Of The Month competition. CLICK HERE to see all the photos and full parts list of this amazing build.
Top 10 BMX Bike November 2020
1st: 2020 Prophecy Scud EVO 2
2nd: 4NIX Atome
3rd: 1985 Redline RL 20II (Teal)
4th: FTB Mini
5th: HARO SDV2 "Dennis Enarson"
6th: Supercross BLK 2 (Pink)
7th: 2019 Mongoose Title Pro (Blue)
8th: 1991 L&S Creation Pro 20″
9th: 1985 Hutch Trickstar
10th: 2020 Rift ES20 Expert XL
The ranking of the bikes on the November Bike Of The Month page may have changed because it's a live chart and people are still rating the bikes for 2020 Bike Of The Year. But you can check out all the bikes from the list and check out the photos, parts list and give them a rating from there.
Also check out the Sugar Shop store for the limited edition Sugar Cayne Anniversary BMX frames and other dope treats!
SUBMIT YOUR BIKE!!
If you would like to get your bike featured as Bike Of The Day.
1. COMMENT ON AT LEAST TWO ARTICLES ON SUGARCAYNE.COM
2. Send us some high quality photos (full and close up), a Full Parts List with a description about the inspiration for the build. You can also send sponsor shoutouts and any other details about your bike and involvement in the sport. CLICK HERE for more details on how you should send your photos
3. Email the photos, parts list, description and links to your website comments directly to sugarcaynecom@gmail.com. If we like your submission, we'll feature it. Any custom built BMX bike of any size and type are eligible.