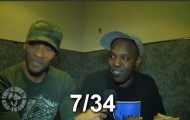 There's been a lot going on so it took me a min to edit this HipHop Triva episode but here it is!! I got Shad K who is one of the best MC's coming out of Canada to play my HipHop Trivia game. Yo Shad did better than a lot of American MC's, play along while you watch and see how you do.
This episode was filmed last year at the Highline Ballroom.
I'll be filming a lot more Trivia episodes this year, I have some big things planned for the series stay tuned!
Big up to C Truth for holding me down as always!! http://www.thermalsoundwaves.com/welcome.cfm
Follow Shad K at: http://twitter.com/#!/shadkmusic and check out his latest video "Keep Shinning"