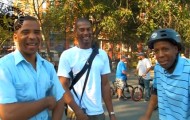 So my first episode of my HipHOP BMX Challenge series is finally here!!! This episode is a little introduction to some of the competitors.
The idea of the series came from all the HipHop heads that come to CAC-TV.com and comment on how they use to ride BMX or how they love BMX! It's also inspired by my boy CTruth who after he came down to the Freedom Nationals in Delaware with me to film, he wanted to race BMX. I've had other HipHop heads telling me that they think they can get on the track and make it happen(Eric Beasley). Then I ran into MC Geronimo one night and he told me that he use to ride back in the day and we talked for while about BMX back in the day.
Long Story short I'm planning on having a exhibition BMX Race later this year with people from the HipHop industry competing for BMX Glory! Anyone from the HipHop industry can compete whether their an MC, producer, Singer, Radio Personality etc. But they can't be currently competing in races or have ridden BMX in while.
Episode#1-4 was shot at last years King Of New York and I'll be dropping an new episode at least once a week, the series is still in development so we'll be making more announcements as we go.
He are our list of competitors sofar(a lot of them flaked out already lol)
Mic Geronimo(MC), C.Truth &Kev Lawrence(Thermal Soundwaves Radio), Eric Beasly(Asylum Records), Phil Nelson(Industry Consultant), Rawle Stapelton(Producer/Photographer), Jomo Davis(Video Production)
If your a HipHop head and your a HipHop head and you thing you can step up to the challenge and you have little to no experience on a BMX bike, Holla at me crazyalshow@yahoo.com