VIDEO:FREE by William Cooper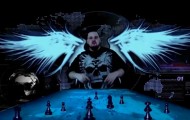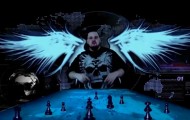 Song: Free
Artist: William Cooper feat. Stoneface
Scientific Lens/Gemstarr Regime
Follow William Cooper at: http://twitter.com/#!/william_cooper_
Follow Stoneface at: http://twitter.com/#!/realStoneface

BIKE OF THE DAY: $7500 Daylight Arc C-1 BMX Racing Complete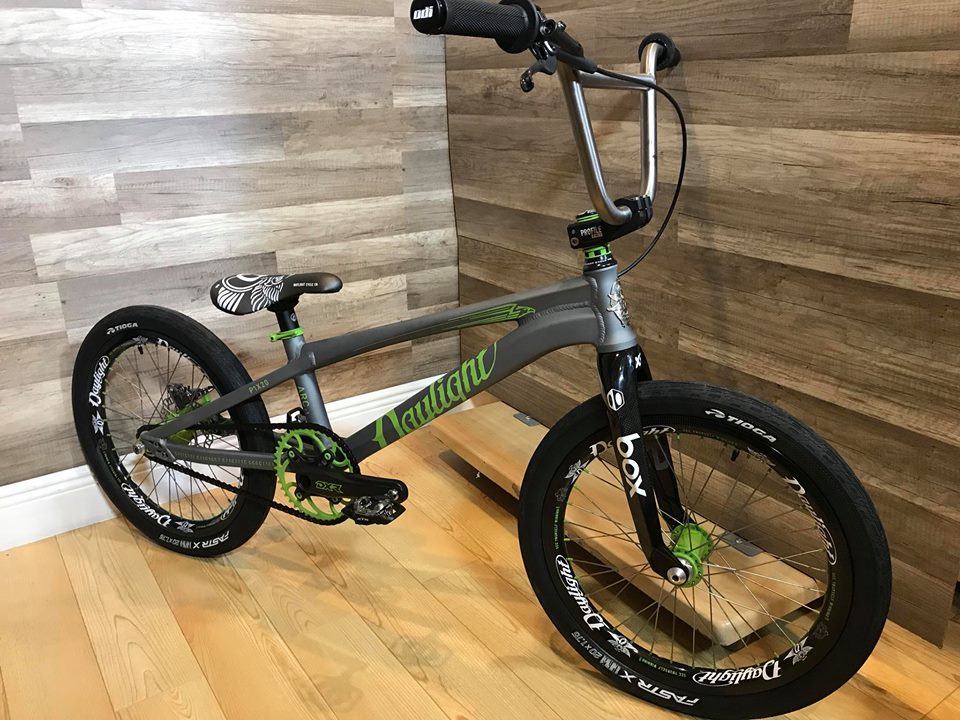 BMX racer Josh Wright just finished a sick custom build of the popular Daylight Arc C-1 then He posted photos of it on Facebook and broke the BMX internet!!
The Daylight Arc C-1 is one of the most exotic, hi end aluminum BMX racing frames on the market and Josh spared no expense with the parts that he put on it. The Storm Gray/Halo Green/black colorway of the build really make this bike stand out from the pack. You just can't stop looking at this bike but don't get it twisted this bike is built to perform at the highest elite levels.
"You ain't ready…. Ladies and gentleman… I present my 2018 whip. Should be just fine carrying my slow expert ass around the track.

This has been a crazy build. Lots of stress but couldn't be happier. This is almost double my most expensive build to date and took way longer than I had hoped but hope you enjoy looking at her and if you catch me at the track and want to take a lap on a beast let me know.

Big thanks to Michael Von Sothen Daylight Cycle Co. Onyx Racing Products Jim Gerhardt Richard Huvard EpiK Carbon Products Kevin Koch Pete Bruno and everyone building sick sh** that makes me want to one up you all haha!" ~Josh Wright
Below is the full break down on the build:
Frame: Daylight Arc1 ProXL 2nd Wave grey and zombie green
Fork: Box X5
Rims: One of a kind Epik LP daylight team template with color match green embellishments.
Hubs: Onyx SS Disk rear Onyx 20mm front ceramic coated zombie green.
Spokes: SelfMade True custom spec ti spokes. Raw ti and laser etched.(Made by Josh)
Nipples: 12mm Swiss ceramic coated zombie green.
Tires: Tioga FastR black label. 1.75"
Cranks: The original, first pair of ceramic coated black with zombie green ceramic coated logo DXRs 180mm
Chainring: VonSothern / SelfMade collab ripsaw inspired one of a kind beast mode 42t ceramic coated zombie green.
Chainring bolts: ceramic coated zombie green shimano shorties.
Pedals: Shimano XTR spds 900 series.
Bottom Bracket: Ceramic frictionless
Headset: Daylight tapered carbon
Spacers: Daylight ceramic coated.
Handlebars: One of a kind custom built ti SelfMade bars. (Made by Josh)
Stem: (Temporary) Profile Push 53mm with all ti hardware. (SelfMade GoPro Stem inbound from VSR)
Brakes: XTR 9000 series dh Race.
Rotor: Airrotor140 68grams
Chain: Crupi rhythm half link HP black
Seat: Daylight padded pivotal
Post and Clamp: Daylight AL
Grips: ODI
So I know your wondering how much does this bike weigh? It's a feather weight 17 pounds…DAM!!! And at $7500, this bike is like the Lamborghini of BMX Bikes!! 20″ BMX Racing bikes are all grown up now ya'll and we love it!!
Super Natural Woman Issue #1 Variant Cover by Marcus Williams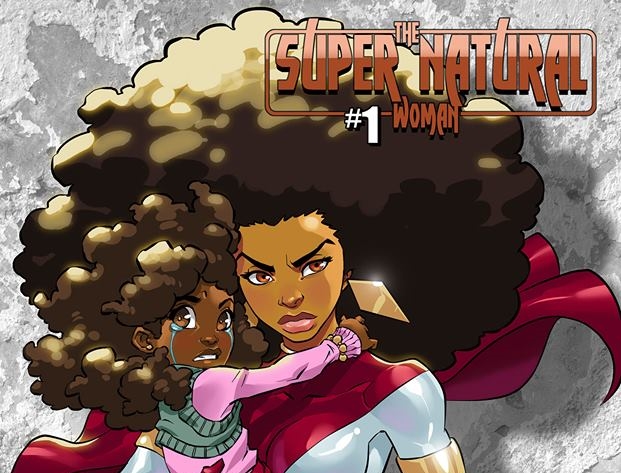 Marcus Williams AKA Marcus The Visual recently finished a really awesome variant cover for his comic The Super Natural Woman Issue #1.
About The Super Natural Woman:
"Who is Super Natural? Super Natural is a superhero character I created to be used as a supporting pivotal character in Anthony Piper's superhero parody entitled "Trill League". In the world Anthony created, she sticks out like a sore thumb in comparison to the other character's personalities. This was intentional as she is designed to be a vehicle of "pseudo normality" that readers can anchor to when things get too crazy. Her name refers to her moral stance against portraying herself as anything but a natural black woman. This includes her appearance, her diet and her lifestyle. Super Natural is not from earth, yet she has come to make a home here after some quick transitions into city life. She is immensely powerful and nearly invulnerable to all physical damage, but not immune to the everyday stresses of living in American society. Book One of Super Natural will be a comic book origin story of sorts that finally explains who she is and what's she's about." ~Marcus Williams
We love everything about this powerful image and concept and can't wait till this series is finally released!
You can get some awesome exclusive illustration from Marcus Williams at the Black Comic Book Festival this weekend (Jan 12-13th) at the Schomburg Center in Harlem. Get there early it's gonna be off the hook!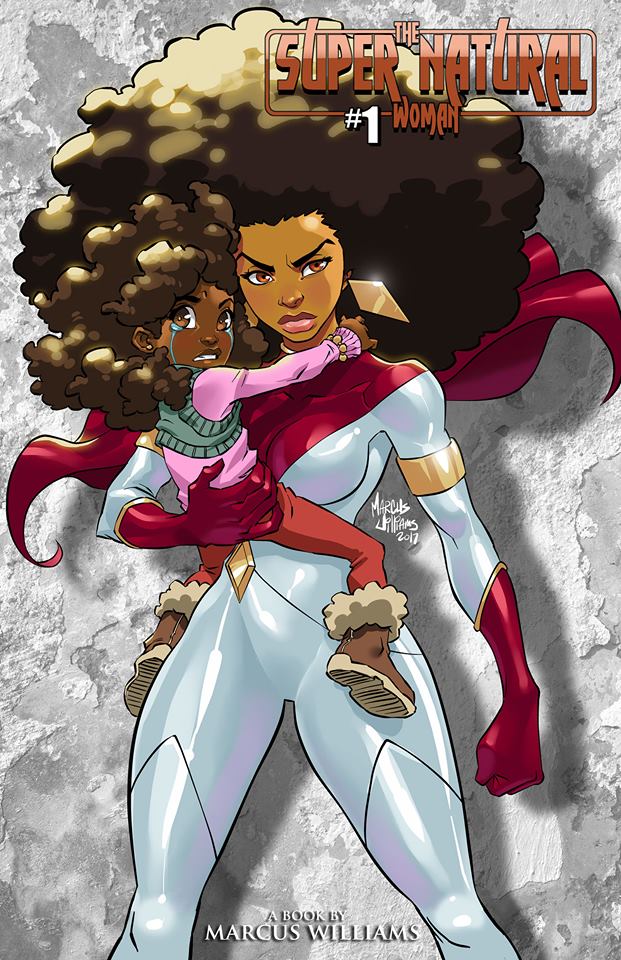 Jordan Brand x Levi's® Denim Air Jordan 4 & Trucker Jacket Collaboration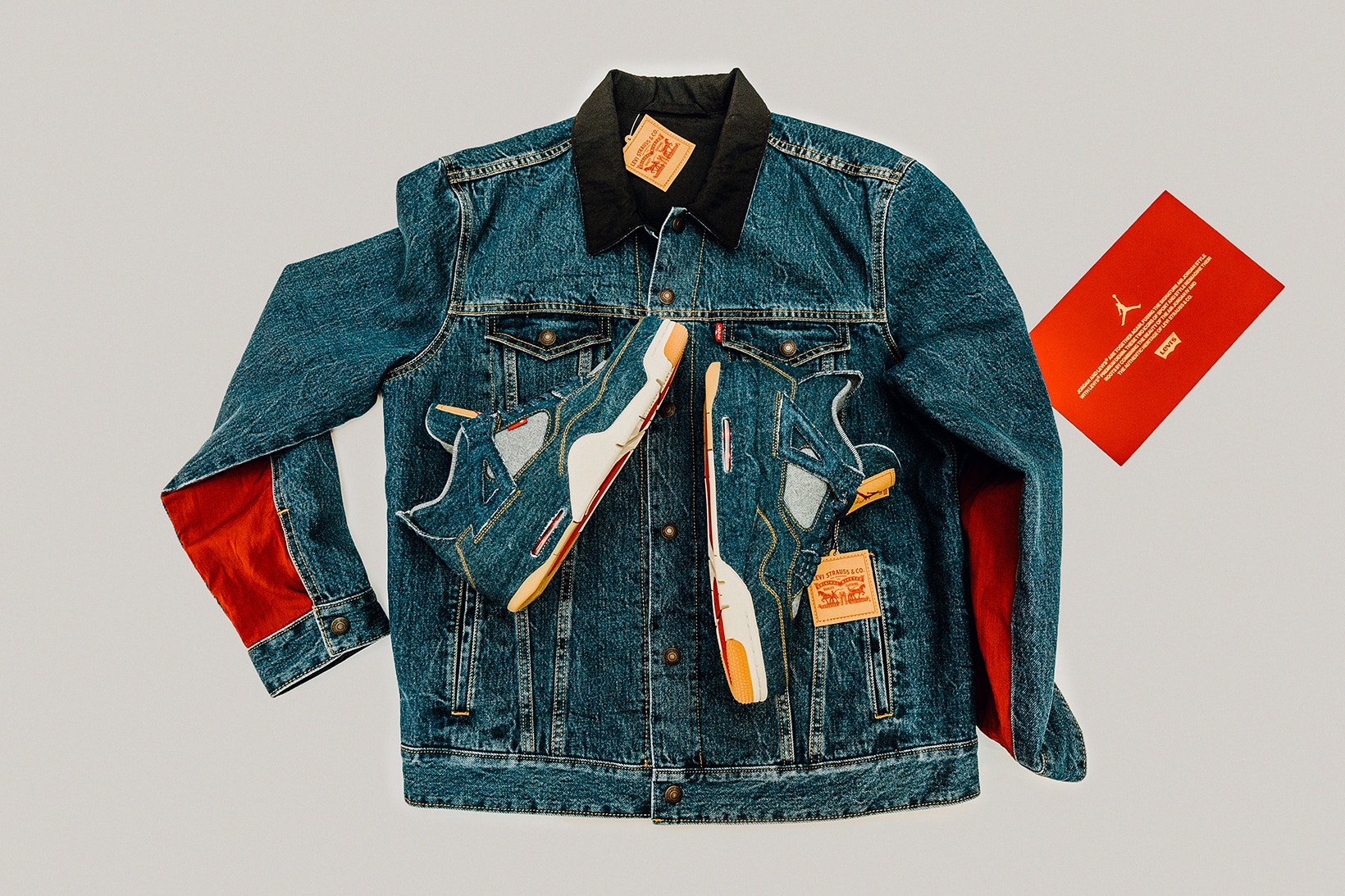 The folks at Jordan Brand and Levi's® recently released some info about their collaboration on the Air Jordan 4 and reversible trucker jacket. The Air Jordan 4 features Levi's® standard denim style to its upper and reverse denim to the insole and inner lining. There's also some reverse denim on a little part of the side panels the kicks. The Levi's® patch is incorporated on the tongue of the sneaker with the Jordan brand hangtag. All this denim dopeness sits on top of a white/red/gum-colored outsole. The mid sole is a mix of white, gum, denim and and red. The laces are done in a matching Denim colorway and the stitching on the kicks are done in gold.
The Reversible Trucker Jacket is inspired by the classic Flight Suit and of course Levi's worn denim style. On the jacket's underarm panels you'll see the Flight Suit material in red which is why we saw the red colorway on the sneakers. It's all about that color coordination!! 😉 The back of the jacket features a lightly distressed, subliminal Flight logo. Whe the jacket is reversed you get the black Flight Suit which features denim on the collar. On the back a flashy, red Jumpman logo is added with co-branded shank buttons and levi's paper patches. We really like this collaboration, let us know what you think in comment section below!
The Jordan Brand x Levi's® Air Jordan 4 and reversible Trucker Jacket will drop officially on January 17 at select retailers. Find out which stores will be stocking them on Hypebeast.com