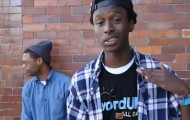 Song: Nothin' 2 It
Artist: P. Blackk feat. MARZ Lovejoy
Director:Luke Sirimongkhon
Follow P.Blackk: http://twitter.com/#!/pblackk
You that beat is tough, I had to play this joint a bunch a times when I first heard it. The lyrics are pretty simple but I did like that Grand Canyon line but it's still DOPENESS!