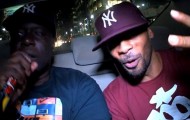 I got HipHop legend Chip Fu on this episode of Spittin In Da Wip!!!
Now this was a big episode, You might remember Chip Fu from the HipHop group the Fu-Shnickens back in the day,well he has some new material coming out real soon that's gonna be fire. Chip killed the beats that he got on in this episode, it's a must see!!
Remember to fill out the ratings box on this page after you watch Chip Fu Spit!
Once 10 different people fill out the ratings box Chip Fu will be eligible to get on the Spittin In Da Wip Top 50 list and the Top Monthly Spittin In Da Wip MC Chart.