I know you've probably seen this race from a million different sources that's why I wasn't sweating editing my footage from the races at this years NBL Grands. These clips are from the mains from the Pro race on Sunday and the Boys and Men expert mains Enjoy!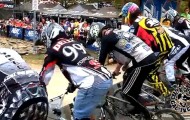 Wanna race BMX visit ABABMX.COM
NOTE: There was a sloppy edit that I didn't realize that I did in the 35-40 expert moto, sorry bout that.