We was going in with the interviews at A3C, in this clip Napoleon Da Legend interviews Massachusetts MC Termanology and get's the update on what Termanology got cooking for the rest of the year. Termanology talks about some of the things he learned along the way in his carrier working with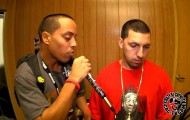 HipHop greats like M.O.P and Dj Premier.  Check out the clip!
See more of our interviews from the A3C on our HipHop Channel.
NOTE: My apologies on the typo in the video.