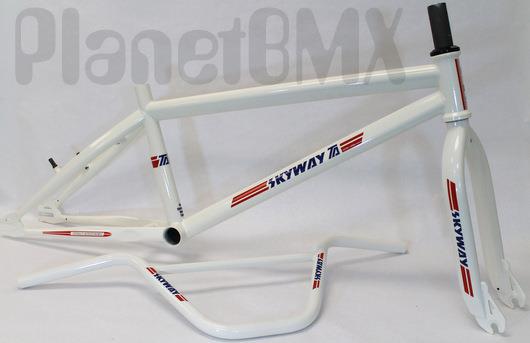 If you don't know already, Legendary BMX manufacturer Skyway are now taking orders for their new totally updated, iconic T/A frame! That's right the Skyway T/A is back and better than ever plus Skyway has their forks and handlebars to got with it too! Tt's so dope that Skyway brought back the T/A, i can't wait to see what they do next! Wanna get your hands on one of these beauties? Check out PlanetBMX.com


Below are the specs of the new T/A frame and handle bars:
FRAME SPECS:
4130 chromoly (CR-MO) steel
Head Tube =74 degrees
Seat Post = 71 degrees
Top Tube = 21.25"
Wheel base = 37.44"
Rear End = 14.38"
Front End = 23.06"
3/8″ dropouts on frame and fork
Euro Bottom Bracket
V-brake mounts on frame
1-1/8″ Integrated headtube
45×45 Integrated headsets such as Odyssey, or ACS work best
Requires 26.8 (1-1/8″) seatpost clamp, with 25.4 (1″) size seatpost
PRO HANDLEBAR SPECS:
29″ wide
9.25″ height
13 degree sweep
3 degree upsweep
FOR ALL YA'LL THAT WANTED TO KNOW HOW MUCH THE T/A's WEIGHT= 20″ frames-5.8 lbs, fork-2.4 lbs…24″ frames-6.0 lbs, fork-2.6 lbs
Here's a look at the chome T/A complete…Nice!