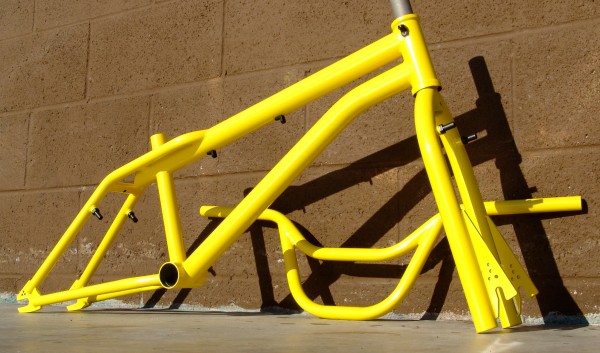 Super BMX Legend and really cool guy Eddie Fiola has finally finished his signature model called EF Proformer! It's a 100% American built frame, fork and handlebar set and their available now! This limited collection delivers new school attributes in that classic frame style he made famous in the 80′s. Only 250 sets will be sold in his favorite colors, solid yellow with black accents, that's so dope!!


For the launch Eddie is offering fifty lucky buyers a chance at a limited collector set. Each set includes, "My Life Behind Bars" a 22 page photo book, t-shirt, sticker pack, and EF|PROFORMER decal sheet. Eddie is gonna sign each frame and also call each customer to congratulate them on the purchase, how cool is that?!?! I told you Eddie was a really cool guy! It's gonna cost you though, MSRP is $800 not including shipping and it's available exclusively at www.eddiefiola.co.
Now Eddie doesn't just want you to collect these bikes and only bring them out on nice days or for those Vintage Bike Expos, Eddie wants you to ride these bad boys, Their built for riding ya'll!
"I know some people will want to preserve this, but I prefer they ride it. Seeing someone riding this bike would be the best reward," ~Eddie Fiola.
"We did our due diligence on this. "I won't put my name on just anything, which is why it has taken so long to launch a signature model. Partnering with Johnny at True Torch was really important to me, because his quality has always been the pinnacle of great BMX bikes Made in the USA." ~Eddie Fiola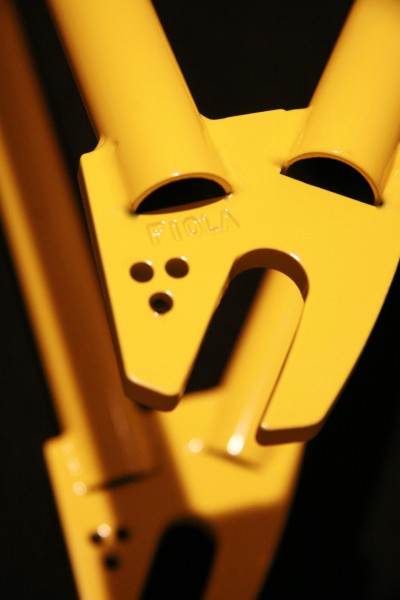 The remaining 200 sets will be offered with out the extra goodies as a frame/fork/bar set but No Phone call from Eddie. These will also include the EF|PROFORMER decal sheet. All other collector items will be available separately at www.eddiefiola.co. The MSRP is $700 and will be available as the sets are manufactured. I wonder what the other colors will be?? They have to do that Hot Pink, Burgundy and the baby blue one like back in the day..that would be soo dope!
This is awesome news and a great time to be a BMXer especially if your a rider from back in the 80's. A lot of cool vintage and retro stuff keeps coming out in 2013 and I'm super excited about what's to come! I have to take a trip back to Cali this year 4sho!
More Stats:
Chromoly Tubing Frame / Fork / Handle Bars Fits Standard 20″ BMX components 14mm Rear Dropouts, 3/8″ Front Integrated Headset Mid Bottom Bracket 990 Rear – Removable 990 Front – Removable Gyro Tabs – Removable Custom EF Badge Custom Eddie Designed Forks Custom Eddie Designed Handlebar
HEADTUBE ANGLE: 74.5
TOPTUBE LENGTH: 20.5