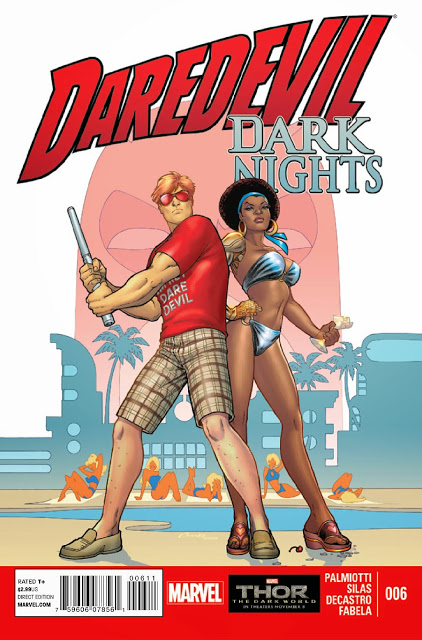 I spotted this cover for Daredevil: Dark Nights, issue #6 featuring Misty Knight on GhettoManga.com. The cover illustrated by Amanda Connor and Paul Mounts looks like it could be an illustration from the GTA series or a Black exploitation movie poster. The whole subliminal play on words "Dark Nights"(Misty Knight who happens to be black, hence the title Dark Knights? Come on sun!!), half naked sister and old school dialog doesn't really sit right with me. I don't get gassed when Marvel decides to feature people of color in their comics just because it's Marvel. Now I'm sure Misty Knight probably kicks ass in the comic but does every sister in the media have to be stereotyped or objectified, etc? Anyways I digress, let me jump off my soap box, enjoy The art work and actually check out the series lol. But ya'll know what I' talking about!
Below is the official description of Daredevil Dark Nights Issue #6:
Matt Murdock is brought to the Caribbean by a client fleeing persecution, and he's got a new partner for this case – the Fearless Defender herself, MISTY KNIGHT! • Daredevil legend Jimmy Palmiotti teams with rising star Thony Silas for the latest, greatest Dark Nights event: IN THE NAME OF THE KING!
Now issues 1-5 didn't feature Misty on the cover and I'll have to check them out and from the looks of it she doesn't get introduced till issue#6. However She'll also be front and center in the next few issues. Marvel also released the cover to issues 7 and 8, check em out below: