Say what you want about Fat Bikes but their the only bicycle that'll make riding through the snow hella fun! In this 5th segment of the documentary Cold Rolled by Clear & Cold Cinema they show a rider having fun on a nice snow covered singletrack trail. I would've loved to get a fat bike and ride it through Cunningham Park after that snow storm we had last week, this looks like so much fun.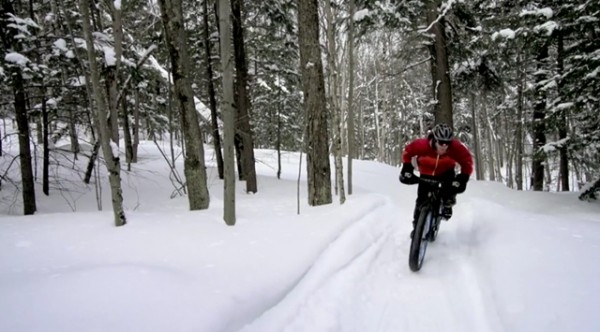 Below is the offical description of "Cold Rolled"
Cold Rolled is an action documentary from Clear & Cold Cinema, Salsa Cycles and TravelMarquetteMichigan.com that will explore the history and progression of winter cycling culture in the small Lake Superior harbor town of Marquette, Michigan.

Chapter Five is the final chapter and showcases the fast and fun riding potential of a maintained snow singletrack trail.

Marquette's Noquemanon Trails Network has nearly perfected equipment and techniques used to launch its Snow Bike Route (SBR), a 15-mile winter singletrack developed for fat tire bikes. The fast narrow trail features flowy terrain, steep descents and large bermed turns. It's believed to be the first trail of its kind–but more importantly, it's pretty fun.
Check out all the episodes on VIMEO