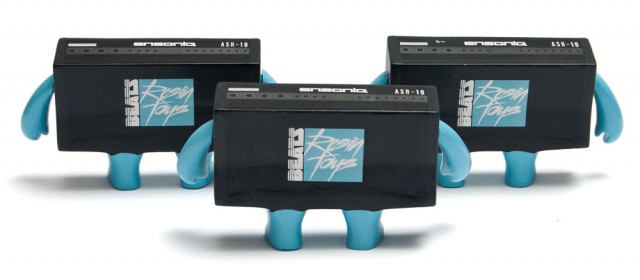 Canada's own super talented illustrator/toy designer Patrick Wong crafted another banging 90's era HipHop music production gear, resin masterpiece with his ASR-10 inspired figure!! This is his third part in an 8-part series of legendary, hit making, music production equipment. All my toy collecting producers out there are gonna love this one! We'll be post more of Patrick's Beat Series toy releases as we get them 4sho!! I can't wait to see what Patrick comes up with next!
More info on the Beat series, ASR-10 and Patrick Wong:
In the Beat Series of hand-crafted art figures, the "ASR-10" inspired piece highlights the 16-bit "Advanced Sampler Recorder" by Ensoniq first released in 1992. The ASR-10 sampler has been used by producers such as The Alchemist and Kanye West. Known for its advanced features such as sampling the playback of a sequence (as with the ASR-X) and built-in digital effects.

The "ASR-10″ resin toy begins shipping Friday October 10, 2014 and is available for $40 plus shipping at http://patrickwong.bigcartel.com. The piece measures approximately the size of two Kidrobot Dunnys side-by-side and made of solid resin. Comes with a numbered card, shrink-wrapped in a gift box, and is limited to only 40 pieces (22 available for ordering).

About The Beats Series:

The Beats Series is a collection of collectible resin art toys targeting beat producers and designer toy enthusiasts. The 8-part series is based on a genealogy of key samplers from the late 80s to 2000s such as the SP1200 and Maschine – marking an evolution of both technology and music as small resin art figures.

About Patrick Wong:

Patrick Wong is an artist and illustrator based in Vancouver, Canada. He has been recognized by Applied Arts Magazine, American illustration, Society of illustrators Los Angeles, and Creative Quarterly for his work. Patrick received his BFA in Visual Art (Illustration) from Emily Carr University of Art + Design and began his career as a commercial artist with clients such as The Washington Post, The Sunday Times, and the March of Dimes Foundation. His current practice is informed by his experience within industry combined with discourses in contemporary art, philosophy, and youth culture. For more information, please visit www.patrick-wong.com.