My dude Mr. Metasen dropped a new video/single for his song "Why Not"! Mr. Metasen also crafted the beat for this joint, I'm diggin it. Now I gotta get him back on Spittin In Da Wip, stay tuned!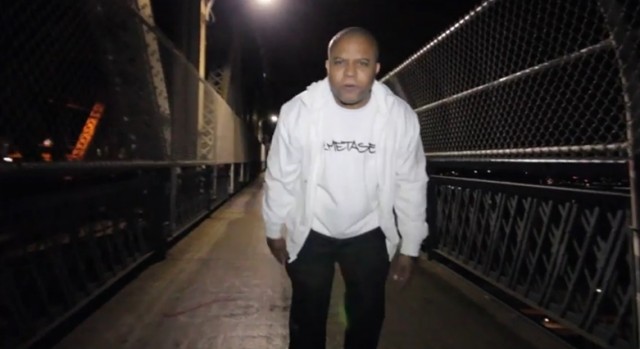 Verses:
Awe… This beat making , rapping, camera snapping guy. You heard about this dude man? He wants it all and acts like he's going to get. The nerve of this guy. Mr. Metasen… Why does he want and expect so much out of life? Why??? Why?

WHY NOT- Get big, get money, let's live, play your cards, roll the dice yeah something's got to give.
WHY NOT- Rep your city, make'm remember your name, through your hands to the sky if your feeling the same.
WHY NOT- Hold it down like a King for his crown, make'm all step back and watch you get down.
WHY NOT- Turn the volume up rock and tell'em all…

Well, you say why, I say why not. Some want to stop me but I continue to bop. I persevered through my pains and I still remain so I tell my story through Hip-Hop. Now who better than me? Who else but I? It be that Red-Luva Mr. Metasen breaking fly. I'm that independent artist making noise in the hood. Bushwick Crookitland's at your door for the goods, WHAT! New York where you at? We got the green light; we're still on the map. The city's still breathing the foundation is here. Before we go any further let's make one thing clear. I say New York with pride. Yeah my city is the city where we started this vibe. And Yeah I'm going for the big win, big bucks no whammies let the games begin. (Brooklyn!!!)

HOOK

Relentlessly I don't' stop, this industries a sweat shop. I'm independent laughing bypassing the gridlock. How you gone expect to make it through the same door and get treated different knowing they never loved us before. With gold in they eyes, they promise you a prize. If you really knew your worth then you would see right through them lies. Yeah it's a cold, cold, game but if I'm a bet on somebody he gone have my name. It aint gone be for no chain; it aint gone be for no ring; you aint gone buy Mr. Metasen with shiny things. And as a matter of fact you can keep your advance. I'm the baker of the bread and the drummer for the dance. Of course you want to bet on me. I got the Soul of a winner, nah this game aint free. And Yeah I'm going for the big win, big bucks no whammies let the games begin. (Brooklyn!!!)

This life's a bumpy ride on a winding road; it's a roller coaster aint no stopping the show.
You might as well take the wheel and do what you feel till its time to go. This life's for sharks and guerillas, King Kong's, Incredible Hulks and Godzilla's. So I take the bull by the horns and do what I like. WHY!!! It's on…

This is not a test. And I aint waiting for validation I'm the best. At least the best me I can be, and I don't know about you but I can pour my own tea. Now space is space and time is time and as far as the credit, yeah I get mine. I put my flow on the line. I put my plan into place. Now I'm an Emcee with style and grace. So let's cut to the chase. If I don't get mines I'm a hittem with the BASS! How Low can you go? My lyrics are life but yeah I kill them with the flow. It's the Mr. Metasen show so sit your weak non-lyrical ass down you get the picture. And Yeah I'm going for the big win, big bucks no whammies let the games begin. (Brooklyn!!!)

HOOK

contact mrmetasen@gmail.com for booking or info- place BOOKING or INFO in subject line in all caps.