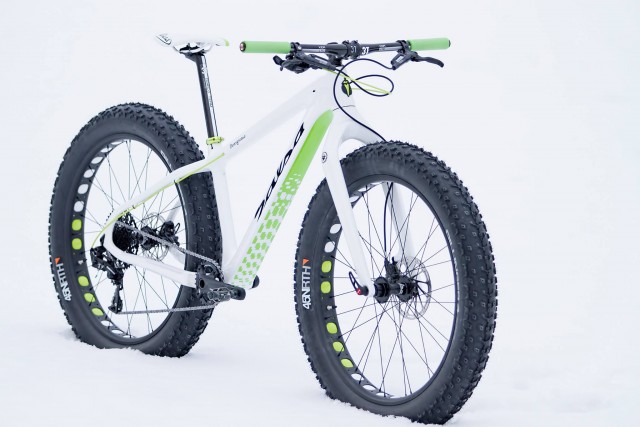 I'm loving the look of the new 2015 Salsa Beargrease "Green Edition" carbon Fatbike! The white colorway with the green accents really make this bike stand out from the Fatbike crowd. The green edition is made for the ladies who want a Fat Bike more fitting to them. Me being a BMXer, I like the lowness of the seat tube height. It's the perfect height for some aggressive riding. Fat Bikes are looking better and better with each release, that's for sure!
Peep the stats:
Salsa Beargrease, size S
Gear: Sram X1
brakes: Sram DB5
plates: Sram 160 / 140mm
cranks: RSram X1
poles: Salsa Conversion hubs
wheels: Surly Marge Lite
rings: 45NRTH Dillinger 4
sisurit Onza
3T rack
bracket 3T
post 3T
Saddle Selle Italia SLR
Time Atac pedals
11.7kg
Below is a video showing the rest of the 2015 line of Beargrease bikes.