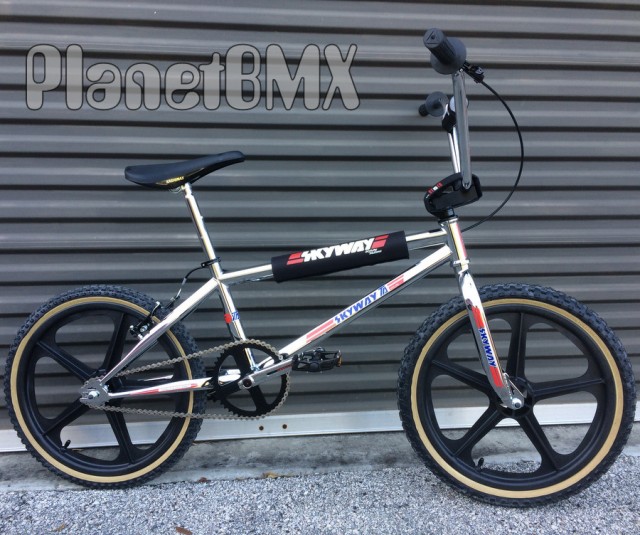 The good folks at PlanetBMX.com are always doing cool stuff with their BMX inventory. And for the latest cool thing they're making the 2013 20″ Skyway T/A XL Retro available as a complete! The bike features the T/A frame, fork, bars, Skyways pads and of course Tuff Wheels! I love the classic chrome/black colorway but you can also get the bike in the PlanetBMX exclusive BLUE, and RED. colorways.
Peep the stats:
FRAME / FORK – SKYWAY T/A XL (Chrome)
BARS – SKYWAY PRO (Chrome)
GRIPS – A'ME TRI (Pick below)
STEM – KNIGHT RETRO (Pick below)
HEADSET – ACS INTEGRATED (Black)
WHEELS – SKYWAY TUFF WHEEL II (Pick below)
TIRES / TUBES / FW – CHENG SKIN SKINWALL 1.75 / 2.125 SET w/ DITCA 16 TOOTH
CRANKS / BB – REDLINE FLIGHT CRANKS w/ EURO BB (Chrome) – Choose either 175 or 180mm in the drop-box below!)
GEAR – NEPTUNE HELM 44 TOOTH (Silver)
PEDALS – XPEDO PLATFORM LOOSEBALL (Black)
CHAIN – TAYA CHAIN (Chrome)
SEAT – KASHIMAX RS (Pick below)
SEATPOST – REDLINE (Chrome)
SEATPOST CLAMP – REDLINE (Black)
BRAKE KIT – TEKTRO V-BRAKE KIT (Black)
PADS – SKYWAY PAD SET
Visit PlanetBMX.com for more info!