Back in May, Contemporary BMX brand Bogarde Bikes linked up with Dior for another luxurious BMX bike collaboration. This time around they went with an all white colorway for a super clean look. This is the brand's third collaboration and it features a bunch of unique and old school BMX inspired goodies.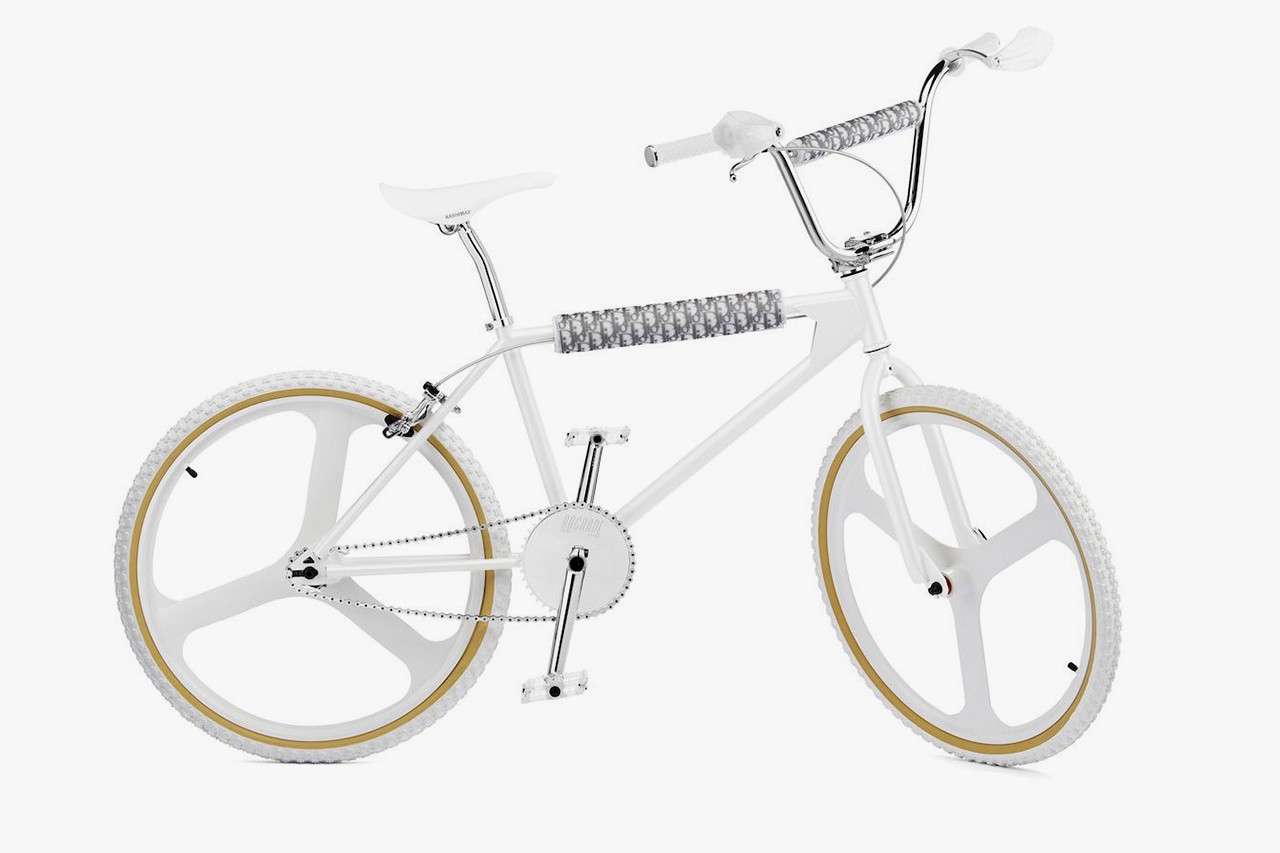 Features:
The bike features white comp 3 style gum wall tires, clear plastic pedals, a white Kashimax seat and Dior's signature monogram pattern pads on the handle bars and top tube. The bike also features a chrome plated laid back seat post, AME style grips and a white chain.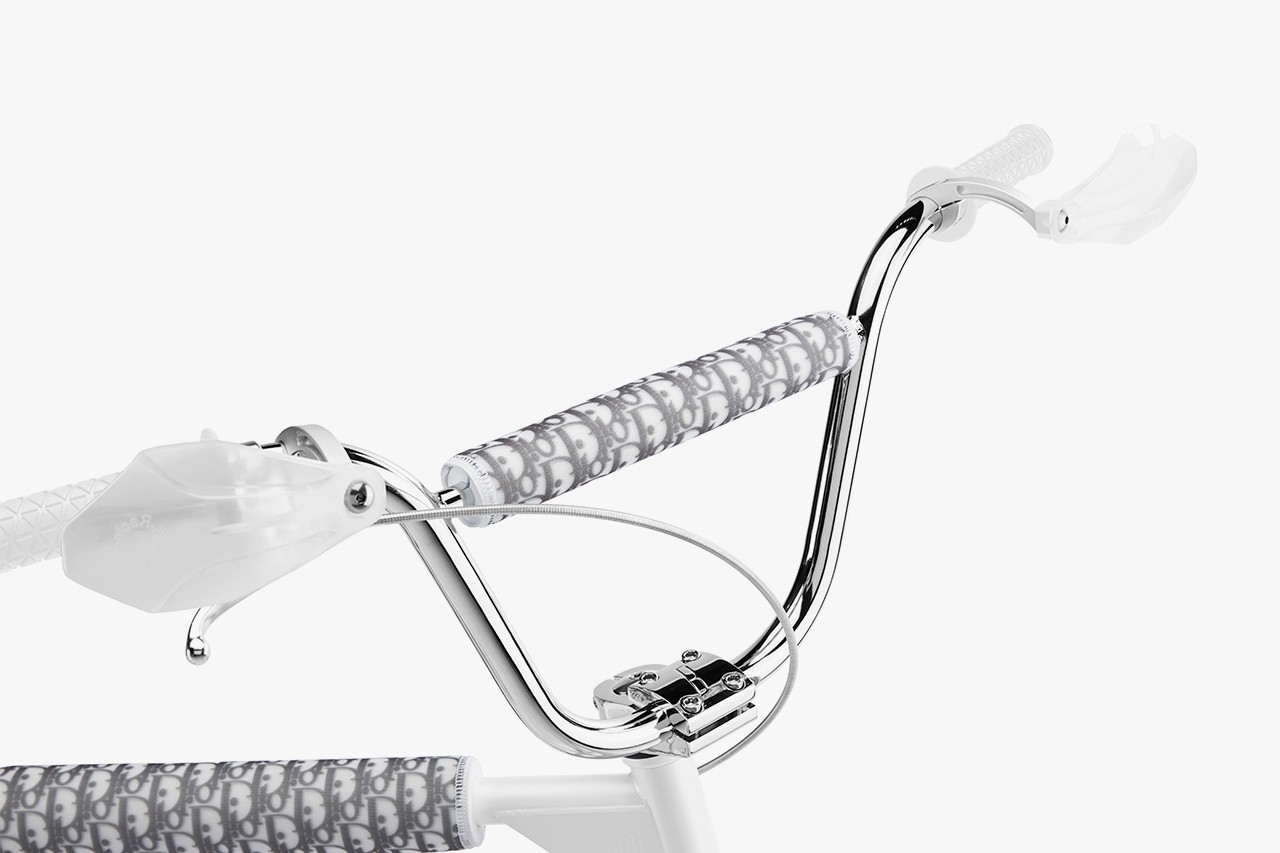 The handle bar section of the bike is pretty interesting. It features chrome bars, a classic Hutch style stem with a "B" embossed on it, and…get this….Hand Guards..lol! In this pic you case get a better look at Dior's signature monogram pattern applied on the pads.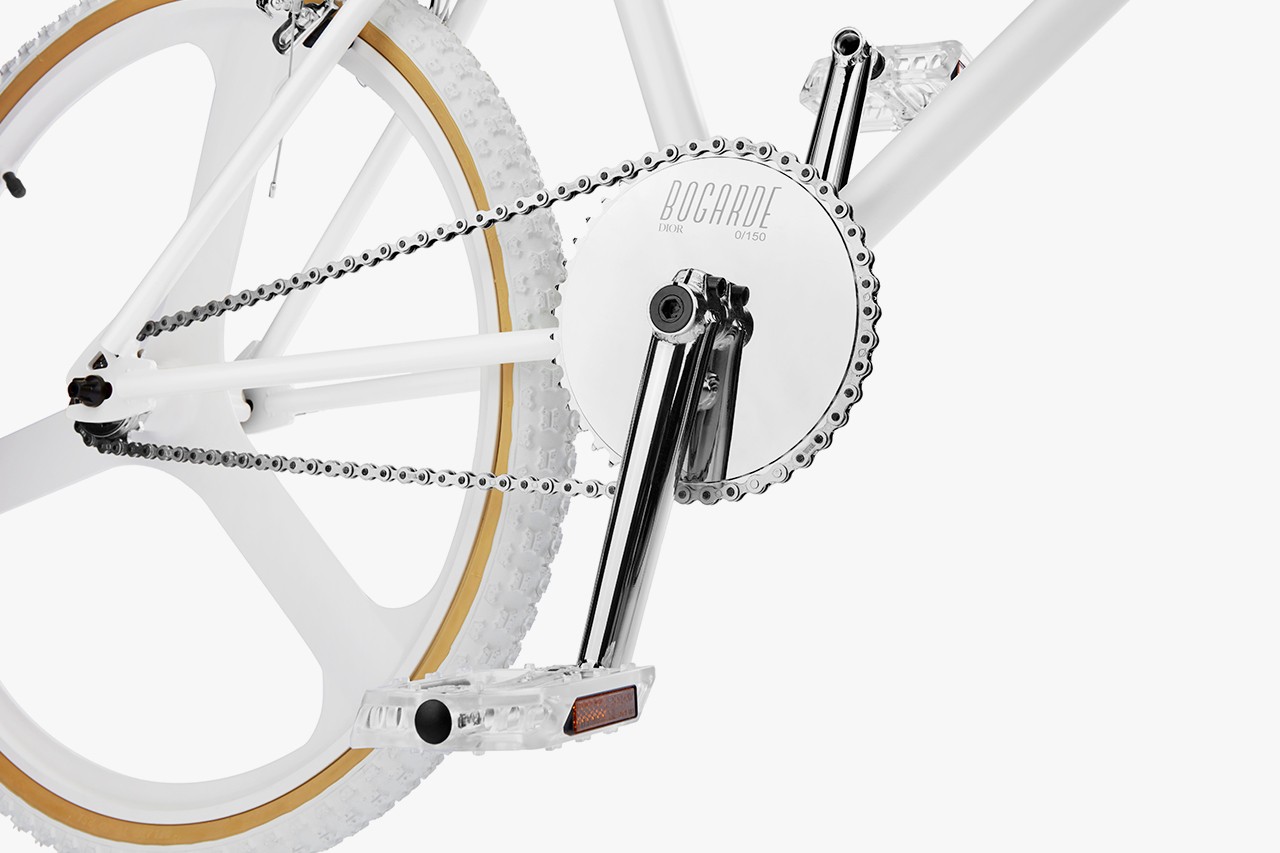 The three piece cranks are chrome plated and look similar to Profiles but without the embossing. The sprocket is custom and it features Bogarde and Dior branding. The sprocket also features the number of the bike out of the limited 150 that were made.
Specs:
-Frame and fork: full 4130 Cr-mo, triple butted tubes, double-layer miror chrome finsh, engraved gusset. -Handlebars: 4130 Cr-mo, mirror chrome finish -Stem: engraved, mirror finish. -Crankset: 3 piéces Cr-mo, pin type, mid BB, mirror chrome finish. -Free wheel: 1/2″* 1/8″* 16T, Dicta. -Pedals: Corps alliage, axe Cr-mo 9/16″. -Tyres: Duro Black 24*1,75 amber wall. -Brakes: Dia Compe aluminium 883Q caliper brake, Dia Compe Tech 4 aluminium lever rear only. -Weight: 26
-Bogarde bikes come 90% built
We couldn't find any information on the wheels but we can safely assume that they are carbon and inspired by the classic Spin wheels from back in the day.
The Icing On The Cake!
Now what really takes this bike over the top is the shipping container it comes in. It's a custom Dior branded aluminum box clad in an exclusive oblique pattern. The light weight,heavy duty box also has the bike number stamped on a patch at the top of it. The box is made by bicycle shipping container company Buxumbox.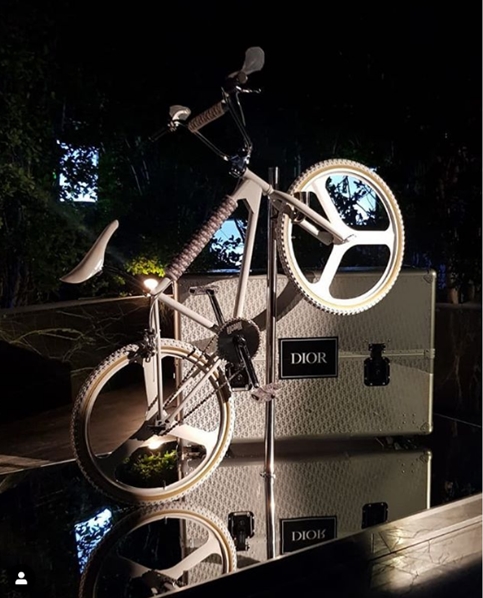 This whole package made this collaboration one of the dopest, high profile BMX collectible's of 2019!! We've looked around the web to see where these bikes are available and what the price was but couldn't find any. They're probably sold out already and they probably costed a GRIP! But you can follow Bogarde on their official Instagram page to find out about their next release.
UPDATE!!! 9.15.19: Dior Bikes are sold exclusively in Dior Stores. Get in touch with your nearest Dior store. Pre orders are open for a end of year delivery. ~Bogarde Bikes