The long awaited 2nd TRA Double Cross event went down last weekend and it was amazing. The pro invitational fundraiser event, presented by S&M/FIT, drew 37 BMX riders from across the country and also debuted TRA's first 26" Double Cross event featuring 11 riders. The sick 2-man course featured full-on trails style jumps with minimal pedaling, lots of pumping, plenty of air time and close racing. They also held a Dirt Jump contest on the same track.
The clip features some of the last races from the 20″ and 26″ qualifying rounds and the mains. I also have a bunch clips from the dirt jump contest and the awards ceremony.
"With support from Odyssey, Empire, Powers Bike Shop, Dirtsculpt, Five Ten Footwear, Blackmans's Cycle Center, Axlerad Screen Printing, Action Wheels Bike Shop, Penn Skate Skatepark, The Wheel Mill, and STAY STRONG, the event featured a $1500 pro purse with a winner-take-all cash prize in each class." ~TRA
So many cool people came out to represent for the event.
BMX Pro Josh Smith came out to represent on his chromoly DK RM59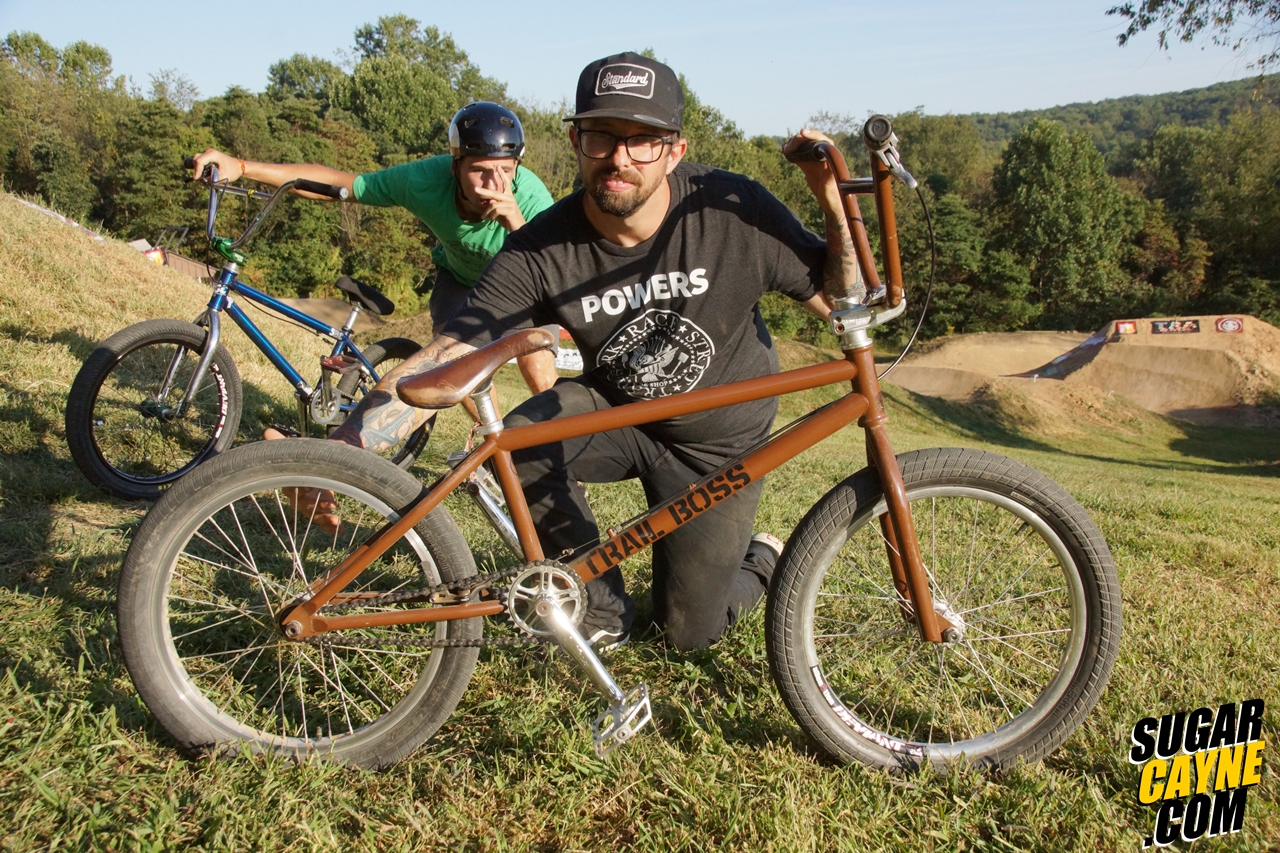 Chad Powers of Powers Bike Shop came through as one of the event sponsors.
Joe Doherty had this cool setup for his "The BMX In Our Blood" podcast!
Scotty Cranmer was at the event. He recently posted a dope vlog from the event.
Legendary BMX photographer/videographer Rob Dolecki was capturing all the footage.
Colby Benoit basking in his 2nd place Doublecross Race glory!! ….Or was it just the sun in his eyes? 😉
BMX Legend Brian Streiby was out there shredding on his sweet chrome plated 4130 wip!
David Lieb and Nick Fix took home some podium swag at the event!
You know I had to get some fun "Look Away" photos. Here's an epic one with Susie Levan, Brian Strieby, Michael Gentilcore, founder of TRA(Trail Riders Of America) and The voice of BMX Darryl Nau!! Check out 400+ more photos from the event HERE
A Quick TRA Recap:
With a full field of top riders from all disciplines, including top trail riders like Clint Reynolds, park riders like Vinny Mannino, and vet pro racers like Brian Streiby and Josh Smith, there were a lot of different BMX styles on display. Similarly, various styles from downhill racers to slopestyle riders were represented in the 26" class. Once the racing started, all the different styles came together for some very intense, wild racing in both classes. In 20" Double Cross, Vic Behm continued his winning streak from the first event, followed by Colby Benoit and Josh Smith taking the final spot on the podium. In 26" Double Cross, Nick Fix edged out David Lieb, who took the 3rd podium spot, and went on in the final race to pump past top downhill racer Mauricio Estrada down the first straight to take the win. The event concluded with the open wheel dirt jump comp which was held over the entire course. Clint Reynolds manualed the roof jump and 360 turndowned for 3rd place while Mason Ritter saran wrapped one-handed his way to 2nd place. The rest of the competition knew they were in trouble when top 26" slopestyle rider, David Lieb dropped in for his first run. With triple truck drivers, corkscrew flips, big 360 tables, and a flip whip, David destroyed the entire course and was clearly on the next level. ~TRA
20″ Double Cross Race Results:
1st Vic Behm
2nd Colby Benoit
3rd Josh Smith
26″ Double Cross Race Results:
1st Nick Fix
2nd Mauricio Estrada
3rd David Lieb
Open Wheel Dirt Jump Comp:
1st David Lieb
2nd Mason Ritter
3rd Clint Reynolds