Swedish professional character designer, Bjorn Humbe recently released images of his new resin art toy called "Fatboy". The BMX inspired art toy has so many dope treats on featured on it.
Lets start with the bike. If your a fan of the Netflix show Stranger Things you'll remember the characters were riding BMX bikes that were not really era correct. If you grew up in the 80's you would know kids did not ride modern day BMX bikes with Banana seats. BMX bikes with banana seats was a first gen BMX bike style. Schwinn even released a Stranger Things, Lucas Sinclair replica bike with the same modern day BMX design with a banana seat. The bike was a little controversial in the BMX community. But people like me were happy that BMX was getting some shine on a broader platform.
The Fatboy toy reminds me of the Stranger Things bike and I think is pretty cool.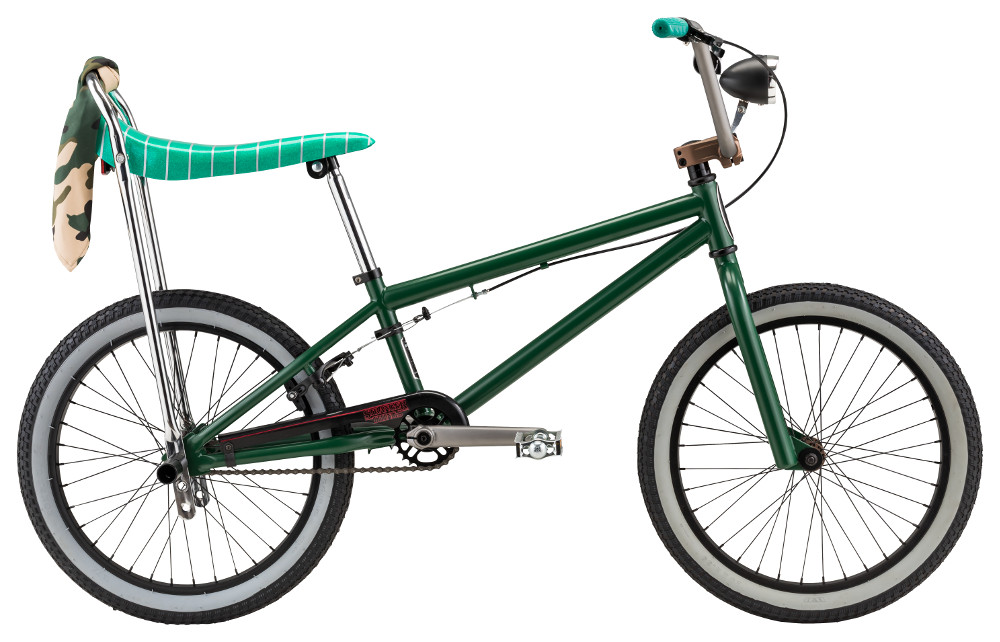 The Bike:
I love that Bjorn made the actual frame look like a legit retro looking BMX frame. Details like the bottom load, modern style stem and three piece cranks was fresh. I love the fat slicks, thick spokes and rear pegs on the wheels. The matching purple grips and forks with the grey frame go together nice. He even added a crossbar pad in yellow for a slick color offset(And profanity 😉 ). To keep things legit Bjorn even added a "Fat Boy" decal on the down tube.
Inspiration:
Bjorn said the Fatboy figure is inspired by Gorillaz and he nailed it! That Gorillaz art style mixed with BMX vibes looks sick. and to finish it off Fatboy is rocking some Vans! 🙂
"My main inspiration for doing art toys is the extreme sports scene and stylized character art as Gorillaz and a lot of animated movies."

~Bjorn Humbe/SpankyStokes.com (APRIL 20, 2020)
The Fatboy is 13″ high and is being produced as a super limited run with pre-order and then production! These will retail for $450 bucks. Holla at Bjorn on his Instagram page if your interested to add this figure to your collection.