Supercross BMX just dropped a bomb on us with the release of the SX250 30 Year Anniversary 29 inch cruiser!! It's so awesome to see this classic frame design done in a 29 inch! This is a Full Tange Prestige, Heat Treated 4130 Cro-mo Frame and Fork!! This bike is ready to take whatever you throw at it. The bikes are limited to just 30pcs in Chrome and 30 pcs in Black. Can't wait to see these in the streets.
Give this bike a rating via the sliders below for the "Battle Of The 29ners" competition!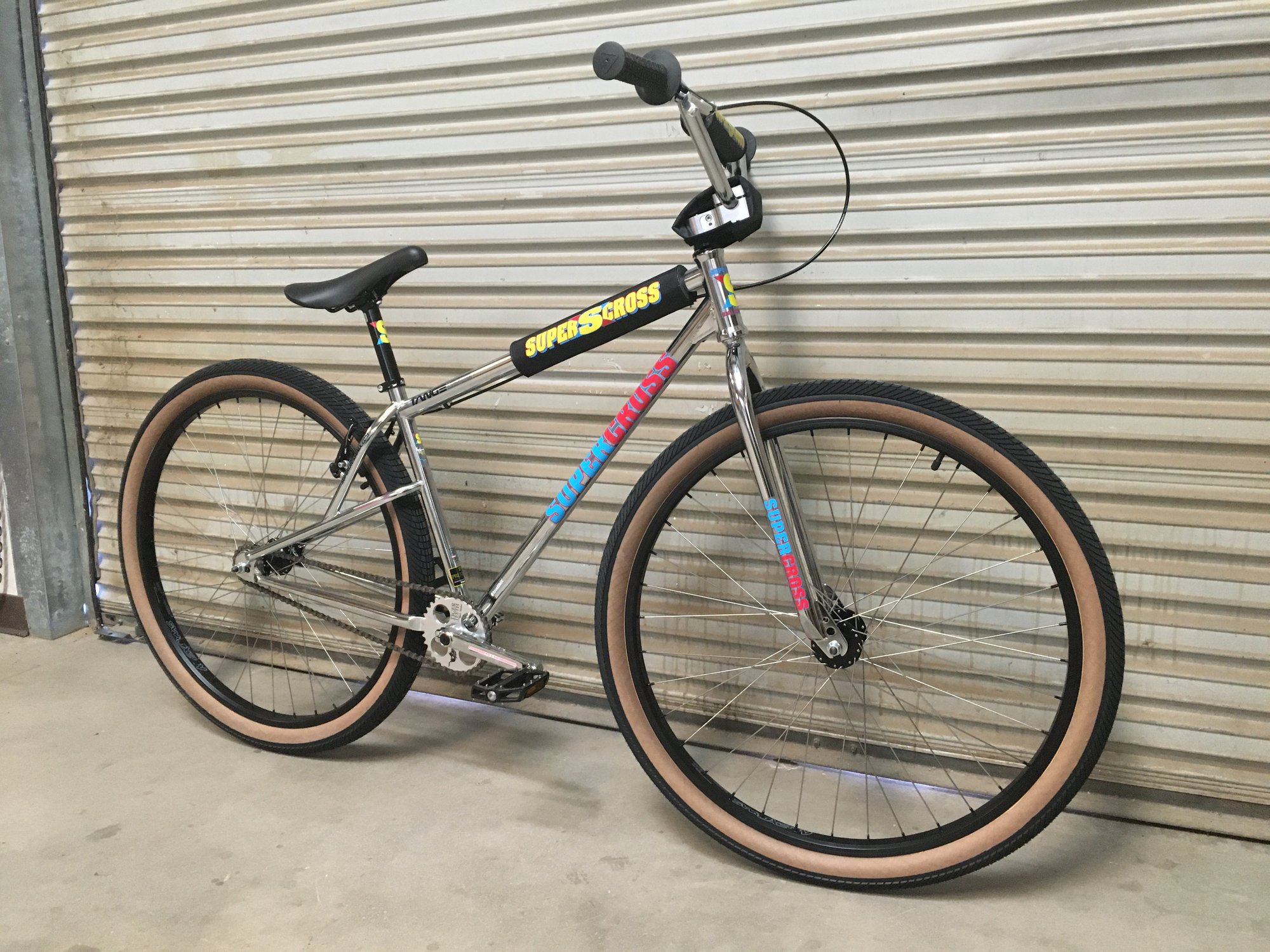 About:
Back in 1989 when we started Supercross BMX, the original frame was our 6 bar design. We used this design for over a decade on our Cro-mo and Aluminum BMX race Frames.
When we designed the SX250, we were limited on tube sizes that the Steel Mills were running, and had to solve the problem of frame flex and stiffness, so the extra triangulation is what we did. By lowering the first set of seat stays and adding the second set of stays for additional triangulation, we had a BMX race frame that was stiffer, faster accelerating and better handling that the other ones on the market.
Since we discontinued the use of the 6 bar rear end and the secondary seat stays, we have always been asked to make a re-issue. So here it is. For our 30 year anniversary, not only are we re-introducing a limited run of the 6 Bar SX250's , we are upping the ante a bit. It is not an old school wall hanger, but an actual modern race frame, and we got TANGE back on board to build us a few more of the Prestige® Tubesets and have built them into the ultimate Retro Race bike.
Full Heat Treated post weld construction, Campy® Style Integrated Headtube, CNC Machined Euro BB shell, and the famous 6 bar rear end.
And as a special treat, we are building up some very limited edition complete Retro SX250 bikes with some of these frames. A limited edition Pro XXL and a Limited Edition 29″ Wheeled one. Sorry Todd, SE isn't the only one that can enjoy #Bikelife.
Specs:(With commentary by Bill Ryan)
CRANKS: Redline Flite with Sealed Bearing with a euro Bottom Bracket ( Euro of course so it is dolphin smooth )
CHAINWHEEL: Limited Edition Ryan Sheehan Tribute Tiger Teeth Replica
STEM: A Supercross 30 year aniversary Clip on
GRIPS: Real A'me Round
RIMS: Alex Double Wall DM24 Alloy
SPOKES: Stainless Steel Spokes, yea we used the good stuff,
TIRES: Kenda 29×2.2 Skinwall (Only because Tioga doesn't make 29" Comp 3's …. YET )
GEARING: 33/17t
SEATPOST: AAlloy Micro Adjust Seatpost
SEAT: Sella italla Turbo Replica
Geometry:
TOP TUBE: 23.75"
CHAIN STAY: 17.7"
BOTTOM BRACKET HEIGHT: 12 Inches
HEAD TUBE ANGLE: 71.5"
It is a True BMX Race Geometry for a Big Bike
Rate This Bike:
Supercross SX250 29"
{{ reviewsOverall }} / 10
Users
(41 rated)
For more info visit SupercrossBMX.com