Legendary BMX brand Zeronine has some really nice treats available on its website like this sick 29″. Yes Yes Ya'll, Zeronine resurrected their classic WORKS frame into Plus Size BMX form. What's even cooler is the frames are built by another BMX legend, Gary Turner!! The bike is offered in a complete or a frame & fork. Now I dunno where I was when all this Zeronine goodness started coming back out but I know now!
Give this bike a rating via the sliders below for the Battle Of The 29ners competition!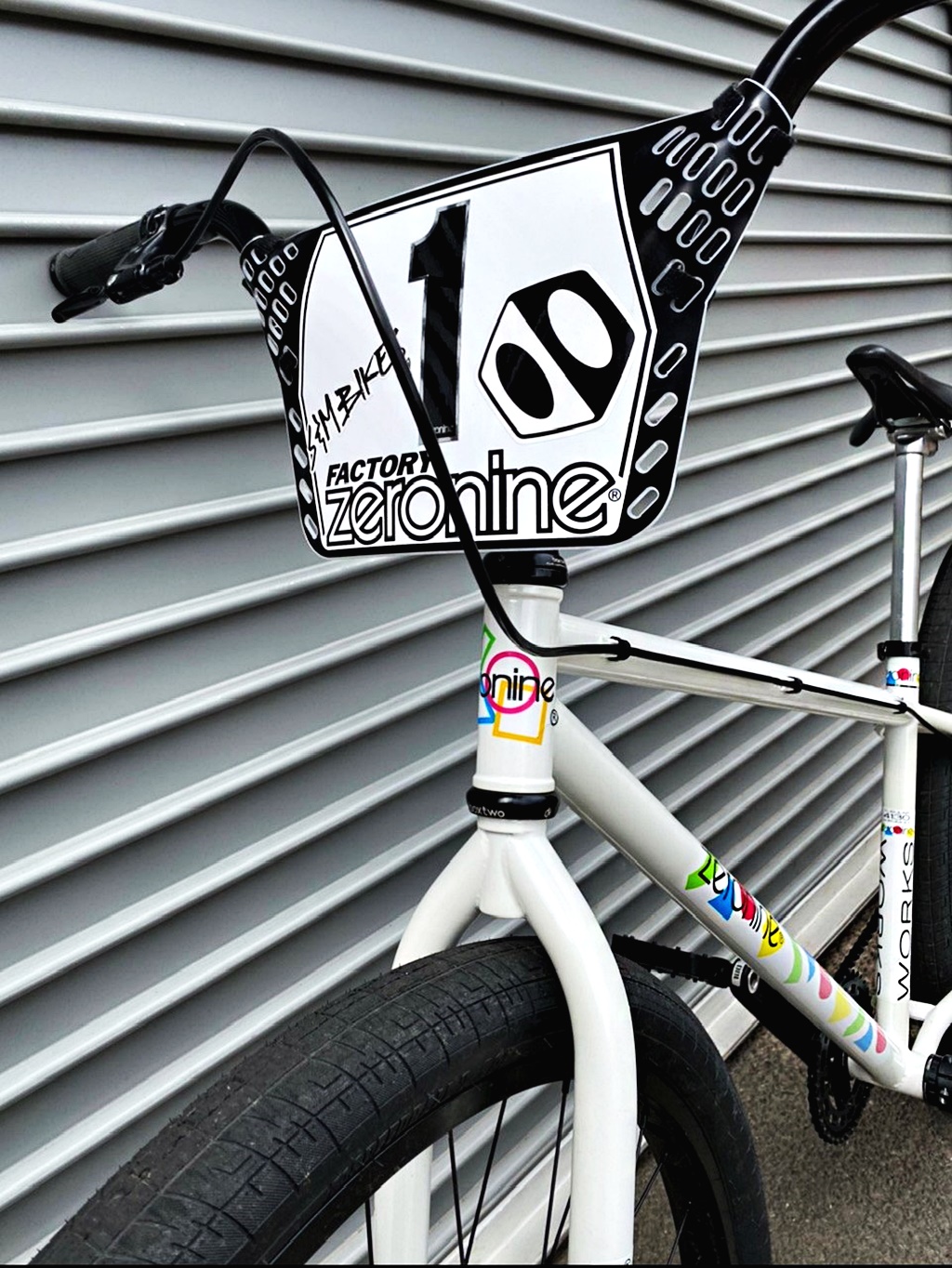 Press Release:
Zeronine has teamed up with Master frame builder Craig Turner of GT / Gary Turner. This Very Special Build, is already one if the most coveted collaborations to date. The 29" frame is our newly designed geometry developed by Turner with a lower top tube to allow an easier kick over onto the bike. We lowered it 1.5" from our standard 29" frame. We also went with smaller diameter 4130 tubing to shed off some unwanted pounds but kept the strength. The frame also features a disc or V -brake setup for modern setups. And the iconic Zeronine graphics of the original WORKS bikes.

Zeronine Apparel
Specs:
100% 4130 chromoly
1 1/8 cup style headtube with raised bevel
24″ Top Tube Length
15.5″ Seat Mast height
American or Euro Bottom Bracket
V Brake mounts or disc brake option
1.330″ diameter down tube
1.125″ diameter top tube
3/4″ diameter chain stay
5/8″ seat stays
1-1/8 diameter seat mast Rear-end drop out classic 09 design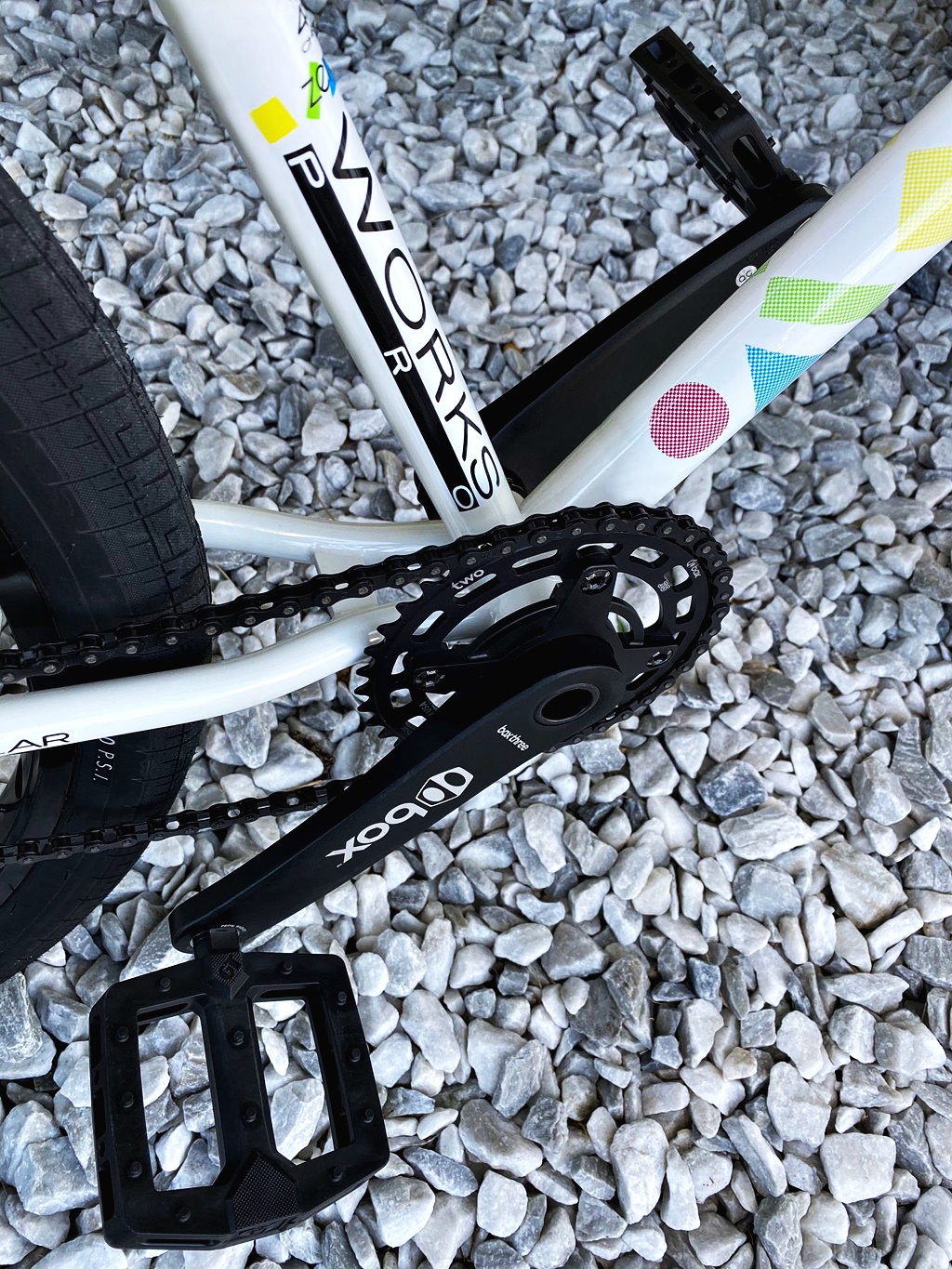 Complete Bike Features:
A White nickel chain, Sun-Rims Mitered Signature holes & rock-star sparkle rubber liner, S&M Speedball 2.40 front and rear tires, S&M Pegs and Zeronine Airflow II plate
BOX One Disc brake adapter 10 mm
Box Three Disc Brake Caliper – black
BOX Three BMX Specific 140 mm rotor silver
BOX Two Linear brake cable black
BOX Three short reach V-Point lever black
BOX Three Hollow 2pc crank-set 24 X 180 mm black
BOX One 3/32"CNC Cr-mo Cog 18T black
BOX Two chain-ring 38T
BOX One Cro-Mo chain-ring bolts 15 pcs black
BOX Two Chain tensioner 10 mm x 2 axle hole black
BOX One 7 Back 2 Up 31.8 X 6.5" handlebar black
BOX One grip black / black clamp
BOX Two sealed bearing 1 1/8" press in thread-less headset black 
Box Three Pro 10 mm rear disc 36H hub w/ 16T black
BOX Three Pro 10 mm front 36H hub black.
BOX Two Stem spacer 1 1/8" 10,5,3,1 (2 pcs) mm black
BOX One Front Load 31.8 mm bar bore X 53 mm stem black.
Rate This Bike
Zeronine Works 29"
{{ reviewsOverall }} / 10
Users
(16 rated)
For more info and pricing, visit ZeronineApparel.com