Concerned Long Island Mountain Bicyclists better known as "CLIMB" is a non for profit, member supported organization that manages, builds and maintains all the official mountain bike trails, jump lines and pump tracks on Long Island. Spots like Hempstead Harbor Wood, Cathedral Pines and Cunningham Bike Park are just some of the 19 MTB and BMX trails they manage. They recently opened up a Teespring support shop to help raise funds so they can continue to keep managing Long Island MTB trails and also develop new one's. If you'd like to support Long Island's MTB and BMX trail scene CLICK HERE to get yourself a CLIMB shirt!
Get Your CLIMB T – Shirt or Long Sleeves Now! It's a new age with new technology. CLIMB has partnered with TEESPRING which is a fulfillment service, we design the merchandise and they print and ship on demand. You pick the style, color and size of your choice. CLIMB gets a percentage of every T Shirt sold so you help build and maintain our trails by purchasing these shirts. How cool is that? Many thanks to our member Jimmy Martinez for designing the shirts and setting up the shop. More products such as hats and mugs will be coming if we get enough orders for the T-shirts.

~Michael Vitti/Founder C.L.I.M.B.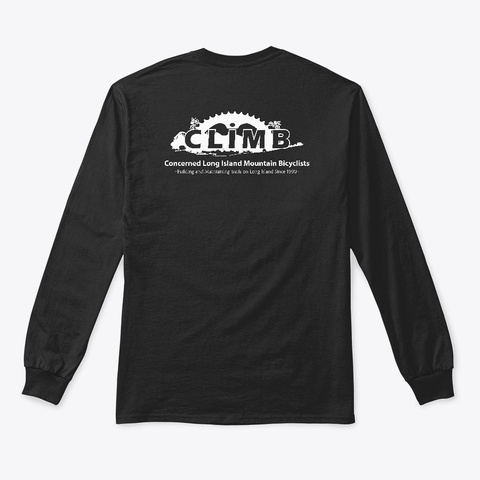 CLIMB Mission Statment:
Concerned Long Island Mountain Bicyclists (CLIMB) was established in 1990 as a non-profit advocacy organization dedicated to the growth and safe enjoyment of mountain bicycling. We promote a strong relationship between recreation and conservation by educating the mountain bicycling community on environmentally sound and socially responsible trail use.
Find out more about CLIMB at ClimbOnline.org