My dude XAV brought one of my raw 20 inch Sugar Cayne anniversary BMX frames and wanted to get it custom painted. He wanted to get it in a blue colorway with a sparkly finish. So I took the frame to get powder coated at Static Coatings and they did an amazing job. They did it in a color called Peek-A-Blue which looks so crazy when you see it in person. When the light or sun hits it, it has this amazing sparkle.
Then it was my turn to make and put on the custom vinyl decals. The details of the stickers were pretty intricate especially the "Already Won" sticker. In this video I do a quick walk through of the process of taking the designs and transferring them on to the frame. I was a tedious process and I had to be precise because these were die cut stickers. If I messed up on any part of the transfer I would have to make the stickers all over again. The end results were beyond expectation. I can't wait to do another one.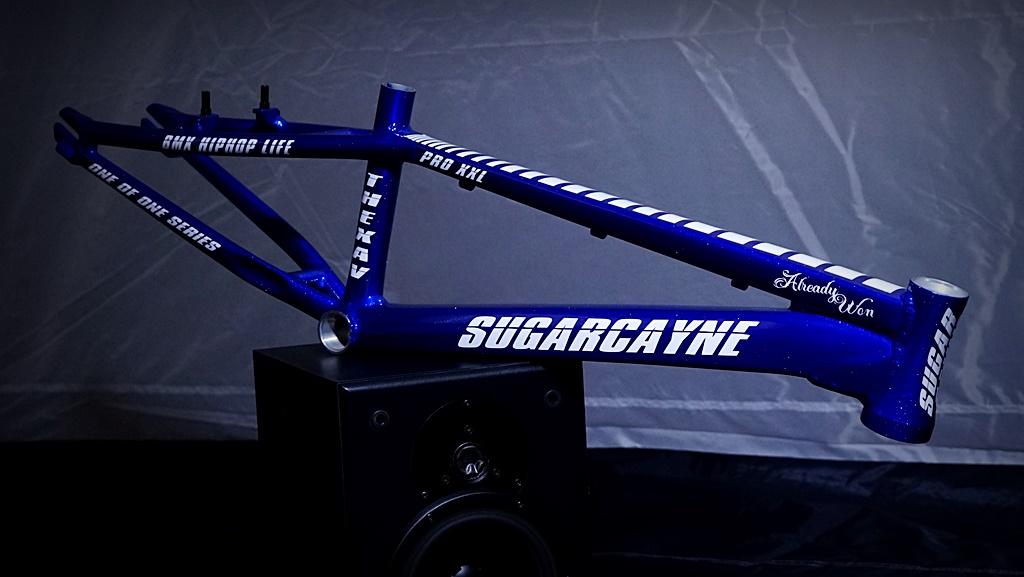 There are still some more 24 inch Sugar Cayne anniversary frames available in the Sugar Shop. Get yours before they run out. And stay tuned for more releases and collaborations with Static Coatings. I'm gonna be dropping new frame artwork designs randomly.