I have some cool news for ya'll. If you don't already know, I have my own line of BMX frames. I made them to celebrate the 10 year anniversary of CAC-TV and SugarCayne.com back in 2018. I also order some of those frames raw so I could get them custom painted and do special projects. This first project is custom Naughty By Nature Tribute series design to celebrate the legendary HipHop groups 30 year anniversary. The complete build is a collaboration between Vin Rock Of Naughty By Nature, Bill Ryan of Supercross BMX/Speedline Parts and myself.
This is a one off prototype 24″ build but the plan is to make a limited run of 29inch BMX frames with this paint job and decals.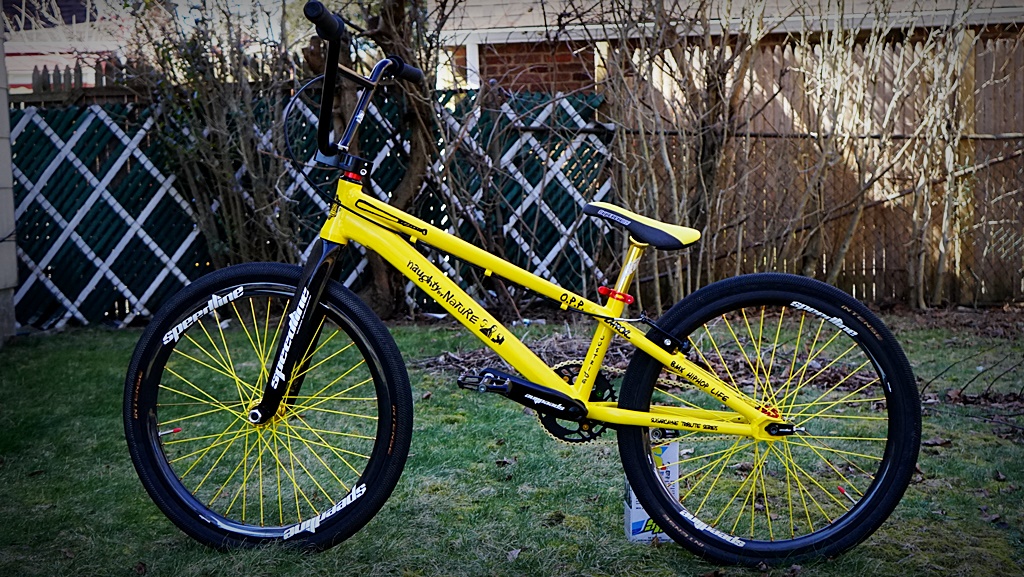 If your interested in getting a 24″ version like this bike, feel free to contact me at sugarcaynecom@gmail.com
Stay tuned for more treats and updates.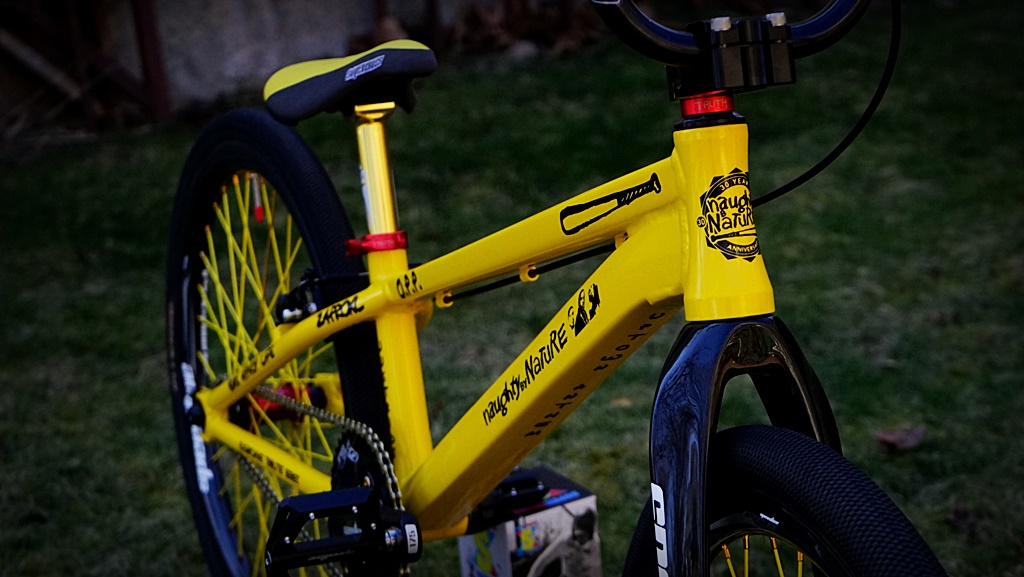 Parts List:
Frame: Sugar Cayne 24″ (Naughty By Nature tribute)
Forks: Speedline Elite Carbon 20mm Pro
Handlebars: Supercross Massive
Stem: Supercross Racerhead TL
Cranks: Supercross Elite Hollow Pro
Pedals: Speedline Ultra Thins
Chainring: Insight 4 Bolt
Rims: Supercross RCR/507 Pro Size
Hubs: Supercross, Quick Twitch (Front and Rear)
Spokes & Nipples: Planet BMX
Seat: Supercross Pro Pivotal Slim
Seat Post: Supercross Alloy Pivotal
Seat Post Clamp: Truth BMX Quick Release
Chain: KMC
Headset: Speedline Tapered Sealed Bearing integrated
Headest Spacers: Truth BMX
Brakes: Tektro
Shout and thanks to Justin "Crash" Doyle and Zim for getting that awesome yellow powder coating done. Also big shout and thanks to Justin for lacing up the wheels. This bike rides buttery smooth.
Super huge shout out and thanks to Bill Ryan at Supercross BMX on this collaboration. The Sugar Cayne frame with Supercross/Speedline parts is a match made in heaven!!