Damian Fulton, creator of the classic Radical Rick comic strip linked up with Haro Bikes to give his iconic character his own signature bike! The frame forks, pads and seat are full of Radical Rick inspired art hand painted by Damian! Haro is releasing this bike in three sizes;24in, 26in and 29in. Each bike comes in its own highlight color. Green for the 24in, Pink for the 26in and blue for the 29in.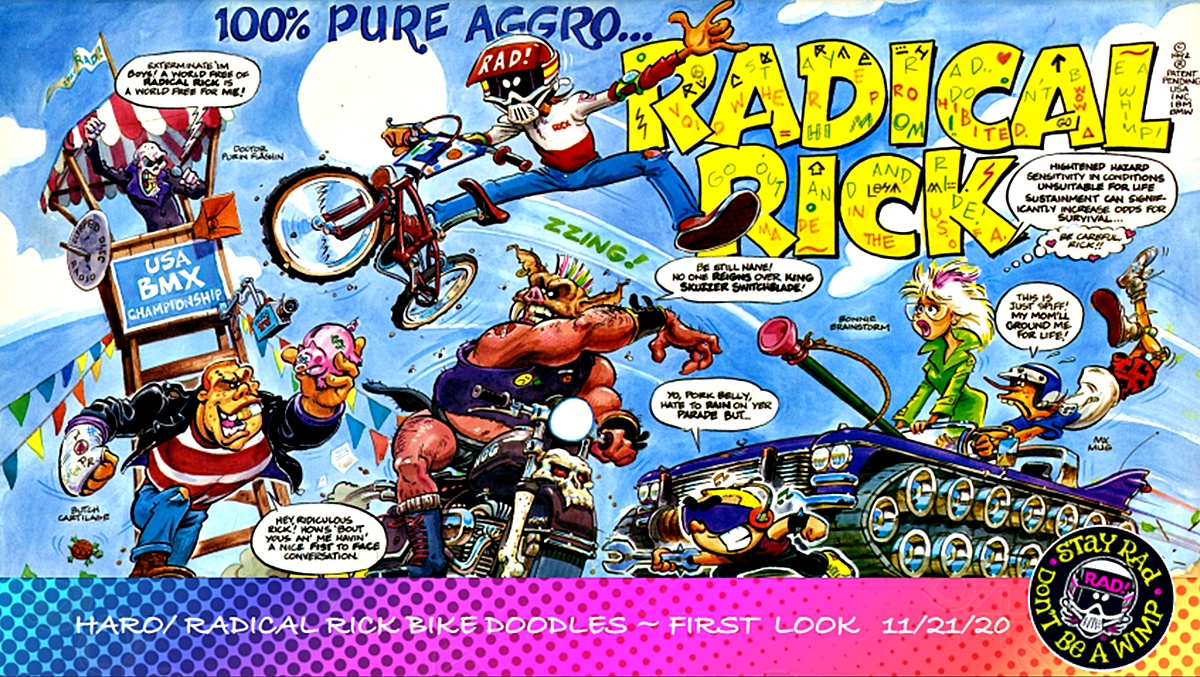 I have the exclusive inside details and inspiration illustrations sent to me by the man himself! This is awesome on so many levels I can't begin to put it in words!
My idea was to design 3 different looks for the 3 different-sized bikes. Each sized bike has its own color scheme and a Radical Rick story told through details in the decals
Once I got their heads nodding, I went home and hand-painted artwork in my old-fashioned way, the same way I did it back in the 80s and 90s, all hand-drawn with pen and ink, and watercolors. What a blast, I made artwork for all the decals, for each bike. If you pull back the top tube pad, you'll see I hid unique artwork underneath, and I sprinkled in some of the Radical secret code tucked around the bike frame.  I have to hand it to Haro. They actually let me make a graphic of their logo, torn to shreds by Rick after he ripped through it. I can't imagine a corporate brand letting its logo get desecrated like that! 

~Damian Fulton
"Radical Rick is a thrill-addicted kid fueled by an over-productive rad gland, who became an icon to a generation of BMX pioneers and fans of the burgeoning action sports world. Starting in 1979, the RADICAL RICK comic strip in BMX PLUS! chronicled his unimaginably extreme exploits spanning over 13 years (then again in reruns in the 2000s) and captured not just the growing popularity and subcultures of BMX, but the changing times as well.
These bikes are dedicated to all BMXers past, present, and future, and those who appreciate tasteless testosterone-fueled action. Sit down, prepare to pedal, and discover the spirit that made Radical Rick…well, RADICAL!"

~Damion Fulton
Big shout out to Haro Bikes for making this awesome collaboration a reality! And Huge shout out and thanks to Damian for the exclusive!! THIS IS RAD!!!!
Besides his RADICAL RICK comic series that ran in BMX PLUS! magazine (1979-1993 and in reruns 2002 – 2005), Damian was working behind the scenes in the early days of BMX creating advertising for SKYWAY, DIAMOND BACK, SE, JOHAR, contributed to product design for JT and Protec helmets, and was a prolific poster artist for major BMX events, like the NBL Grands and Jag World Championships. The BMX PLUS! Magazine logo he designed in 1979 is still in use today.
Today he paints "fine art" for the gallery scene. His paintings, crammed with battling surfers, hot rods, bikes, and billowing smoke stacks, reflects his long tortured romance with the dysfunctional urban-coast life.
Through books, magazines, and exhibits, his work has reached Tokyo, New York, France, Germany, Canada, Spain, Hawaii, Brazil, and Milan, Italy.
View more of Fulton's work at damianfultonart.com