BMX: Look Away And Fun Pictures From The 2009 NBL Grands (247 Photos)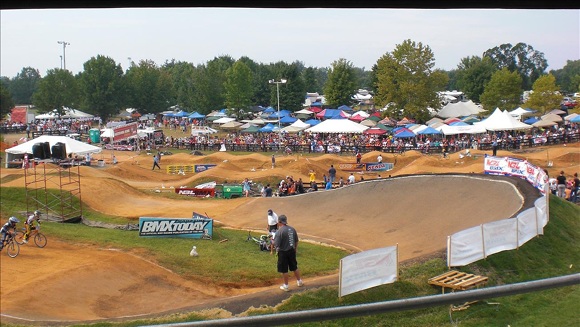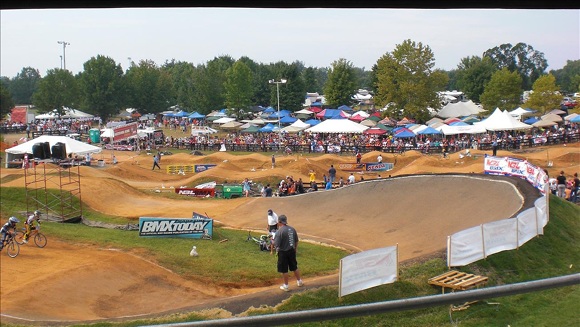 Yoooooooooo wassup ya'll!! This years Grands was crazy fun!!!!  The weather was great, my new Hyper was riding great(Thanks Judd and Tom), my chain didn't pop off like last year lol, I didn't fall, my womans allergies weren't bothering her that much so she didn't need to wear a mask like last year lol, the track was great even though I wasn't jumping that much lol, The Beymont Hotel was really nice even though on Saturday night there was a soccor game on and the people in Room 309 were making crazy noise cheering and stomping around after midnight so I couldn't sleep, I met some really cool people and did some good interviews but didn't get as many interviews as I would've liked, Filmed a lot of racing but I didn't get any of the first 10-12 motos because I had to race my mot0 lol(Go211.com Has all the racing coverage), I didn't get that many pro interviews or pictures(I wasn't on my CAC-TV A game this weekend) but I have 7  tapes of video footage to edit, I found out the Dale Holmes watches my show, I still don't know how I was able to drive stright to KY from NY(12+hours) after working a full day on the job and finally I took a lot of random pictures!!!!!!
I want to thank everyone who came up to me and told me how much they like what I'm doing with the site, It means a lot to me and keeps me grinding away to bring you more stuff!!! Next stop is Woodward see you there!!
[nggallery id=6]

Yess BMX Innovates Again With The 20os20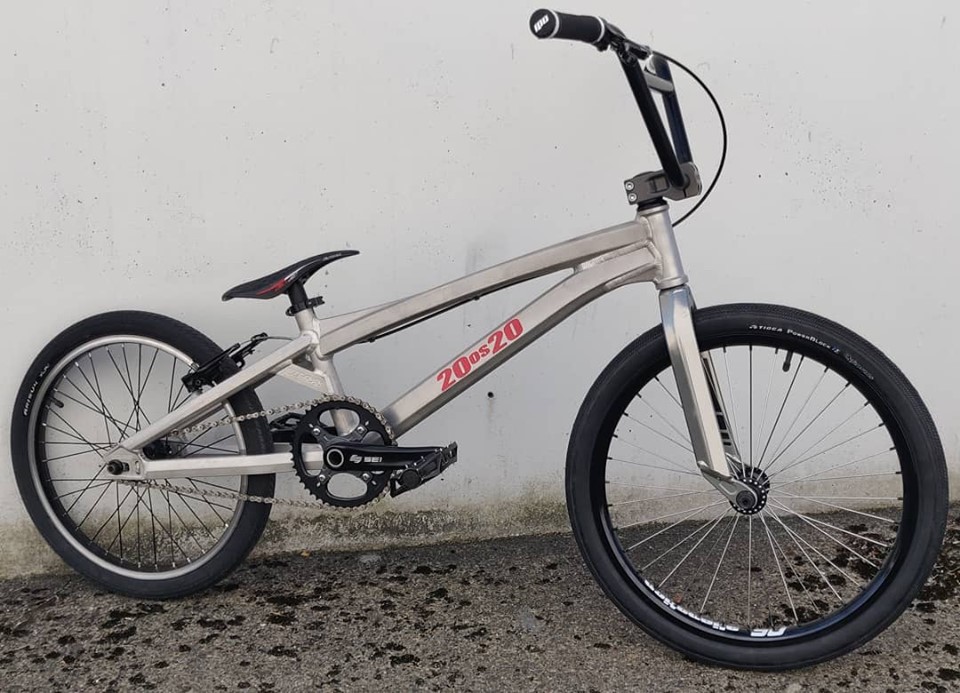 The folks at Yess BMX innovates again with the 20os20 frame! Over the last year os20 bikes and upgrades have been gaining popularity among the BMX racing community. Os20 is a slightly bigger wheel diameter than the standard 20″ wheel but it's not as big as a 22″ wheel. Os20 is also not big enough to be considered a "cruiser" size so you can race a os20 size bike in class which is for 20″ BMX bikes.
The reason for the os20 rise in popularity is because it's more stable, smoother and less "Twitchy" than a standard 20″ bike. But the bike still feels and performs more like a 20″ bike than a 22″ or 24″ bike.
So in comes Yess BMX taking it a step further with their 20os20.
"Behold our newest concept build: The 20os20 bike. What is the idea behind this? The smoothness of the os20 steering with the gearing/tire/rollout selection of any standard issued 20! Don't try to retrofit your regular 20″ bike as this frame was purpose built without messing around w/ your BB height or headtubes angle!" ~Yess BMX
Pretty awesome!!
There's no release date set for the frames yet but it's already causing a buzz. Follow Yess on their Instagram page @Yess_BMX
Laura Smulders Wins BMX World Cup RD4, Papendal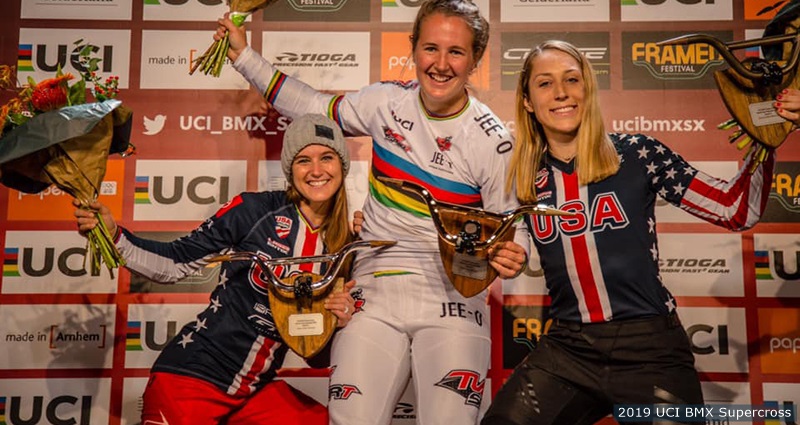 Laura Smulders finally makes it past Alise Willoughby to claim victory at round 4 of the UCI BMX Supercross World Cup! Alise has been a dominant force at this year's World Cup series with her perfect gate starts and first straight pull. But Smulders has been on the hunt and the two have come in close contact at every round.
Round #1 in Manchester the two collided in the first turn during the semi and didn't transfer. During Round # 2 in Manchester, Alise was ahead of Smulders into the 3rd turn then slid out which sent Smulders off the track. Manon Valentino went on to win that race.
In Round #3 at Papendal, Alise was leading the pack again but in the 3rd straight Laura out pumped her and they came into turn three together. Alise tried to ride Smulders up the burm to slow her down and they both got passed by Judy Baauw(NED).Judy went on to win that race with Alise coming in 2nd and Smulders in 3rd. Now round #4 in Papendal is where the stars aligned for Smulders. It was the same scenario, Alise gets the holeshot, leads the pack into turn 2. Then Laura powers though the 3rd straight with a serious pump and finally passes Alise midway through the straight to take home the win. It was a fun race to watch and it's shaping up to be an exciting series to follow.
Alise Willoughby, a two-time Olympian and 2016 silver medalist, scored two silver medals at Round 3&4 in Papendal, Netherlands. She's also the lone U.S. medalist in Saturday's(round #3) races. Fellow American Felicia Stancil finished in third for that bronze medal in Sunday's race(round#4) This marks the first time this year that two Americans had podium finishes in the same race. Pretty cool!
Judy Baauw Wins BMX World Cup Papendal Rd#3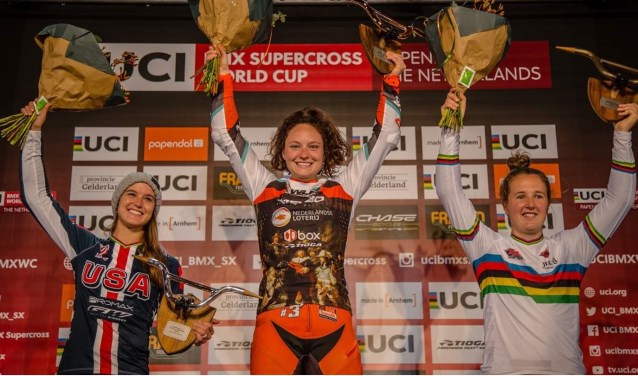 Netherlands own women BMX elite racer Judy Baauw took home the title at the third wound of the UCI BMX Supercross World Cup in Papendal! Judy rode a smart race in front of her hometown crowd and let the two fastest women in BMX cancel each other on that last turn as she passed them for the win.
Alise had the holeshot out of the first turn with Smulders and Baauw in tow. Alise was lead out the 2nd turn then on the 3rd straight Smulders had a super pump and caught up. Baauw was still in 3rd place but pretty far behind. Then as Alise and Laura came into turn three side by side, Alise tried to take Laura up the berm to slow her down and left the door open for Baauw to make her move. Down the last straight it was all about who had the better pump and momentum, today it was Judy Baauw!
With this 1st place Judy also took the lead in the rankings. This was also her first World Cup Win. Sunday was round 4 and Judy finished in 5th place.
Follow Judy Baauw on IG: @JudyBaauw