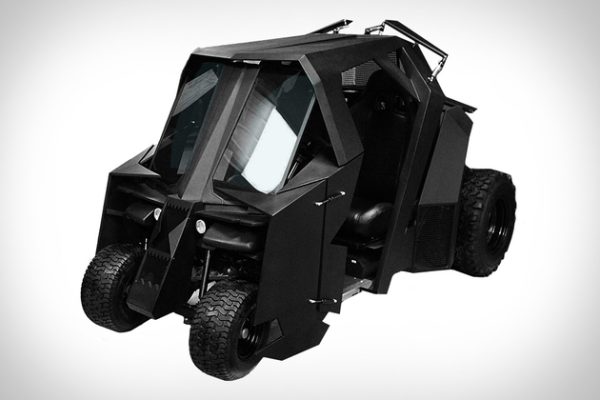 So the super talented crew at Marcs Creature Company decided to gut a EZ-GO Golf Cart and created the Batman Tumbler Golf Cart a few years ago!! This is the ultimate vehicle for all ya'll Batman fanatics and cosplayers! ! There was only one made and it was recently sold on Ebay by rayshollywood. Check out the rest of the info on this cool cart below:
We started off with an EZ-Go Golf-Cart, then stripped it down to the frame and 4 cup holders.
You will find no cheap or plastic parts here…
The entire vehicle is hand crafted from the frame and sheet metal, including a sculpted, molded cowl, attention was paid to every detail.
Well over $30,000 to make it runs great and cosmetic condition is excellent, along with low hours.
It has been used 1/4 the time on a studio lots, but the rest of the time kept indoors on display.
Check out the build video!

Tech Specs:
4-link Rear Suspension with Coil Covers
Brand New 6 Trojan Gell Cell 8 volt batteries have been replaced for this sale. Pictures taken before.
Rear disc breaks were installed to allow stopping quickly.
500 Amp Controller
(Replaced with a Go-Cart Motor) 48 Volts 6HP 4600 RPMs (Clocked at 38MPH)
Standard golf carts are always in your rear view mirrors!
Custom made Dual 28″ Super Swamper tires – smaller version of the Original Tumbler Tires from the Movie.
110 Volt Converter
On Board Charger
Secret Kill switch as an anti theft device
4 Cup Holders
iPad – Stand
Lights, side mirrors
Horn with a noise that is as equal in stature.
Rear warning backup buzzers
Adjustable Leather Seats
Batman Logo on a Sports Steering Column.
GUARANTEED TO TURN HEADS!