I saw this image of the new candy chrome blue Skyway T/A 24″ cruiser posted in PlanetBMX's facebook page and after I woke up from passing out, I had to share it with ya'll! I'm absolutely loving this colorway, the red decals look so sick and I love that it comes as a frame fork and handlebar set…NICE!! Not only does the T/A 24 come in candy chrome blue but it also comes in candy chrome green, purple and red!!!! This is a collectors dream! The only other thing I would love to see is a white decal option!

Now incase you didn't know….
For the first time in over 25 years, Skyway brings back their classic T/A BMX frame and fork set! Newly designed, and updated, this beauty combines the classic stylings of when BMX bikes were works of art, along with today's modern race geometry and sizing.
This set features a 22″ top tube, and modern features such as V-brake mounts, Euro bottom bracket, and 1-1/8″ headtube combined with a 1-1/8″ threadless fork.
The 24″ T/A XL is beautifully and artfully constructed from 4130 cr-mo tubing. It IS a functioning piece of art!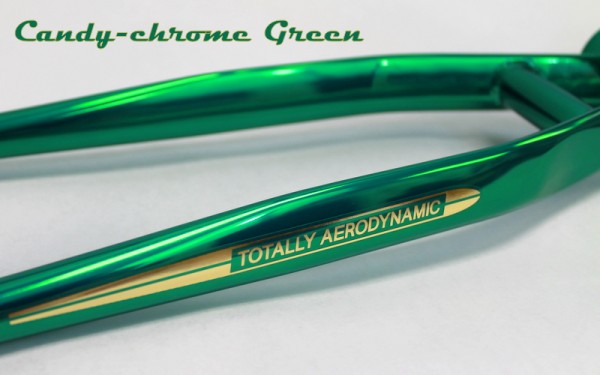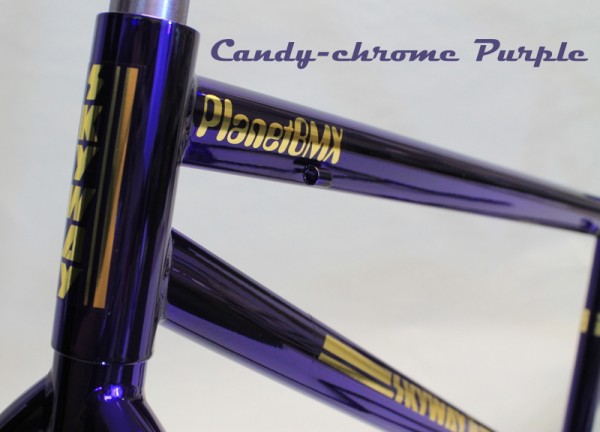 Check the stats:
4130 chromoly steel (All tubes)
Head Tube =74 degrees
Seat Post = 71 degrees
Top Tube = 21.25"
Wheel base = 37.44"
Rear End = 14.38"
Front End = 23.06"
3/8″ dropouts on frame and fork
Euro Bottom Bracket
V-brake mounts on frame
1-1/8″ Integrated headtube
45×45 Integrated headsets such as Odyssey, or ACS work best
Requires 28.6 (1-1/8″) seatpost clamp, with 25.4 (1″) size seatpost
PRO CRUISER HANDLEBAR SPECS:
29″ wide
6.75″ height
13 degree sweep
3 degree upsweep
You can get this awesome bike from PlanetBMX.com