Super talented Illustrator/custom toy designer Patrick Wong sent me a preview of his awesome contribution to the "Art Without Borders" 2014 benefit show opening March 22, 2014 at the Art Whino Gallery. The custom 7″ Kidrobot Fatcap-based design carries a graffiti theme and is accompanied by 13 hand-cast 1″ resin cans.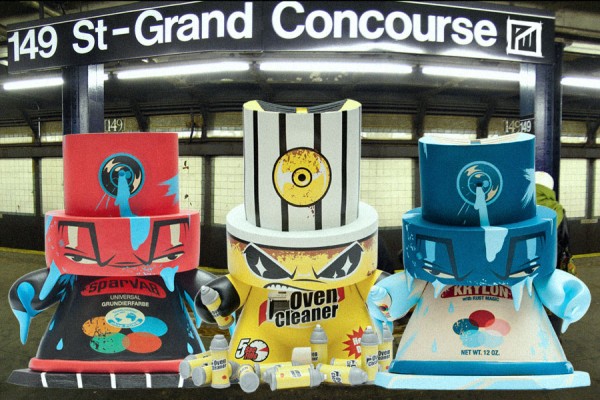 The custom piece by Wong embodies some of the history from graffiti culture. In the 70s, a graffiti writer named Superkool 223 is credited as discovering that you could get a wider spray if you replaced the stock cap with one from a oven cleaner can. This created the first generation of outlined "tags" or the beginning of wildstyle pieces.
"I think like a lot of people, when I started painting graffiti years ago there wasn't a lot of information out there – there was no art spraypaint brands or fancy tips like there is now. My friends and I would experiment using all sorts of household products with oven cleaner caps as one of them."
described Wong.
"Oven Cleaner" Fatcap is Wong's third piece in a series with graffiti themed Kidrobot Fatcap custom toys and they look amazing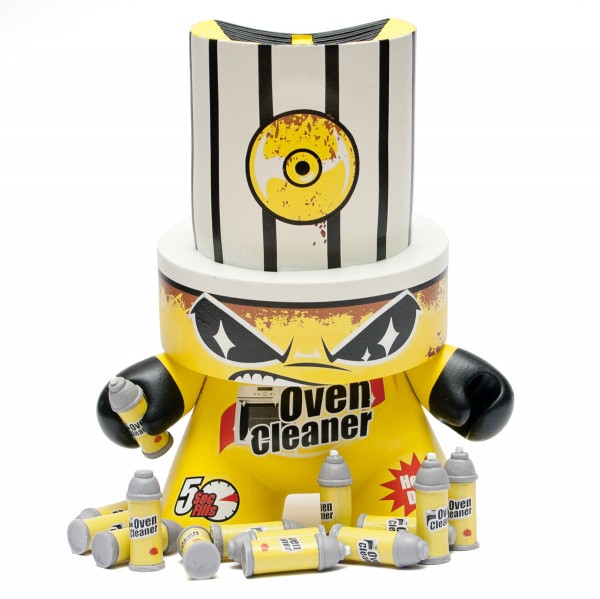 About Patrick Wong:
Patrick Wong is an artist and illustrator based in Vancouver, Canada. He has been recognized by Applied Arts Magazine, American illustration, Society of illustrators Los Angeles, and Creative Quarterly for his work. Patrick received his BFA in Visual Art (Illustration) from Emily Carr University of Art + Design and began his career as a commercial artist with clients such as The Washington Post, The Sunday Times, and the March of Dimes Foundation. His current practice is informed by his experience within industry combined with discourses in contemporary art, philosophy, and youth culture. For more information, please visit http://www.patrick-wong.com.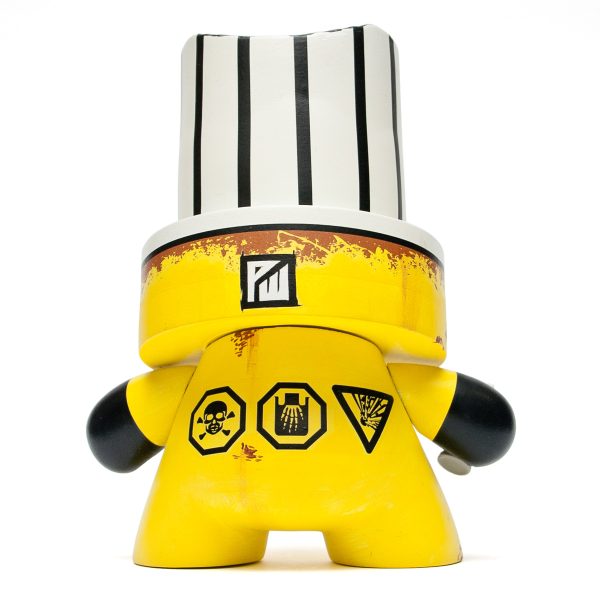 About Art Without Borders:
Art Without Borders returns to Art Whino once again with customs created by the top talent in the vinyl world. This show is an international initiative by Pranay Parikh and Mawuli Dzirasa to raise awareness and funds for international organizations providing humanitarian aid across the globe. Art Without Borders will once again benefit the charity Doctors Without Borders (Médecins Sans Frontières), which provides quality health care to those in crisis irrespective of their race, religion, or political affiliation. While last year's show asked artists to create pieces using the iconic Kidrobot Munny and Dunny, this year's show will further challenge the artists with the opportunity to add their own hand-made resin and plush pieces. For more information, please visit http://www.artwhino.com/exhibitions-1/2014-art-without-borders.
I love it!